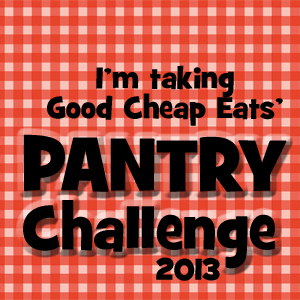 As you know, I'm "eating down the pantry" this month to save money and be a better steward of what we have. Every day I've bloggedhow we're eating and cooking as a family. You can read through my past week and how the challenge has gone for us here.
This is the last of four link-ups where you can tell us how the challenge is going for you. If you've blogged your update, leave the link below, being sure to link back to Good Cheap Eats in the content of your post. If you just want to share your experience in the comments, please do!
I'm ending the challenge tonight. I had originally planned on going the full month, but we've honestly run out of a lot of things. Since we pretty much started on December 26th, it really has been a whole month anyway.
My final spending for food prepared and consumed at home during those 4 weeks was $468. That's pretty awesome in my mind. My January spending will be higher thanks to some great stock-up sales. I thank the challenge weeks for allowing me to stock-up without worrying about overspending our allotted $800/month/8 people budget.
Tomorrow I'll be sharing what I learned from the Pantry Challenge over at Life as MOM. Check it out when you get the chance.
Until then, share your pantry challenge progress with us here.