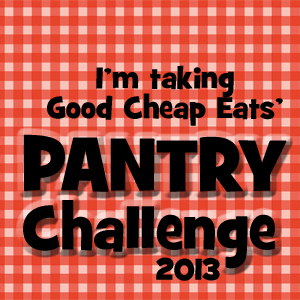 As you know, I'm "eating down the pantry" this month to save money and be a better steward of what we have. Every day I'm blogging how we're eating and cooking as a family. And I do mean "we." My four oldest children are responsible to be chief cook one night a week.
You can read through my past week and how the challenge has gone for us here.
This is the first of four link-ups where you can tell us how the challenge is going for you. If you've blogged your update, leave the link below, being sure to link back to Good Cheap Eats in the content of your post. If you just want to share your experience in the comments, please do!