Fresh jalapenos give heat and flavor to this simple chili that comes together in 30 minutes or less.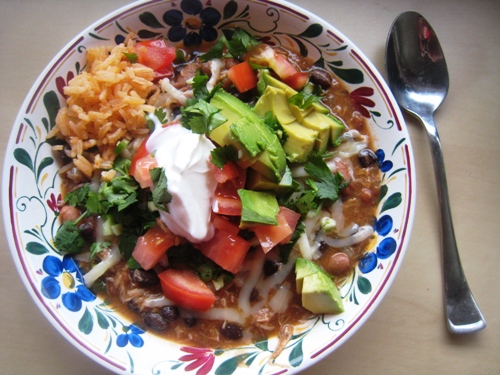 Remember this? I teased you with the picture a few days ago. We enjoyed it for dinner last week. It was actually one of stellar evenings where I didn't really know what I was doing and this beautiful creation resulted.
Typically, I add spice to chili via chili powder, but this time I used fresh jalapenos. Later I was so surprised at the kick of heat present in the chili. Yeah! Jalapenos are, obviously, a hot chili, but I had no idea that the flavor of the fresh pepper would permeate the dish so well.
Use whatever meat you like. I used leftover pork, but you could use beef, chicken, or turkey. Or just go without. The toppings really make this an eye-catching dish.
Recipe: Jalapeno Chili
Ingredients
1 tablespoon oil
1/4 cup chopped onion
1 jalapeno pepper, chopped
1 teaspoon crushed garlic
1 cup tomato sauce
2 cups chopped, cooked meat, like pork, beef, chicken, or turkey
3 cups cooked pinto beans
2 cups cooked black beans
2 cups water
Toppings: cooked rice, shredded pepper jack cheese, diced tomatoes, chopped jalapeno, chopped cilantro, diced avocado
Instructions
In a large stockpot heat the oil. Add the jalapeno, onion, and garlic. Cook over high heat for 3 minutes or until the onions are clear.
Deglaze the pan with the tomato sauce, scraping up any browned bits. Add the meat, pintos, black beans, and water. Stir until blended.
Simmer for at least 20 minutes. Serve with toppings.
Preparation time: 10 minute(s)
Cooking time: 20 minute(s)
Number of servings (yield): 8