This is an easy stovetop pasta sauce that is full of meat, eggplant, zucchini, and peppers. It's delicious in a number of dishes and freezes well.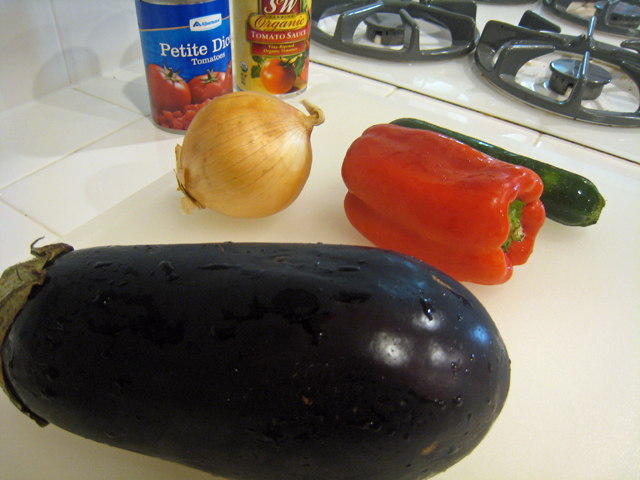 Our CSA adventure continues. Most of the items in our weekly produce box have been old standards: lettuce, avocados, tomatoes, apples, oranges, etc.
One recent newcomer to our box was the eggplant. I'd cooked eggplant before, but it had been years. And most of my kids certainly had never tasted it. I knew it wasn't going to go over without some work.
So far, I've made three different meals with eggplant: a bolognese sauce, a lasagna with the leftover sauce, and a beef stew.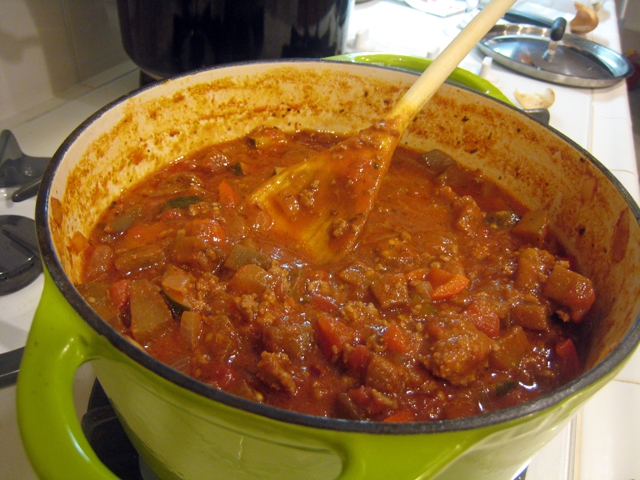 All have been quite tasty. And even my husband was surprised to hear that the lasagna contained eggplant. Heehee. And the stew? No one was the wiser.
If you're feeling a little intimidated about trying eggplant, don't. It's quite easy — and surprisingly delicious. Serve it on pasta or spaghetti squash, in Lasagna or even as an alternative to Sloppy Joe filling.
Bonus points for being very freezer friendly.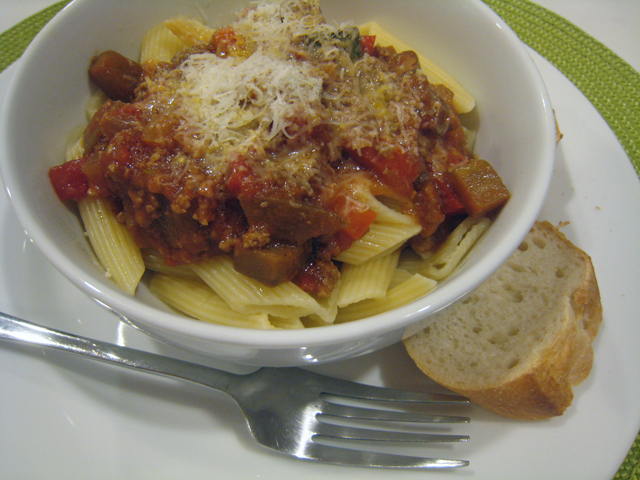 Recipe: Vegetable Bolognese with Eggplant
Inspired by Martha Stewart
Ingredients
6 Tablespoons olive oil
1 eggplant, peeled and chopped into 1/2 inch cubes
1 onion, coarsely chopped
1 red bell pepper, coarsely chopped
1 medium zucchini, coarsely chopped
1 clove garlic, minced
salt and pepper to taste
1 pound ground beef
14.5 ounce can diced tomatoes with juices
3 cups tomato sauce
1/4 cup red wine
1 Tablespoon dried oregano
Instructions
In large stockpot heat 4 Tablespoons olive oil. Add eggplant and cook, stirring, over medium heat for 6 minutes. Remove from pan.
Add remaining 2 Tablespoons olive oil and heat. Add onion, bell pepper, zucchini and garlic. Cook for 7 minutes. Salt and pepper to taste.
Add ground beef and cook until cooked through, stirring often.
Add back in the eggplant as well as the tomatoes, tomato sauce, red wine, and oregano. Add water if too thick. Adjust seasonings. Bring to bubble. Reduce heat. Cover and simmer for 25 minutes.
Serve over pasta.
To freeze: cool sauce completely. Wrap, label, and freeze in an airtight container.
Are you a fan of eggplant? How do you prepare it?
Stay tuned for more eggplant recipes later this week! I was pleasantly surprised. 😉