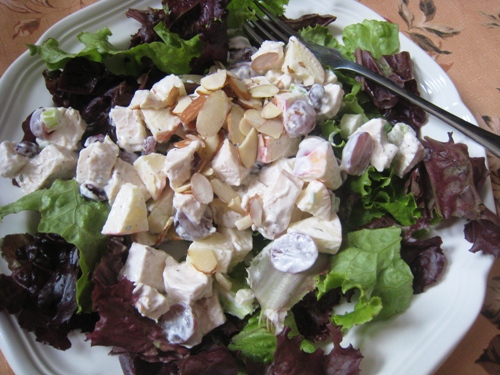 My usual chicken salad contains cheddar cheese, celery, and dill weed. This one is a departure for me. Mainly because hubs doesn't like to mix his sweet and savory.
But since we had an abundance of apple and red grapes, I thought I would experiment. This is the yummy result, chock full of fruit and seasoned with thyme.
The salad made a fantastic lunch last week. Once on a bed of greens and again in a rye bread sandwich. Delicious both times.

Recipe: Orchard Chicken Salad
Ingredients
2 cups cubed, cooked chicken
1/2 cup red grapes, cut in half
2 green onions, chopped
1/4 cup dried cranberries (use unsweetened for whole 30)
1 cup diced apple
1/2 cup mayonnaise
2 teaspoons apple cider vinegar
1/4 teaspoon dried thyme
1/8 teaspoon black pepper
To serve as a salad:
2 cups salad greens
2 Tablespoons sliced almonds
Instructions
In large mixing bowl, combine chicken, grapes, onions, cranberries, and apple.
In smaller bowl, whisk together mayonnaise, vinegar, thyme, and black pepper. Pour over chicken mixture. Toss to coat. Refrigerate until ready to serve.
For a salad, divide salad greens onto two plates. Divide chicken salad mixture. Top each plate with 1 Tablespoon sliced almonds.
Also good as a sandwich filling.
Do you have a favorite chicken salad?