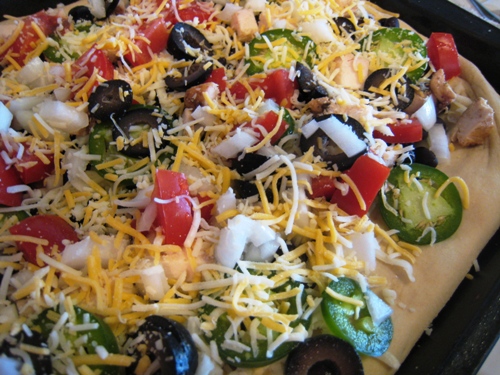 I have really enjoyed experimenting with pizza recipes this summer. I've found some new combinations that my family likes. Hallelujah! Maybe we can bust out of the pepperoni rut!
Hint: one of the ways I accomplished this was to stop buying pepperoni. Heehee.
This burrito pizza really is delicious though. It has been requested on subsequent evenings. So, I know it's a keeper. With black beans, jalapenos, tomatoes, onions, black olives, and plenty of cheese, you don't need the chicken. But, that sends it over the top. Feel free to serve salsa, sour cream and guacamole on the side.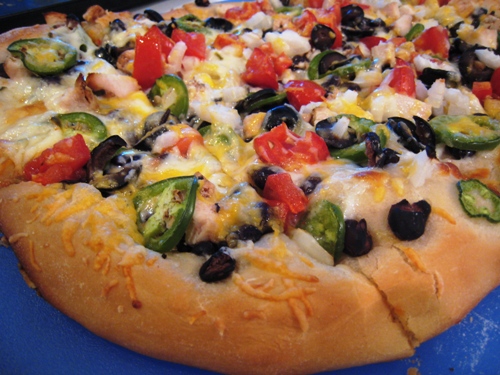 Ingredients
1/4 batch of basic pizza dough
1 cup cooked black beans, drained and rinsed
1 cup grated mozzarella cheese
1/2 cup chopped onion
1/2 tomato, diced
1 jalapeno, thinly sliced
1/4 cup sliced black olives
1/2 cup grated cheddar cheese
1 cup chopped, cooked chicken
Instructions
Preheat oven to 475°. Prepare dough according to recipe directions. Grease baking pan. Divide dough into four portions and stretch to fit into pan. Freeze the other three balls of dough or make other kinds of pizza, like Cheese or the Jalapeno Burn.
For this pizza, spread beans over pizza round. Sprinkle with mozzarella cheese. Sprinkle over the top with the tomato, the onion, jalapenos, black olives, chicken and cheddar cheese. Bake 10 – 12 minutes or until crust is crisp and cheese is gooey and golden.
Number of servings (yield): 1 – 2
Do you experiment with your pizza toppings?