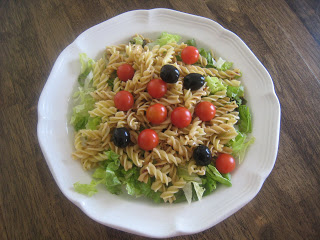 Pasta salad is a delicious, budget-friendly meal. Usually dry pasta is available for less than $1/pound. It's filling, very easy to prepare, and very make ahead.
Once you've cooked the noodles according to package directions and rinsed it with cool water, you can toss it with your favorite salad dressing and toppings. Vary the toppings according to your tastes and what fits the budget. (Short pastas, such as penne, work better than longer ones, like spaghetti.) Store leftover pasta salad in the refrigerator.
Here are some ideas for mix-ins:
sliced salami
diced ham
chopped, cooked chicken
garbanzo beans
black or green olives
chopped tomatoes
grated or chopped carrots
sugar snap peas
sweet peas
sweet corn
broccoli florets
grated cheese
crumbled feta cheese
chopped fresh herbs
fresh lettuce, spinach or other greens
What's your favorite pasta salad mix-in?