Grocery shopping with kids can be a tricky affair, but after 19 years of parenting, I realize its value: in spending time together, learning about commerce, and teaching them the value of a dollar.
I'm pleased to be partnering with ALDI for this post. I've been compensated for my time, but all opinions are my own.
I celebrated my 19th momiversary this month. That means I've gone grocery shopping with kids a few times in my life. Just a few.
Oh sure, there were seasons when I couldn't wait for my husband to come home just so I could go grocery shopping alone. Now that life isn't overwhelming in that three-toddlers-hanging-on-my-leg kind of way, I've gained some appreciation for the process of going grocery shopping with kids. Not only do we build our relationships as we deal with mishaps, tempers, and tantrums, but my kids also learn valuable life skills and the value of a dollar.
Over the years I've learned some things about how to make such a trip a success. One of the keys is to involve my kids in the process.
That played out pretty well recently when I went grocery shopping with kids at my new ALDI. Last month our neck of the woods celebrated an ALDI Grand Opening in North County San Diego. All the kids wanted to go with me and see what the to-do was about. (My college son missed out on the adventure because he had class.)
Grocery Shopping with Kids at ALDI
Since I had already experienced a taste of ALDI foods and brought some samples home, the kids were pretty excited about heading there to shop. Here's how they were involved in the process:
1. Oh! the quarter for the cart!
I told you before that you need to make a quarter deposit to use a grocery cart at ALDI. FishChick9 planned ahead and made sure she had one in her purse. Seemingly everyone wanted to check out the quarter mechanism on the cart. Such a novelty!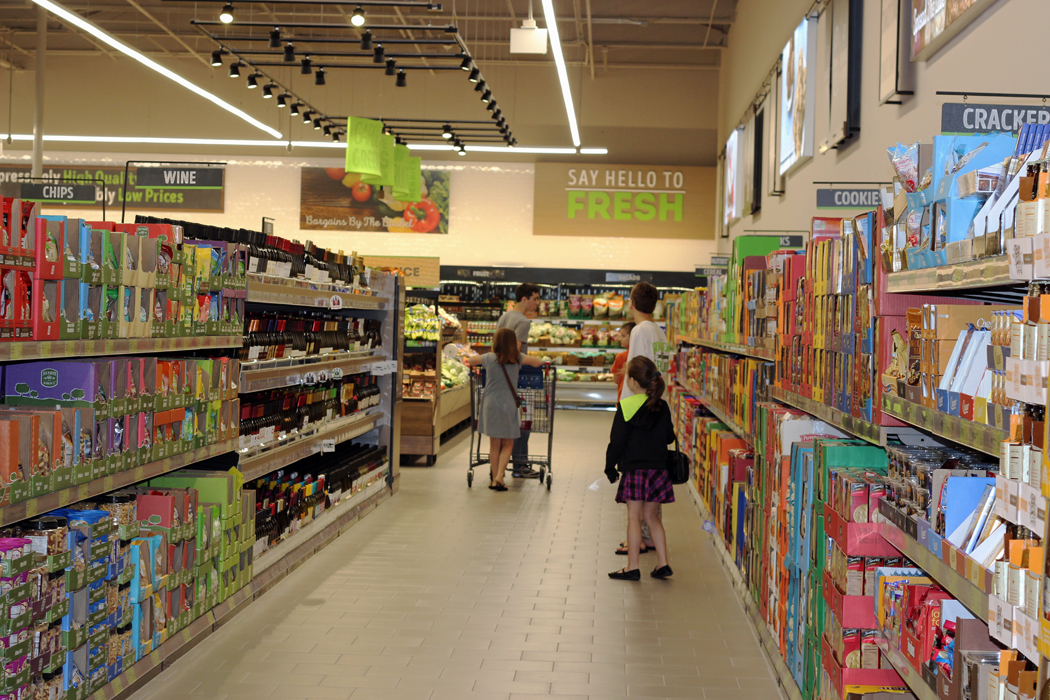 2. We used the buddy system.
Instead of roaming the store in a herd, we broke into smaller groups, big kids pairing up with younger ones. The kids enjoyed the freedom, and since ALDI has a smaller footprint than most stores, I wasn't worried that they'd be too far out of range.
3. I gave the kids each a budget.
We'd heard so much about the "fun food" at ALDI, I gave each child a $5 budget to spend however they liked. It's always so interesting to see what catches their eyes. There's a variety of both food and non-food ALDI finds to choose from. Letting the kids shop for themselves is also a great way to get them to notice the prices of things and to learn to be wise shoppers.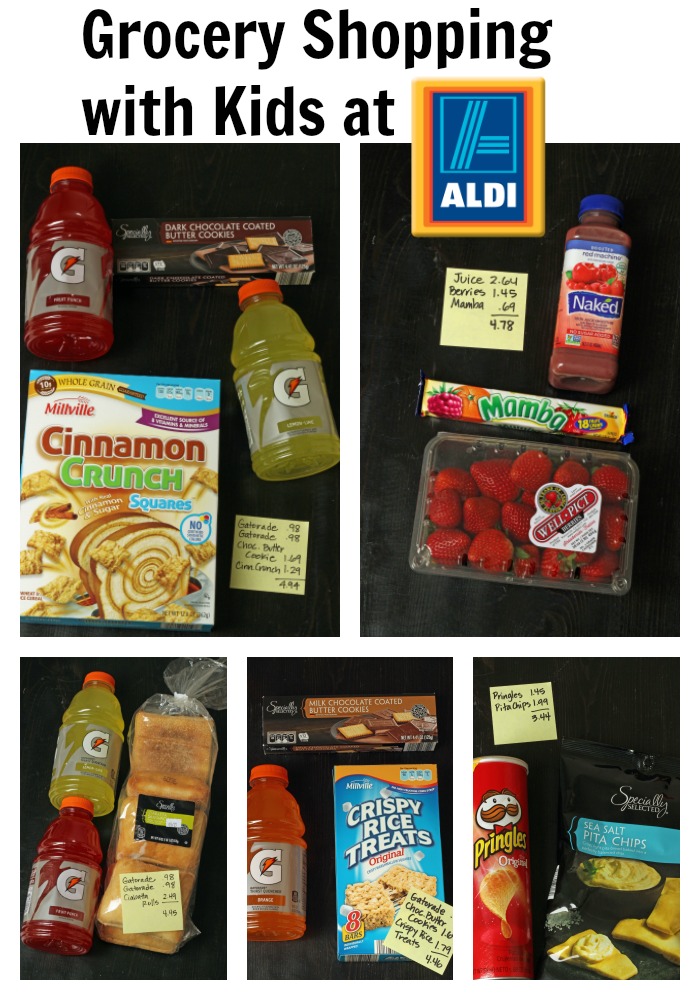 As you can tell, most of the kids drifted toward snack foods. I'm so glad they did because we got to try some yummy things. Those Specially Selected Dark and Milk Chocolate Coated Butter Cookies are AMAZING!
4. The kids read labels.
Since FishChick7 has nut allergies and since she was paired off with a big brother, he was my first line of defense in reading labels and not letting her choose foods she wouldn't be able to eat. Yes, I read labels again to verify, but it was nice to have them prescreened while I did the rest of our shopping.
I appreciate that ALDI has very clear labeling on all their products. Those of you shopping gluten-free will be happy to know there's a complete section of the store dedicated to gluten-free products.
5. The kids did some meal planning.
I was really impressed with my older boys who spotted ingredients we regularly use at home and pointed out which recipes we could make with ALDI ingredients. We snatched up a couple jars of the famous Deutsche Kuche German Sauerkraut as well as some country-style pork ribs to make Slow Cooker Sauerkraut and Pork as well as shrimp and pasta to make Shrimp with Noodles and Cream Sauce.
6. The kids helped bag the groceries.
One of the ways that ALDI can offer lower prices is by keeping a low overhead. For example, since you bag your groceries and return your cart, they don't have to pay someone else to do it. This translates to lower prices for you!
This is also where grocery shopping with kids can play in your favor! While it may take them some time to learn, it will pay off in the long run. Work is good for kids. And honestly, I end up bagging my groceries half the time at most other stores anyway.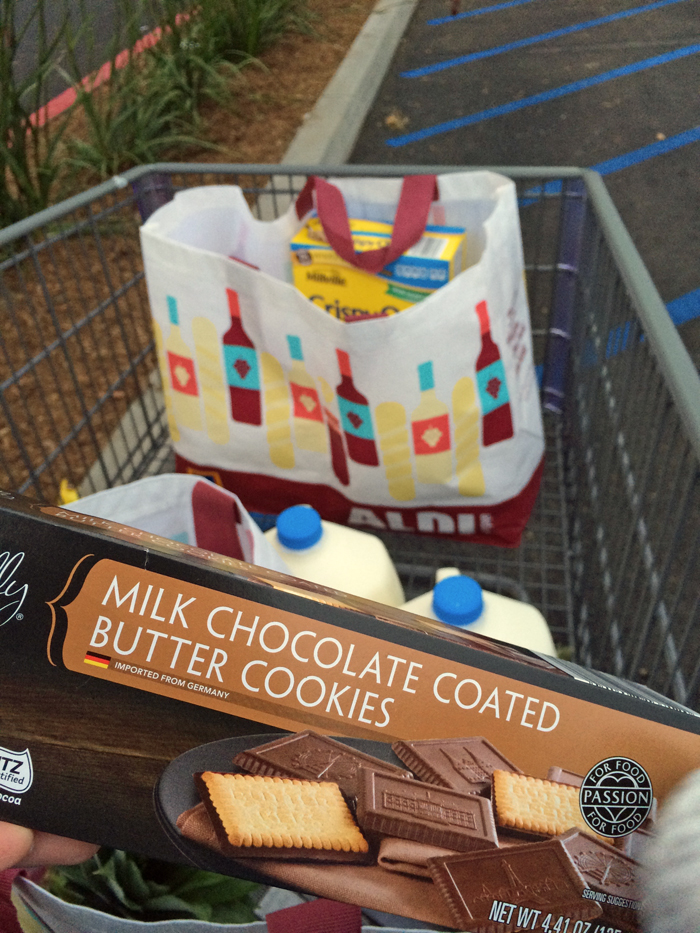 7. The kids loaded the car and returned the cart.
It's not often that I take five kids shopping with me. Grocery shopping with kids – FIVE of them — provided lots of helpers. And maybe one or two squabbles about who got to return the cart and retrieve the quarter. Ha!
The kids had a great time perusing all that ALDI has to offer. They've already zoned in on some favorite purchases: Clancy's Restaurant Style Tortilla Chips, Specially Selected Ciabatta Sandwich Rolls, Lunch Mate Never Any! Uncured Black Forest Ham, and the aforementioned Specially Selected Dark and Milk Chocolate Coated Butter Cookies.
All their chatter has their older brother eager to go grocery shopping at ALDI. Maybe I'll hand him my list next week?
Keep up with ALDI on the web!
For cooking tips and the 411 on what's fresh at ALDI, be sure to add ALDI to your feed!
What's been YOUR experience grocery shopping with kids at ALDI?
This post is sponsored by ALDI. I have been compensated for my time spent writing. All opinions are mine.