Appetizers can be as simple or as complex as you like them. Check out these Easy Appetizers on Toast for a delicious way to start a meal.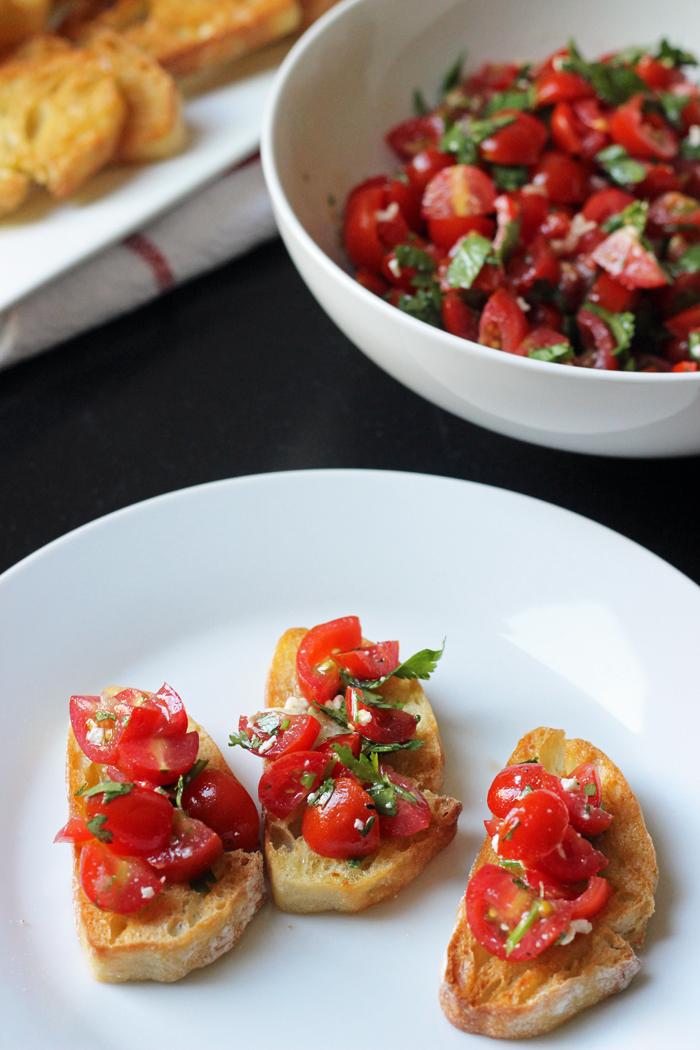 My 8-year old daughter loves to make toast. When she sees that I've bought bags of sliced baguette on clearance, she jumps up and down and asks if she gets to make the toasts. Usually we serve the toasts with some type of tomato mixture (one of her favorites), but sometimes we delve into other territory.
Hello, baked goat cheese, I'm talking to you!
I've rounded up some of my favorite appetizers to serve on toast. They are simple, delicious, and so quick to prepare.
Easy Appetizers on Toast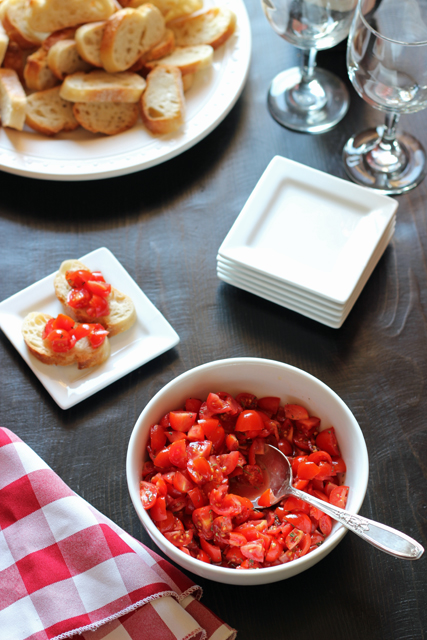 Bruschetta is probably one of my favorite appetizers to make. It's like the Italian cousin of Mexico's salsa. Only it's cheaper to make and just as tasty. Plus, it goes nicely with red wine. This Tomato Bruschetta with Herbes de Provence comes together quickly and easily. It's economical and delicious, the perfect combination for your next company meal.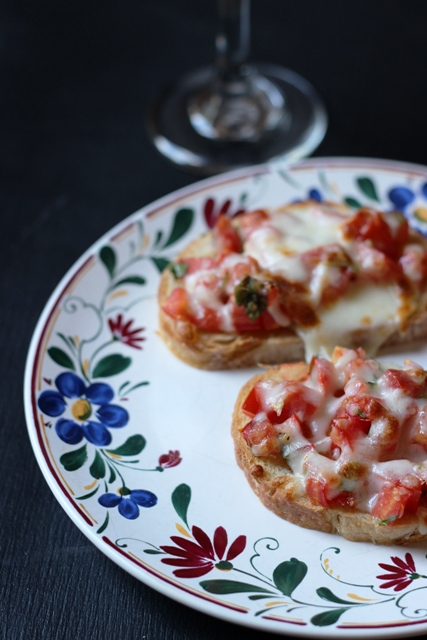 Bruschetta made with prime summer tomatoes is absolutely out of this world. Mix up the bruschetta in advance, and then you can quickly finish this Broiled Bruschetta under the broiler.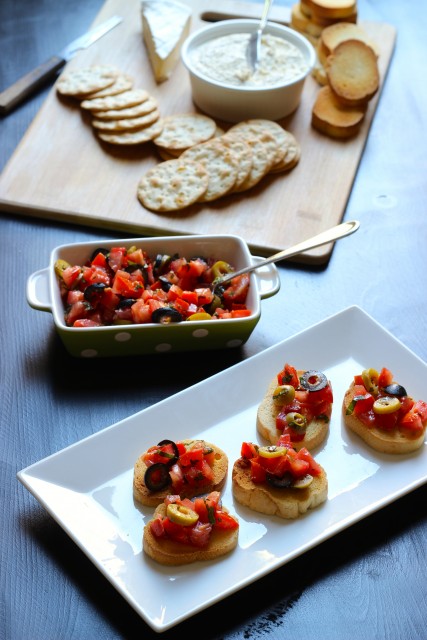 If you like olives (and maybe even if you don't), you'll love this Olive Bruschetta. It's delicious on toast, but it's great on crackers or atop cheese spread on toast or a cracker, too.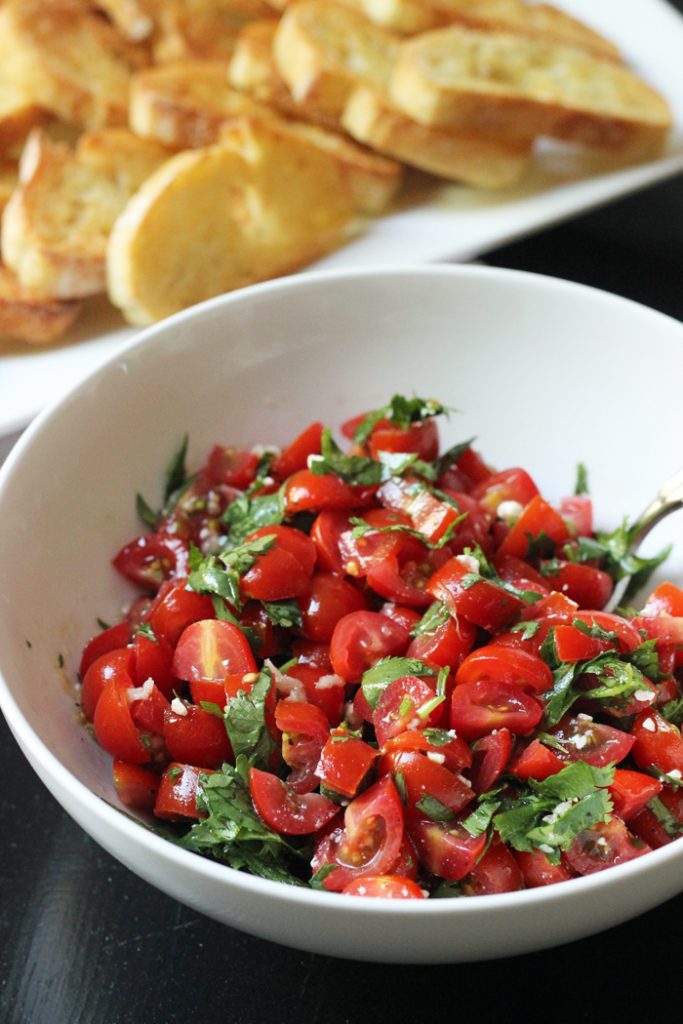 This Tomato Salad on Toast is similar to a bruschetta, only the flavor profile is tweaked just a bit. Instead of basil, we've got cilantro. Instead of balsamic vinegar, we've got lime juice. Instead of an Italian cheese, there's just a little bit of feta cheese crumbles.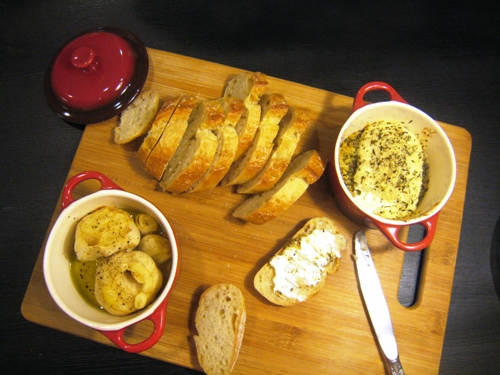 Roasting garlic and baking goat cheese are easy to do and make a super easy, yet elegant appetizer. When you roast garlic, the result is smooth, spreadable garlic that has mellowed in flavor. The goat cheese is drizzled in oil and rolled in a herbed bread crumb mixture and baked alongside the garlic for the last half hour. They make an amazing appetizer to share with friends and family.
This is my take on classic spinach dip. I make it a little bit healthier with yogurt instead of mayonnaise and herbs and spices instead of a packaged soup mix. Serve it up on toast, crackers, or with veggie dippers.
If you're looking for a comforting dip, try this Artichoke Chile Dip. Just quickly mix up Asiago cheese, artichokes, and diced green chiles and then bake it in the oven alongside toast slices.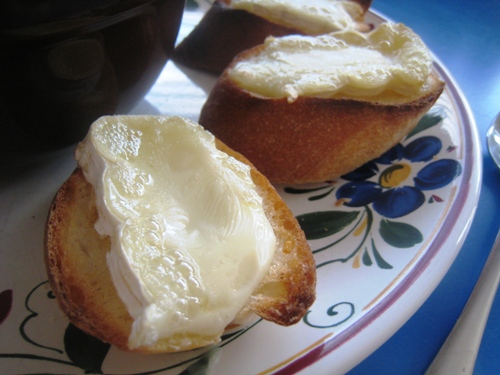 Let the broiler make quick work of these Garlic Brie Toasts. Just brush the slices of baguette with garlic-infused olive oil and then top with a slice of Brie cheese and finish them off in the broiler.
What's your favorite summer appetizer?