Make a Chicken Caesar Salad from scratch without spending a ton on pricey ingredients.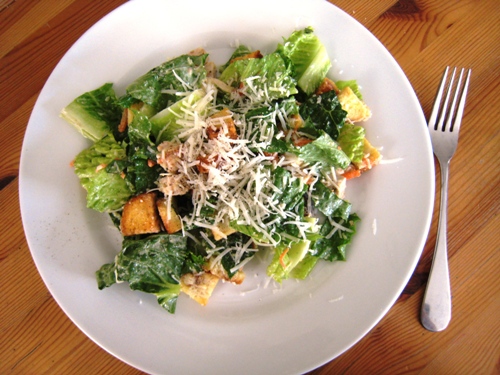 OK, Caesar Salad may be very 1994. It might also be very 1924, for that matter. But, I don't care. It still tastes great.
Caesar Salad is actually my kids' favorite salad. It's my favorite, too. For months, nay, years, I've been making all manner of salads, except the Casear. My kids don't love my old standard that I've made forever. And I don't want to pay big bucks on Newman's or Cardini's highly processed, very expensive, bottled variety. So, we've gone without.
Earlier this month, when I was brainstorming ways to get the kids to eat more vegetables, I asked them what they liked. The unanimous response was: Caesar Salad, but the creamy kind. Always with the disclaimer….
So, I decided I would make it myself. I've tweaked this recipe a few different times over the last few weeks, and think that I've arrived. I toyed with the idea of adding the egg back into my standard Caesar, but the paranoid overprotective mother in me won out. I decided to go with mayonnaise instead of risk salmonella poisoning from my store bought eggs.
In the early days of parenting, Caesar Salad was a regular, albeit expensive, item on our menu. I bought boxed croutons, high grade parmesan cheese (the "real deal"), and the aforementioned expensive, bottled dressing.
I've cut the costs in several ways for this Chicken Caesar Salad:
Marked down bread from the grocery store became homemade croutons. (Cost = $0.75  for a gallon-size bag of croutons.)
I used the less expensive Romano cheese instead of Parmesan Reggiano (Cost comparison = $6.99/pound compared to $19.99/pound; a little goes a long, long way.)
I used leftover grilled chicken to add protein to the salad, making it a meal in itself.
I made my own dressing.
I bought the romaine lettuce on a manager's special.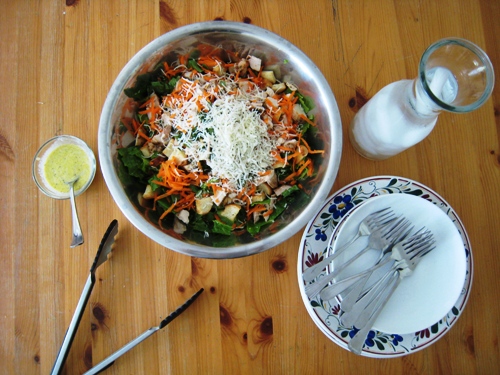 I made a huge salad bowl full for the kids and my lunch this week. When I called them in from the great outdoors, one particular 8-year old raised an eyebrow. Salad for lunch?
Why, yes, yes, it is.
After some initial prodding, he gobbled it right down. There were no leftovers.
Want to make your own Poorman's Caesar? You can do it now.
Recipe: Poorman's Chicken Caesar Salad
Ingredients
1 large head romaine lettuce, washed and torn into bite-sized pieces
2 cups chopped, cooked chicken
1 cup Homemade Croutons
3/4 cup shredded Romano cheese
1 tablespoon mayonnaise
the juice of 1/2 a lemon
1 teaspoon crushed garlic
salt and pepper to taste
1/4 cup olive oil
Instructions
In a large salad bowl, layer the lettuce, chicken, croutons, and cheese.
In a small bowl or jar, combine the mayonnaise, lemon juice, garlic, salt and pepper. Stir to combine. Stir in the olive oil, blending to combine well.
Toss the salad with the dressing and divide into plates. Season with additional pepper if desired.
Preparation time: 10 minute(s)
Number of servings (yield): 4