This is Day 27 of my month-long Pantry Challenge series  where we're eating down the pantry (and freezer and fridge) to use up what we have, rotate stock, and save some cash. Today was a sick day.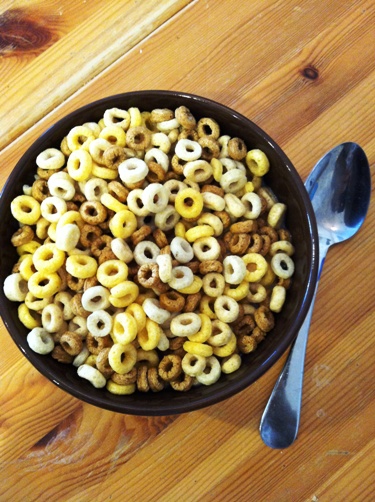 This morning at least six out of eight Fishers exhibited some signs of illness. The baby and I are the only two that seem healthy. So, we spent a quiet morning at home. I busted out one of those boxes of cereal from my score on Friday. That was breakfast.
Lunch was a brunch/leakfast affair. I made my hubby's comfort food: ham and eggs, biscuits, pancakes, and home fries. I had lots of help with the prep work. Otherwise, we'd still be waiting for lunch.
I put the rest of the pork from the freezer into the slow cooker on high in the hopes that carnitas would be ready for supper. Well, the meat was done, but apparently pork loin cannot be made into carnitas. Blech. Super dry. In the hopes of salvaging the meal, I made a gravy with the drippings which was awesome and made rice, corn, and sauteed greens for sides.
It wasn't my best work. The gravy redeemed it ever so slightly. I think I'm done with pork for awhile. Ugh!
My family was a set of troopers though. They ate without complaining, even eating the greens which were a little bitter from the curly endive I threw in. They get bonus points in the form of ice cream tonight.
Day 27 Menus

Breakfast: Cold cereal
Lunch: Pancakes, Ham and Eggs, Biscuits, and Home Fries
Dinner: Roast Pork Loin, Rice, Sauteed Greens, Corn, Ice cream
This post is part of a month-long Pantry Challenge series. You can read more about my goals for the challenge here.