Yogurt is a super versatile ingredient or dish in itself. This recipe for yogurt and oats contains lime juice and honey for an unexpected twist.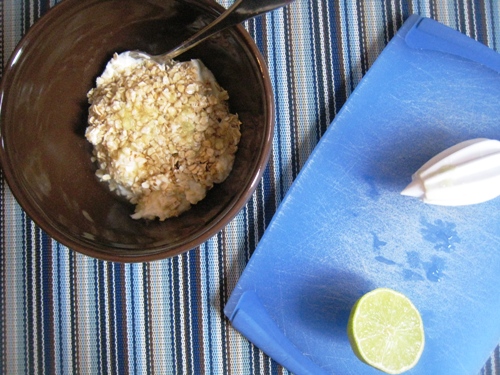 As you know, over the last few years I've been doing some serious food reading. Not about cooking per se, but about nutrition, portion control, eating habits, our food source, government regulations on food, and the way marketers try to get us to buy stuff.
Four books have had a tremendous impact in how I think about food:
It's through the reading of these books that I've made slow shifts in how I shop and cook and in how my family eats. We're not as "crunchy" as they come, but we don't eat out of a box, either.
I cook more from scratch, and we try to avoid chemicals, artificial ingredients, processed sugars, and unfermented soy. I am working on making healthy eating easier over all.
One of the new wrinkles in this healthier eating paradigm, has been to examine the yogurt we eat.
Yogurt for breakfast!
Yogurt has always been one of my very favorite breakfast foods. In my non-pregnant and nursing years, I haven't really been a milk-drinker, so yogurt and cheese help me keep up on my calcium.
Years ago I was a diehard Yoplait or La Creme fan. Coupons and sales were plentiful for those items so I could keep the refrigerator stocked to the brim, buying as many as 60 cartons at a time. I thought that I was buying "health food."
It was only later when I started to reduce our intake of processed sugars and processed foods in general that I found out how SWEET these yogurts actually were. Plus, often they had all kinds of ingredients I couldn't pronounce.
Switching to plain yogurt
So, I made some changes. I started buying large 32-ounce cartons of plain, or sometimes vanilla, yogurt, preferably Cascade,  Mountain High, or Fage brands.
Not all my kids liked that change. But most of them have gone along with it, especially when honey or maple syrup is drizzled over the top. Occasionally I buy Trader Joe's vanilla and blueberry cups, but not often.
Slowly but surely we're embracing plain yogurt. It's taken some time, but it's great to use in baking instead of buttermilk. My resident Smoothie King uses it in his smoothies. And I eat it almost every morning for breakfast.
A few weeks ago I tried a portion of Yoplait from a hotel breakfast bar and was stunned at how sugary it tasted! I guess my taste buds have adapted.
Making yogurt at home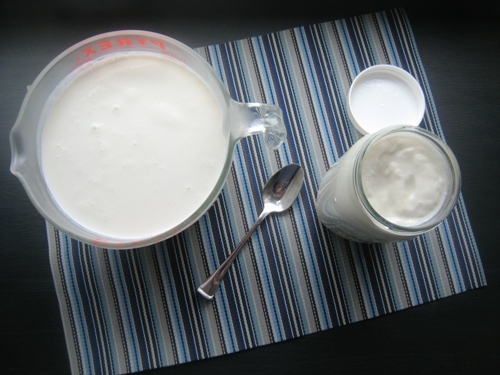 Earlier this year, you all suggested that I make it myself. There were SO MANY comments about our yogurt eating habits, that I decided to give it a go. I was skeptical because we like really THICK yogurt.
One night I tested two different methods:
I also read about the microwave/oven and cooler methods, but decided to go with these first two methods.
The next morning I compared the yogurts I had made. They were like Laurel and Hardy, one was thick, the other thin.
The slow cooker method was good, but thin like buttermilk. Folks suggested that I strain the yogurt to thicken it, but it was so thin it went right through the sieve. I used it in baking and churned it into frozen yogurt.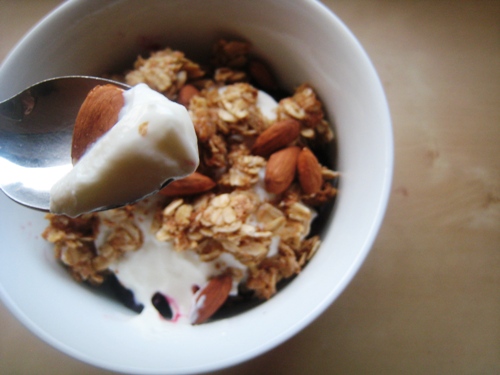 The yogurt incubated on the heating pad was thick and creamy. Since we like THICK yogurt, you can guess that I'm now a fan of the heating pad method. It's great with berries and Maple Vanilla Almond Granola.
Try them both out and see for yourself which you prefer. I've heard rave reviews about both methods. I originally tested with whole milk, but this weekend tested with nonfat and it turned out fine and thick. It's a little on the tart side in comparison.
Updated 1/20/13 – I recently tested a new version of the Simple Bites recipe. I used 1/4 cup instead of 1/2 of powdered milk and I incubated the mixture for only 5 hours. It turned out perfect. No excessive tartness whatsoever. Love it!
Morning Yogurt and Oats
Last summer I reread The French Women series by Mireille Guiliano and was encouraged by many of the suggestions she had to offer for life, work, and good eats.
One of those habits that I've adapted for my own is what Ms. Guiliano calls "Magical Breakfast Cream". I can't vouch for its magical properties, but I know that I like it, at least how I tweaked it.
Her recipe calls for shredded wheat cereal instead of oats, flax seed oil instead of meal, and orange instead of lime, as well as the addition of ground nuts. My tweaks are thanks to what I normally stock in my pantry. (If you have very tart yogurt, you might want to omit the lime or try the orange instead.)
It's not super-photogenic, but it's yummy!
Morning Yogurt and Oats
Yogurt is a super versatile ingredient or dish in itself. This recipe for yogurt and oats contains lime juice and honey for an unexpected twist.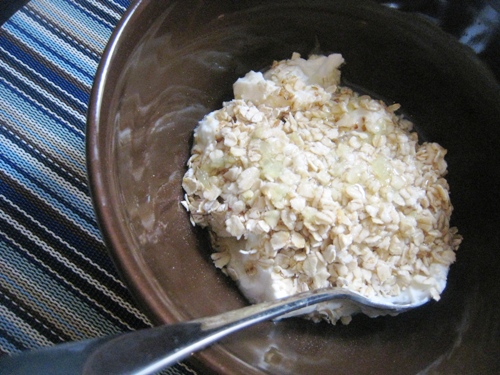 Preparation Time:5 minutes
Total time:5 minutes
1 serving
Ingredients:
1/2 cup plain greek yogurt

2 tablespoons quick oats (not cooked)

1 teaspoon flax seed meal

the juice and pulp of half a lime

1 teaspoon honey
Instructions:

In a small bowl, layer the ingredients in the order listed. Stir or not, depending on how you like it.
This variation has become my daily breakfast, replacing my regular yogurt parfait. It has less sugar and is just as filling.
Yogurt is a regular in our family's refrigerator. This summer I've made it into popsicles as well as frozen it into little jewels for our Smoothie Station. We regularly use it in baking, in smoothies, to replace sour cream, and just to eat for breakfast.
I still buy the large cartons, but I'm amazed every time I open my quart jar that's been resting on a heating pad to see that I made yogurt!
How do YOU enjoy yogurt?