Roasted Garlic & Baked Goat Cheese is an easy yet elegant appetizer to serve to guests on the coming chilly nights. It also makes a meal in itself with the proper accompaniments.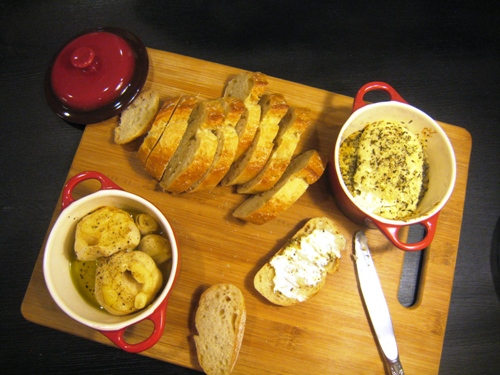 One of my favorite appetizers is Roasted Garlic and Baked Goat Cheese. Well, correction: one of my favorite meals is Roasted Garlic and Baked Goat Cheese. Give me a salad and a nice glass of wine on the side; I'll be a happy camper.
The goat cheese is so rich and the garlic so hearty that when the two are spread on slices of baguette, they really can make a meal. I made this dish last weekend, and my teenage son requested a repeat performance this weekend. I look at this devouring of garlic as a great way to boost our immunities for the coming fall and winter.
And keep away vampires, too, I suppose.
I first read about this fun and easy app in Susan Branch's Vineyard Seasons. It's a beautiful, whimsical book that is full of great recipes. My twenty year old copy is well-loved. It's worth hunting down a copy if you can find one.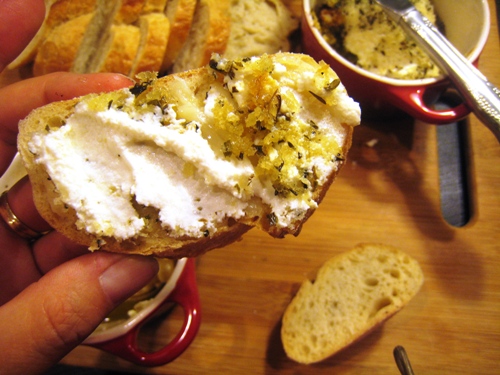 I've adapted SB's recipe a bit, reducing the amount of oil, not frying the bread, altering the seasonings and type of bread crumbs, based on what I had in the cupboards the first time I made it. It's so good!
Either way to prep it, roasting garlic and baking goat cheese are easy to do, making for an elegant appetizer. Or main dish. Ahem. And feel free to make your own tweaks based on the herbs you prefer.
The leftovers of this combo (if there are any) also go fabulous on hamburgers or breakfast sandwiches. Ask me how I know.
Roasting Garlic
You'll laugh when you hear how easy it is to roast garlic. The result is smooth, spreadable garlic that has mellowed in flavor. It's tasty as a spread, but you can toss the roasted cloves into sandwiches or mashed potatoes to add a zippy flavor.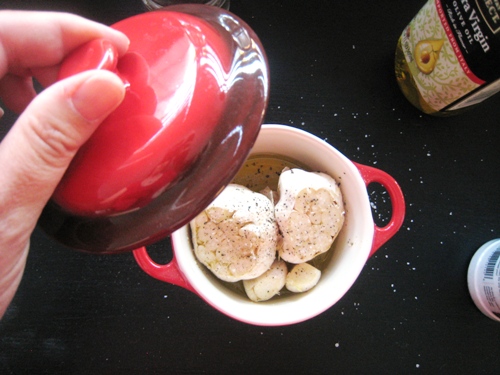 You don't even have to peel the cloves. Just chop off the top of the head of garlic. I used two and crammed them into a small lidded baking dish I have. You can use any small dish. I had to separate a few cloves from the mother just to fit them, but it works fine. Drizzle over the oil and season to taste with freshly ground pepper and kosher salt. Cover and bake for an hour at 350°.
Easy, no?
The goat cheese is drizzled in oil and rolled in a herbed bread crumb mixture and baked alongside the garlic for the last half hour.
The result is an amazing appetizer to share with friends and family, especially as the evenings start to chill a little more.
Recipe: Roasted Garlic and Baked Goat Cheese
Ingredients
2 heads, garlic
1/4 cup olive oil
kosher salt
freshly ground pepper
4 ounce log goat cheese
2 tablespoons panko bread crumbs
1 teaspoon dried tarragon
baguette slices
Instructions
Preheat the oven to 350°. Cut the top off the garlic heads so that the cloves are exposed. Place the heads in a small baking dish.
Drizzle 3 tablespoons of the oil over the tops, allowing it to sink in around the garlic papers. Season to taste with kosher salt and freshly ground pepper. Bake for 1 hour.
Meanwhile, prepare the goat cheese for baking. In another small baking dish, place the log of goat cheese. Drizzle the remaining tablespoon of oil over the cheese, rolling the log to coat.
In a small bowl, combine the bread crumbs, tarragon, and a little more freshly cracked pepper. Sprinkle the bread crumb mixture over all sides of the log, turning as necessary.
Bake cheese, uncovered for 30 minutes alongside the garlic.
The garlic cloves will practically pop out of their skins. Spread them on baguette slices along with some goat cheese.
Preparation time: 5 minute(s)
Cooking time: 1 hour(s)
Number of servings (yield): 4
What's YOUR favorite hot appetizer?