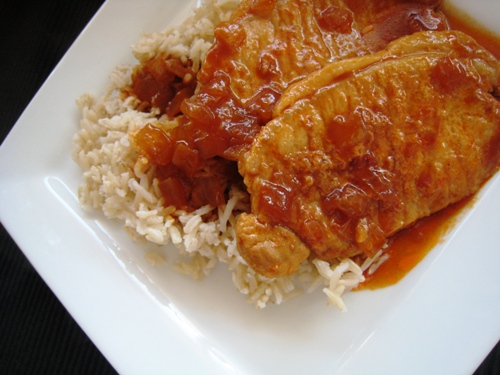 I was a "know it all" child. My poor mother. She humored me. She still does. (Love you, Mom!)
My dad, on the other hand, chose to fight with me about it, most of the time. He's a know-it-all, too. (Love you, Dad!)
So, about the time I was sixteen, I decided that I could grocery shop and cook better than my mom. Yes, really. (Sorry, Mom.)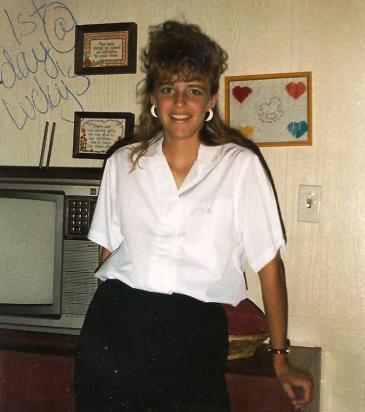 I worked at a grocery store then. Note the fancy work uniform above. So, I dealt with food and groceries about five days out of the week. I saw all kinds of ingredients I'd never seen before.
I'd always liked to eat and to cook, so it was a natural next step to write up a menu plan, a grocery list, and go spend lots of my dad's money. (Sorry, Dad.)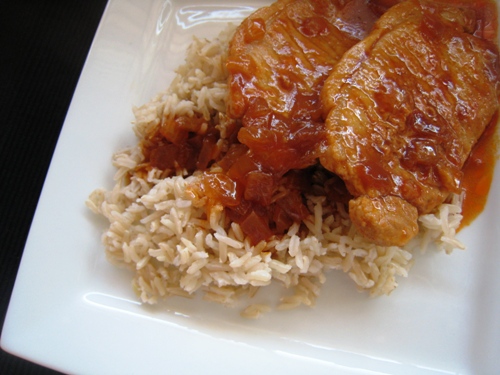 One of the recipes I discovered back then were these easy skillet pork chops. I dug out the recipe the other day and made them for the kids' lunch. The recipe is super easy and you can adapt it in a multitude of ways, depending on what kind of sauce you use. I always have used barbecue sauce, but I imagine that salsa, marinara sauce, or your other favorite basting sauce would be equally good. Make sure you coordinate the type of liquid you use to match the sauce. I wouldn't recommend pineapple juice with marinara sauce.
I used a homemade Asian flavored barbecue sauce which went really well with the pineapple juice. And I think chopped pepper and pineapple would make a great sweet and sour pork chop. Another time….
Recipe: Easy Skillet Pork Chops
Ingredients
1 tablespoon vegetable oil
4 to 6 pork chops
1 cup chopped onion
1 teaspoon chopped garlic
1 cup barbecue sauce, homemade or bottled
1/2 cup water, chicken broth, pineapple, or orange juice
1/2 teaspoon salt
1/8 teaspoon freshly ground black pepper
Instructions
In a large skillet heat the oil. Brown the chops, turning once. Remove from skillet.
Saute the onion and garlic in the remaining drippings until the onion goes clear.
Add the barbecue sauce, liquid, salt, and pepper.
Return the chops to the pan and cover and simmer about 30 to 45 minutes or until the chops are tender, turning once.
Preparation time: 15 minute(s)
Cooking time: 55 minute(s)
Number of servings (yield): 4