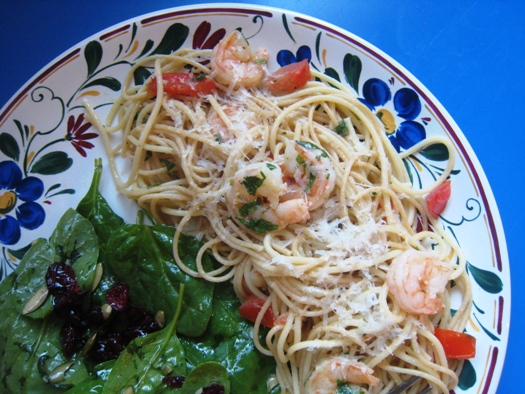 The other night I was looking for a dish that was light and refreshing. And preferably one that was going to supplement some of the vitamins and minerals I seem to be deficient of. Shrimp, a source of vitamin D, sounded great and I had plenty of fresh cilantro to experiment with.
While some of the younger set turned up their noses, the rest of us loved this dish. So easy, quick to pull together, and full of flavor. It was delicious served with a spinach salad.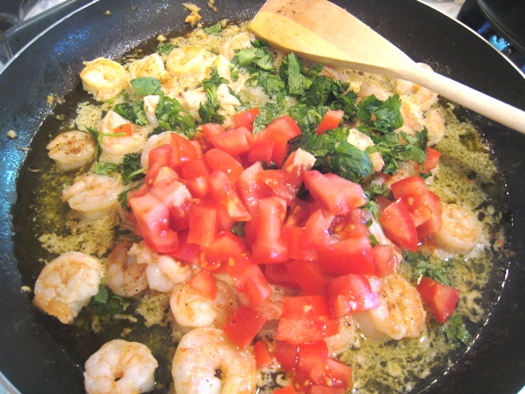 Recipe: Cilantro Shrimp Pasta
Ingredients
2 Tablespoons olive oil
1 teaspoon chopped garlic
1 pound medium shrimp, peeled and deveined
1/8 teaspoon crushed red pepper
1/2 teaspoon ground cumin
1/8 teaspoon black pepper
juice of 1 lime
1/2 cup chopped cilantro
1 chopped tomato
12 ounces spaghetti, cooked and drained
grated Parmesan cheese, to taste
Instructions
In a large skillet over medium heat, heat the olive oil.
Add the garlic and cook until fragrant.
Add the shrimp and cook almost until pink.
Add the crushed red pepper, ground cumin, and black pepper to the pan. Stir to combine.
Squeeze the lime juice all over the shrimp and stir.
Add the cilantro and tomato as well as the hot cooked pasta.
Stir the pasta into the sauce until well combined.
Serve immediately with Parmesan on the side.
Preparation time: 5 minute(s)
Cooking time: 15 minute(s)
Number of servings (yield): 4
What's your favorite way to eat pasta?