Life can feel crazy, but your kitchen doesn't have to. Learn to pivot in the kitchen and take back some peace of mind. And good meals, too.
Because life can feel crazy. Because you're wearied by decision fatigue. Because sometimes the day just doesn't obey and your meal plan leaves you hanging.
You could head out (again) for burgers—or slap a box of cereal on the table and call it dinner.
There's a better way, though.
Sometimes you need to go to Plan B.
One that isn't burgers.
Learning to pivot in the kitchen, that's one of the things we tackle in the Good Cheap Eats Club. We know that life is full and things happen, but we also know that cooking and eating at home is better for us and our wallets.
Here's what Kim did earlier this week:
Freezer meal saved the day today! My video Dr appt turned into a phone appt and took 1.5 hours over dinner time. I pulled out the frozen vegetable soup in the souper cubes from the deep freeze and put them in the instant pot with a little water for 10 minutes and the soup is piping hot! I also made some frozen naan that I made a few weeks ago. Yummy dinner! I was originally going to make bean soup in the IP, but that would have taken an hour. Glad that I had some freezer meals to pick from!
She had a plan, but when she saw her day was taking another turn, she pivoted. Her family enjoyed a fantastic meal thanks to her past self who planned ahead.
Making Home Cooking Easier
In the Club, we've talked about how to make home cooking easier. One of the strategies I share is to have a back-up plan, a rescue protocol, if you will, for the crazy week that doesn't go according to plan.
Check out this brief video that unpacks what it is to have a back-up meal plan and how five minutes you spend now could save you a boat load of money and a lot of frustration later.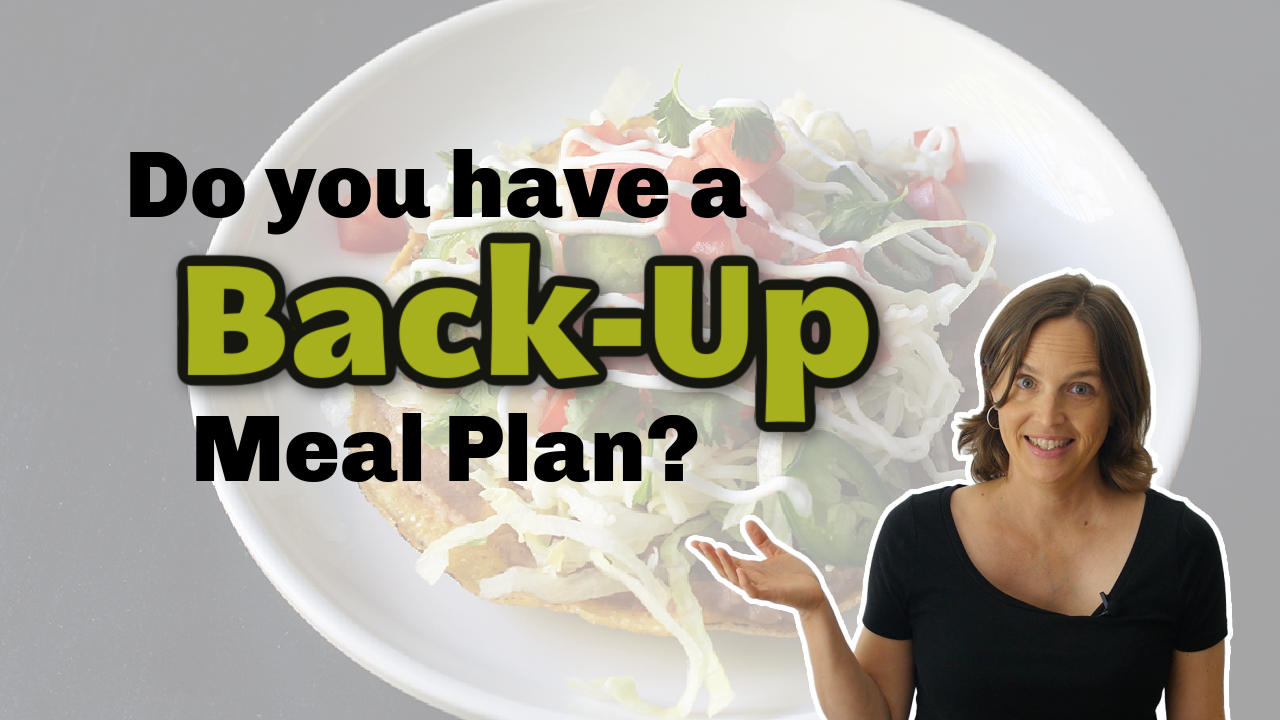 Another recipe isn't going to change your life, but having good habits will.
I designed the Good Cheap Eats Club with the busy home cook—and these kinds of simple, actionable strategies—in mind. Let's get some good habits going!
Making meal planning and meal prep—and yes, even back up plans—part of the regular rhythms of your life will help you make the most of your time and your money.
I shared a free kitchen assessment. Its purpose? To help you see where you're strong and assess where you can improve so that you can save more money and enjoy great meals.
I'd love to hear about your back up meal plan. Share it in the comments below or on social media and tag it #goodcheapeats—I'd bet good grocery money that you'll feel better about dinner times when you've got some back up all ready to go.
Don't miss our Winter Sale!
Registration to the Club is closed right now, but doors open again in January. You DON'T want to miss it! There are three subscription levels so you can find one that's right for you.
Don't want to miss out? Sign up for my newsletter HERE!
I can't wait to see you there!