The following content is sponsored by Noodles and Company. All opinions are my own.
Want to eat healthfully and still enjoy letting someone else make dinner? Here are some tips for making healthy choices when eating out.
Over the past few years, between writing cookbooks and battling a thyroid condition, I've put on more than a few pounds. After a flurry of doctor appointments, including two specialists, in the fall where I found myself standing on not one, but three different office scales, I did some thinking about food goals I wanted to make in the new year.
Yes, I wanted to lose weight; who doesn't? But more importantly, I wanted to latch onto an approach to eating that was not only healthy, but also sustainable.
Could I eat in a way that helped me lose weight and feel good, but didn't wear me out or prompt me to give up?
What I settled on was a program of eating a lot more vegetables than I previously had done and making an effort of staying hydrated. I haven't given up any ingredient; I'm enjoying all my meals, but I'm filling up on things that provide a lot of nutrition up front before indulging in other things. I've been perfectly content with my meals…
…and I've lost six pounds so far!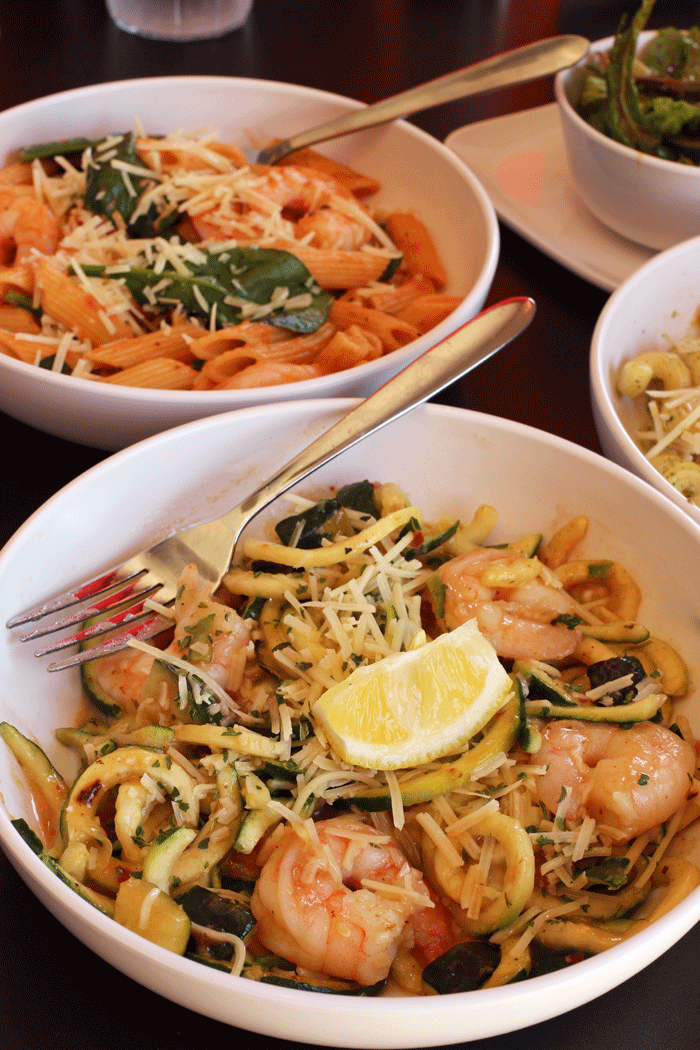 Now, eating in a healthy way that doesn't get derailed by special occasions or even the regular case of the Mondays can be challenging. But, what about date nights and grabbing food when you're out and about?
I'm pretty organized, but there's no way I'm packing a date night picnic every week or that I will even remember to pack food for really busy days running errands. I want to dine out and be able to eat it, too!
How do I eat healthy when out?
I've been working on strategies that allow me to enjoy great food without the guilt. Here are some that I've come up with so far:
Get water instead of a beverage and drink a full glass before eating. This helps me not to stuff myself.
Order a veggie basket or salad to snack on. Veggies are so low in calories some nutrition coaches say you don't even have to track them! Give me the vegetables!
Ask for the dressing on the side. Enjoy the dressing or veggie dip but don't go overboard. Having it on the side will help you control the portions.
Order zoodles and a vegetable side whenever you can. Again, filling up on vegetables can be a great way to feel satisfied and make sure you get lots of fiber.
Enjoy your main dish completely, knowing that you've made good choices all along.
Bonus: order shrimp whenever you can, as it is low in calories but packed with protein and flavor.
Interestingly enough, I've found a fantastic stop to add to our date night routines that helps me follow all my own rules: Noodles & Company!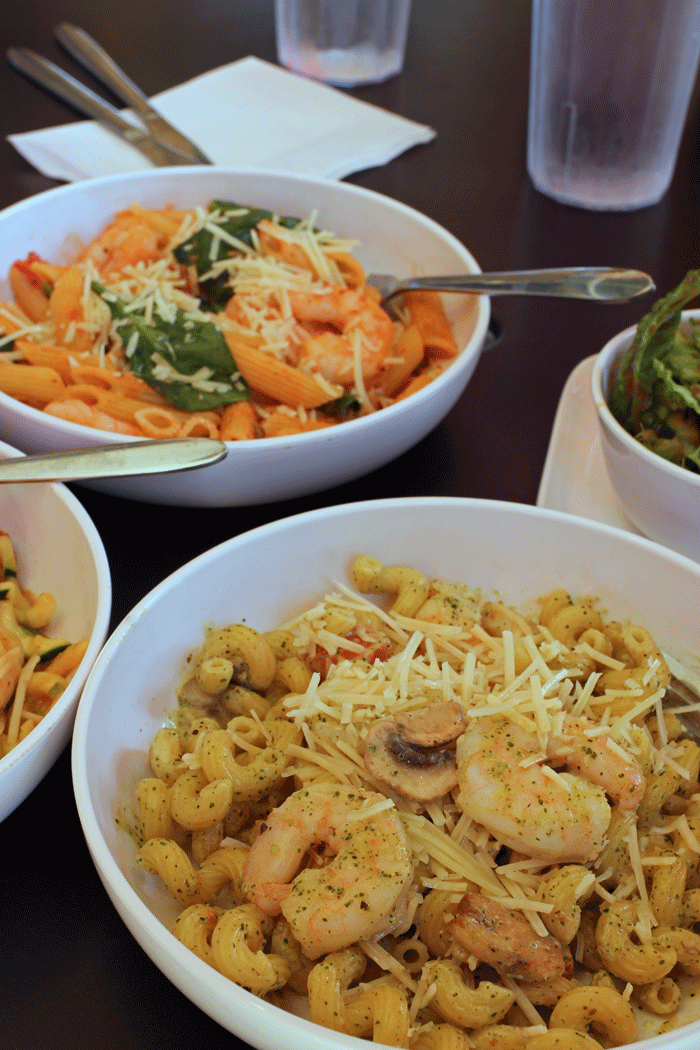 Limited-Time Only Shrimp Dishes
Recently, Bryan and I got a chance to try some new dishes at our local Noodles & Company location. We tried three different ones, all with jumbo shrimp, and boy, were they good!
Here's what we tried:
Zucchini Shrimp Scampi: Zoodles with shrimp in a light scampi sauce with roasted zucchini and Roma tomatoes, topped with Parmesan cheese, parsley, and fresh lemon.
Penne Rosa with Shrimp: Penne noodles in spicy tomato cream sauce with shrimp, mushrooms, Roma tomatoes, spinach and Parmesan cheese.
Pesto Cavatappi with Shrimp: Curly pasta, basil pesto, garlic, mushrooms, tomato, cream, and parmesan.
All three were fantastic, but my clear favorite was the Zucchini Shrimp Scampi, which honestly shocked the heck out of me.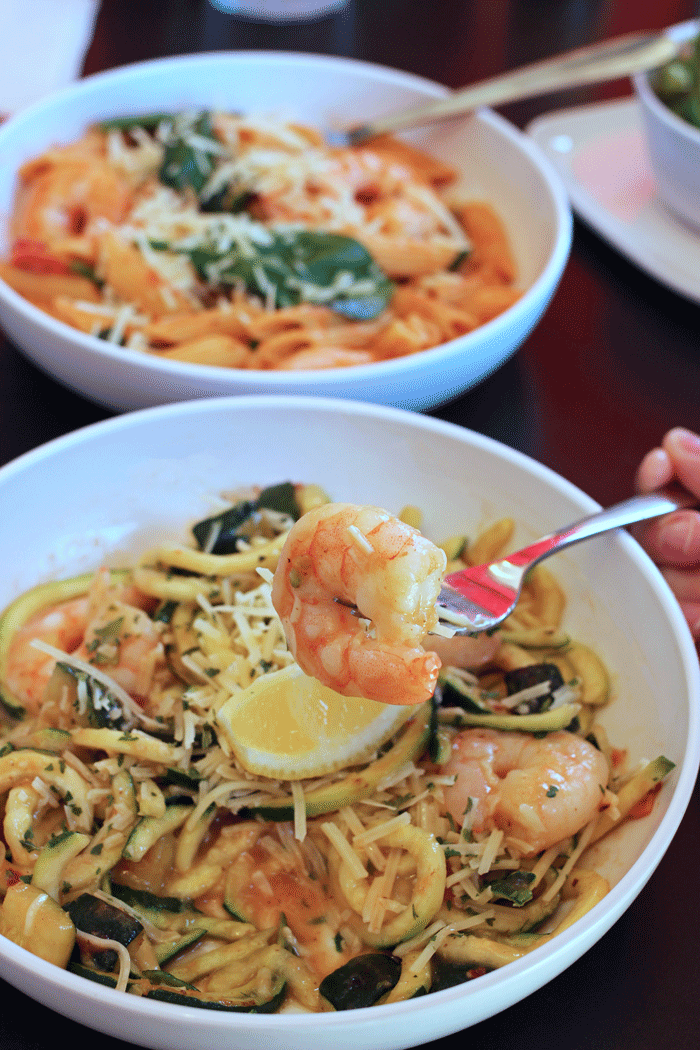 I've tried making zoodles at home in the past and was definitely underwhelmed, but man, that dish was really, really good. The zoodles were crisp, not soggy, and there was no bitter zucchini flavor to them, just rich, tangy goodness.
Even better, the small portion is only 240 calories which makes me feel so good about indulging myself.
I've been craving it ever since and will be going back. And soon!
The Zucchini Shrimp Scampi and Penne Rosa with Shrimp are only available for a limited time. Whether you're looking to slim down in time for summer or are observing Lent and refraining from meat for a season, these dishes are great options when you're dining out or grabbing something to take home.
Plus, between now and April 12, you can get $2 off each dish when you use your NoodlesREWARDS on Fridays.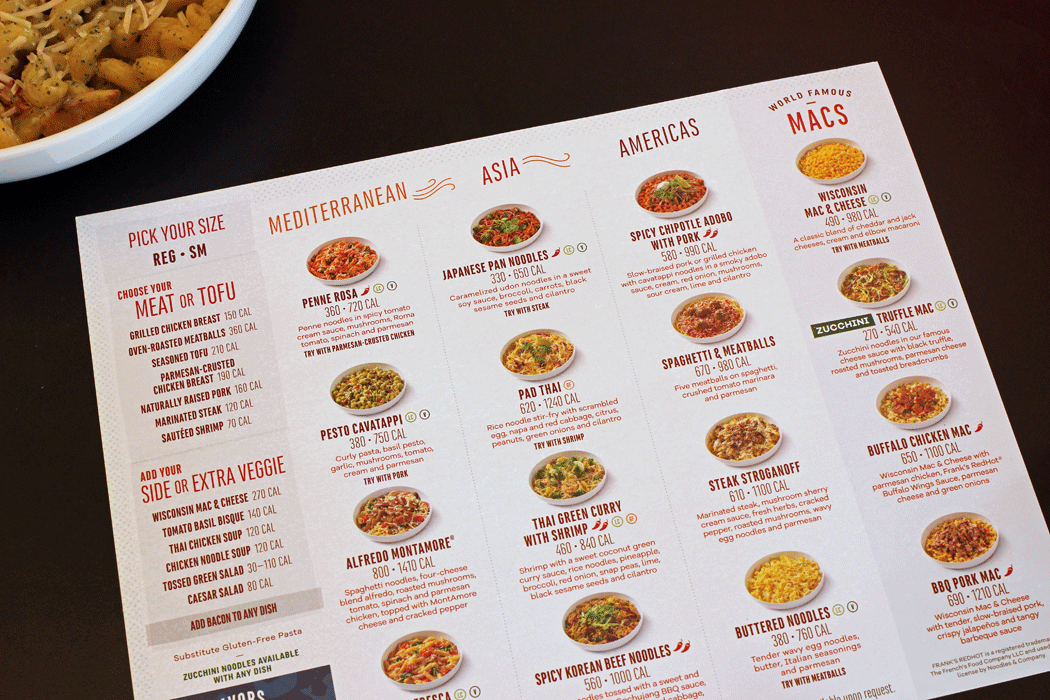 Ordering at Noodles and Company is super easy. And they've even got a mobile app. You can custom order your dish exactly like you want it, right down to whether or not there should be parmesan sprinkled on top!
Choose the dish you'd like from a myriad of flavor profiles: Mediterranean, Asia, Americas. I pretty much want to eat my way through the whole menu.
Pick the size. The small is pretty generous and allows you to try a couple different options if you like.
Choose which meat you'd like to add. You can add shrimp to any of their dishes, making it super friendly for Fish Fridays.
Zucchini noodles are available with any dish for an additional $0.75.
Don't overlook the great, better-for-you options available to you at Noodles and Company this Lenten season! And remember to tell me what you try.
As for me, bring on the Zoodles!