I'm such a grocery geek! Want a peek into our grocery cart? Here's how I'm grocery shopping and feeding eight people on the cheap.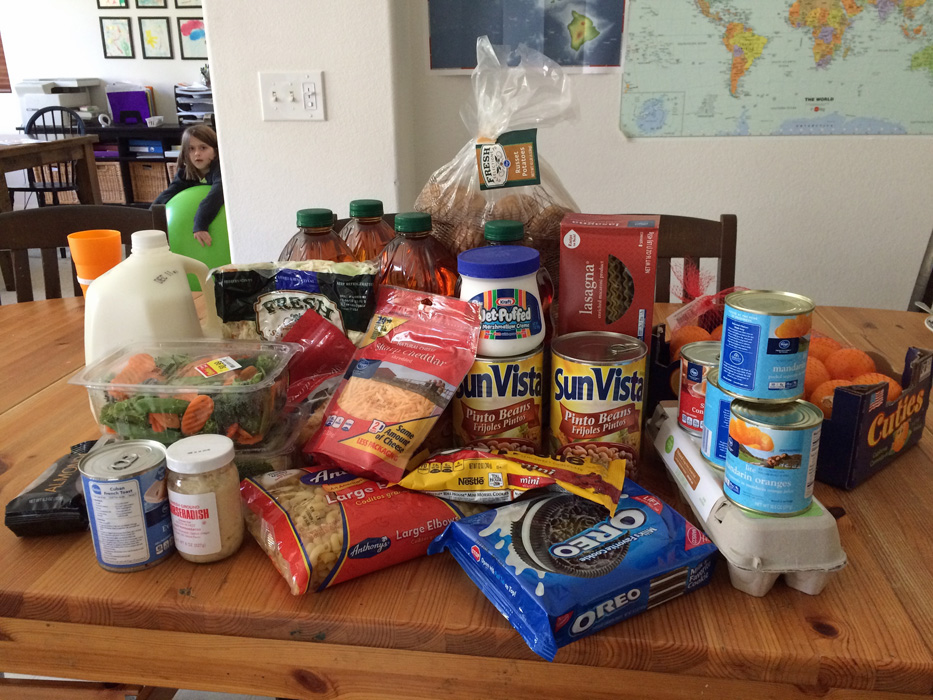 Hello grocery fans! Everyone's favorite reality show is back! After months of fatigue and health-related issues, I'm hoping that I can get back in the swing again of sharing our grocery shops. Not because they are so fascinating, but so that you can see that you're not alone in this battle against high grocery prices.
Sometime in January or early February, we are to have our house tented for termites, so we will need to for sure do a Pantry Challenge in the new year. I figure making sure I share our grocery shopping for December will help you better understand what we'll be working with when the challenge starts.
Grocery Geek!
Here's the rundown on my shopping this week. As you read, keep in mind who and how I'm shopping:
My grocery shopping profile
To update you on my grocery geekiness:
I'm feeding eight people, ages 52, 43, 18, 15, 13, 11, 9, and 7. Five of those people are males. They eat A LOT!
I'm shooting for a budget of $1200, per the USDA food cost reports the last time I added up for people of our demographics. I live in Southern California where produce is cheap, but meat and dairy are not.
I'm trying to feed us mostly unprocessed foods, with a few "healthier" convenience items thrown in and a junk food splurge* here and there.
I work at home and teach six kids, so I don't have as much time for fiddling in the kitchen as I would like.
I no longer use coupons on a regular basis, though I do love the coupons that Ralphs offers.
I have at least ten grocery stores within 5.5 miles of my house. It is easy (for better or for worse) to stop at several stores to get the best deals.
We mostly eat at home. My husband often packs lunch and breakfast to work, but sometimes has lunch out. We eat out for a date once a week. FishPapa takes one child out to "dinner with dad" once a week. We eat out as a family on average once a week.
Obviously, your mileage may vary. But, I'm constantly amazed at how well we eat without spending a crazy amount of money.
Here's how the shopping went down this week:
Ralphs
I love Ralphs Grocery. I sit between two different locations, about 2-miles from my house in different directions. One has a great selection of wine, cheese, and deli. The other has friendly staff, a brighter layout, and great markdowns. I go to the former only when I need fancy cheeses and can't get to Trader Joe's. The latter is my bestie.
Here's what I got this week:
generic lasagna noodles $1.09 after ecoupon
canned mandarin oranges $.89 (not a typical purchase, but it's what my daughters love going to Red Robin for. I figure two cans of fruit was cheaper than the whole family going out!)
Oreo cookies  $2.99 (to make these magic bars for Christmas)
marshmallow creme $1.79 (to make fudge – recipe coming next week!)
mini chocolate chips $2.99 (for Christmas biscotti)
shredded cheese – I returned it because it was caked with non-caking agent
elbow macaroni $1.29
sweetened condensed milk $1.59 

(to make these

magic bars

for Christmas)

evaporated milk $.99 

(to make fudge – recipe coming next week!)

canned pinto beans $1.99
gallon milk $2.49
coleslaw mix $1.19 after ecoupon 

(new recipe)

marked down vegetables $.99 each
Wonderful almonds $3.50 – expensive but the only kind I can find not cross-contaminated with other nuts (my daughter is allergic to walnuts and peanuts)
5 pounds clementines $4.88
10 pound russets $3.99
eggs from the Golden Goose apparently $4.29
bottled juices $1.99 (I don't typically buy juice, but this is a good price and it's cold and flu season, so I'm stocking up)
horseradish $3.59 (for holiday dishes)
COUPON $5 off $15 produce
COUPON $4 off $40 order
Total Spent $46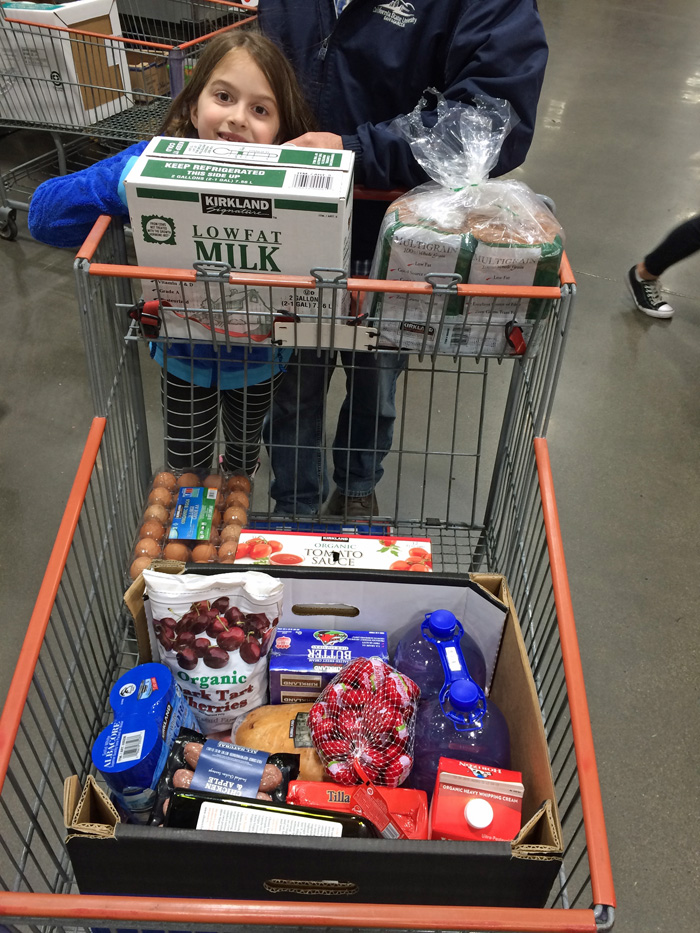 Costco
I have a love-hate relationship with Costco. I love some of the products; I love some of the prices. I hate some of the products and pricing. I really don't like shopping there; it makes me tired just to think about it.
However, this week, we may have found a solution. My car needed gas and since the stations near our house are sketch and FishPapa said he didn't want me going to sketchy gas stations and since Costco is the cheapest gas in town, we went together. He dropped me at the parking lot – no walk! – while he got gas. I shopped. It was after dinner so no one was there. By the time he was done pumping gas, I was done shopping. Win-Win.
1/2 gallon organic heavy cream $9.99
4 pounds butter $10.99
Aidells chicken and apple sausage $13.89
Kirkland tuna (8 cans) $14.49
case organic tomato sauce $7.99
huge bag Babybel cheese $10.99
3 pounds frozen organic cherries $9.99
2 gallons milk $4.39 ($2.20/gallon)
organic eggs $3.50/dozen
large turkey breast for sandwiches $13.97
~5 pounds ground beef $18.50
2.5 pound Tillamook cheddar blocks $8.99
avocado oil $8.79
2 loaves whole grain bread $4.59
COUPON Yearly rebate $108.12
Total Spent $55
Ralphs
(Not pictured)
cumin $4.24 after ecoupon
sweet potatoes $4.82
apples $.42 

(new recipe)

golden raisins $4.49 

(new recipe)

grape tomatoes $1.99
romaine lettuce $0.99
cilantro $0.69
mushrooms $2.29 

(new recipe)

bananas $2.04
red pepper $1.50
onions $1.87
garlic $0.50
cucumbers $0.99 each
organic sandwich bread on mark down $1.99
Total Spent $31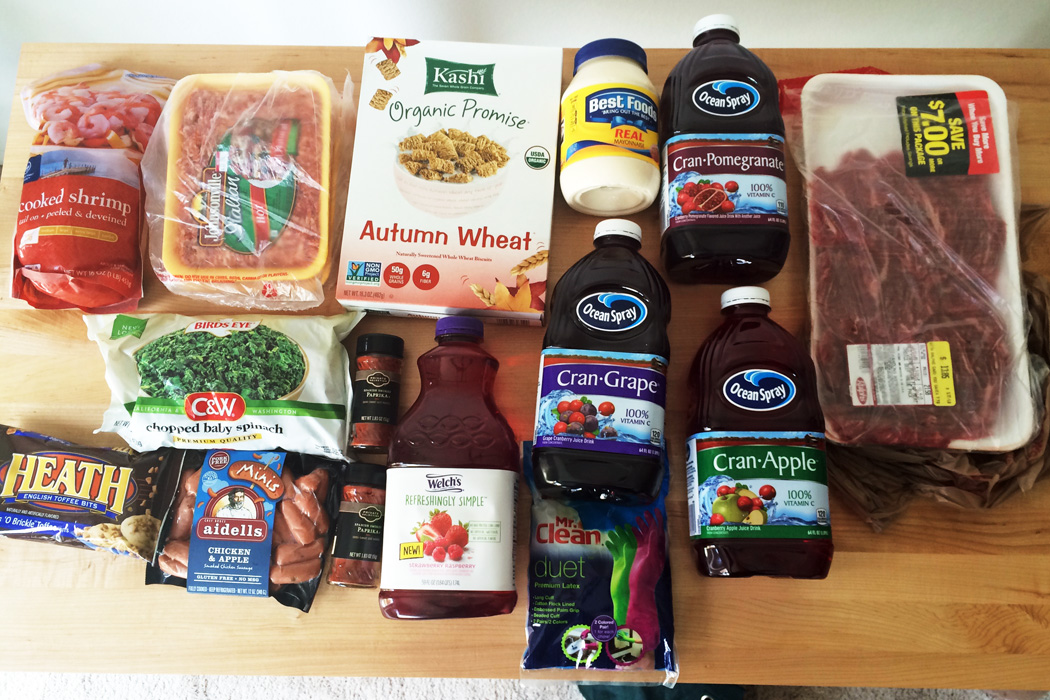 Ralphs
This was a trip where I went off list because there were coupons and deals that would work out if I was spontaneous. The trick in doing this is making sure you work the deal for things you would use normally and that you don't let your kids drink all the juice in one sitting. Ahem.
paprika $3.49 (I need to find this in bulk because we go through a lot)
frozen spinach $1.49 after deal 

(new recipe)

Heath toffee bits (for these cookies)
Welch juice drink – FREE Friday download
Ocean Spray juice drinks $1.99 after deal
mayonnaise $2.99 after ecoupon
cereal $1.99 after deal
flap meat $13.85 (to make homemade carne asada for these burritos)
Aidells mini sausages $4.99 (to make these healthier pigs in blankets)
hot Italian sausage $2.99 after deal 

(new recipe)

frozen shrimp $8.99 (new recipe)
COUPON $5 off $15 fresh meat purchase
Total Spent $53
Total spent this week $185
I bought a fair number of items for the Christmas and New Years holidays, lots of baking things that we wouldn't normally have on hand, plus quite a few things for new recipes I'm developing.
Total spent this month to date $185
How are your grocery geek adventures going?