I can't take all the credit for this recipe. The basic ingredients list is based on a recipe from my all-time favorite bread machine cookbook and then I tweaked it a little. It is a regular staple around here and there are rarely leftovers. But, when there are, they make great croutons.
Recipe: Garlic Focaccia
Ingredients
1 1/4 cup water
2 Tablespoons olive oil
2 1/4 cups unbleached flour
1 cup whole wheat flour
1 1/2 teaspoons salt
1 teaspoon garlic powder
1/4 teaspoon dried oregano
2 1/2 teaspoons yeast
1/4 cup olive oil
coarse salt
Instructions
Assemble ingredients (except 1/4 cup olive oil and coarse salt) in the pan of your bread machine according to the manufacturer's recommendations. Set for "dough."
Prepare pan by lining a rimmed cookie sheet with parchment paper and pour 2 Tablespoons olive oil over the surface of the parchment.
When dough is complete, turn it out onto prepared sheet. Flip it over so that both sides are "oiled." Spread dough in pan. Cover gently with plastic wrap and allow to rise, at least 30 minutes, but more if possible.
About 30 minutes before baking, preheat oven to 450°. Remove plastic wrap and drizzle remaining olive oil over the top.
Sprinkle with salt and bake for 15 minutes, or until golden brown.
Enjoy immediately or wrap the cooled bread in foil and freeze for longer storage.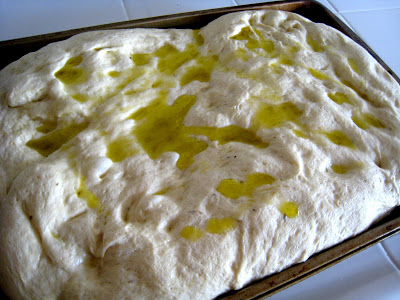 Want the dish on delicious ways to act your wage? Subscribe to GCE in a reader or via email.