Shopping at Costco can be a tricky affair. All the things are there! But, you can save money shopping at Costco. Here's how: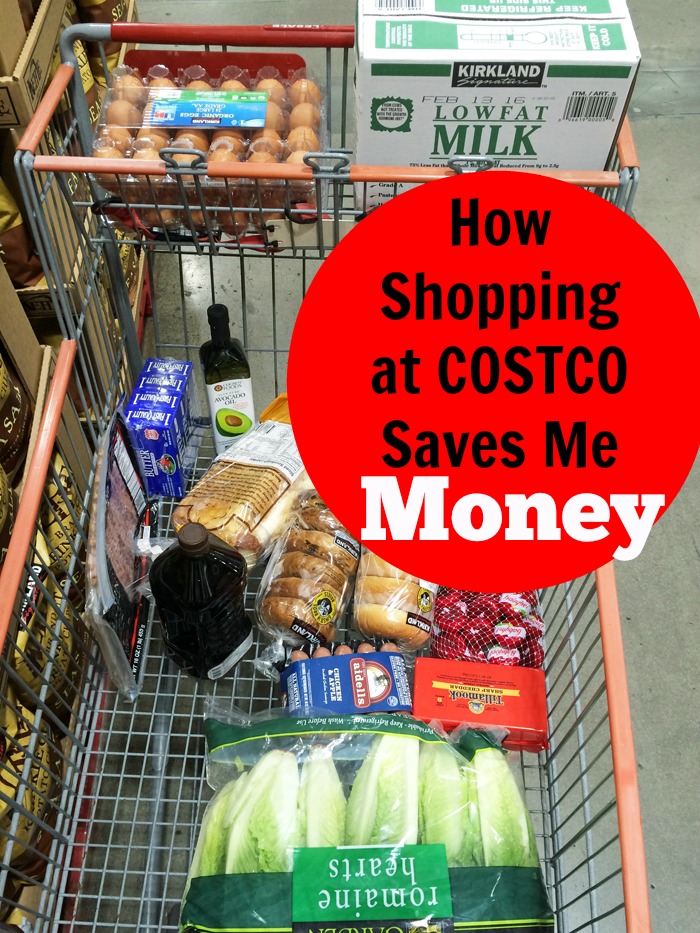 FishPapa and I got a membership to Price Club the year we got married (1994). We've belonged to Costco, the club warehouse formerly known as Price Club, ever since. While some don't see the point in paying a $55 fee to shop there, we've found it to be a great asset to our arsenal of money-saving ideas.
Granted it can be a tricky affair if you're not sure what to buy or what constitutes a good deal. Not everything Costco sells is a great deal.
Regardless, shopping at Costco does save us money. Here are some of the reasons I love Costco and how we save:
How Shopping at Costco Saves Me Money
1. Great prices on a number of staples
Even when I combine coupons with great grocery store sales, it's rare that the prices of milk, butter, cheese, lettuce, beans, and spices are cheaper anywhere besides Costco. Costco hits my stock-up price on those items practically every time.
2. Increasingly large selection of organic products
It's amazing how much organic Costco now carries. Produce, broth, canned products, dairy, and some dry goods are often available at better-than-grocery store prices — even better than the price of some conventional products. I can get better for less or the same amount of money at Costco.
3. A wide selection of gourmet foods at "best prices"
We love to eat a variety of gourmet foods, including breads, cheeses, and meats. Costco offers a huge selection at very good prices. Could I find the same prices elsewhere? Maybe, but not as reliably as at Costco.
4. The cheapest gas in town
Since the gas price jump a few years ago, we've been buying our gas at Costco. There's usually a line, but it's my turn within about 10 minutes. I just make sure to turn the car off rather than let it idle.
Costco gas prices have been between 15 and 35 cents cheaper than the lowest gas station price. To me, it's worth the wait.
5. Great food court
I am not a "food court" kind of person. In most cases, I'd rather eat at home, but Costco consistently has great pizza, kosher hot dogs, and ice creams. Plus, the prices are fantastic. $1.50 for a hot dog and a drink? That can't be beat. If we buy takeout pizza, that is usually the kind we get. $10 a pie is the best deal I've ever found in California or Kansas.
6. Fair deals on "other stuff"
Costco sells a wide range of electronics, clothing, tools, gadgets, books, games, toys, and sundry other items. Some can be great deals; some fair; some abysmal. You gotta keep your eyes open.
We have bought gift cards at a discount that have made great gifts or given us lower prices on our own meals out. For instance, Costco sells $100 worth of gift cards to a variety of restaurants. They charge $80 for those cards, so you get a discount of $20 off your entire purchase.
We've also received great discounts on travel expenses, tires, glasses, orthotics, and a myriad of other extras.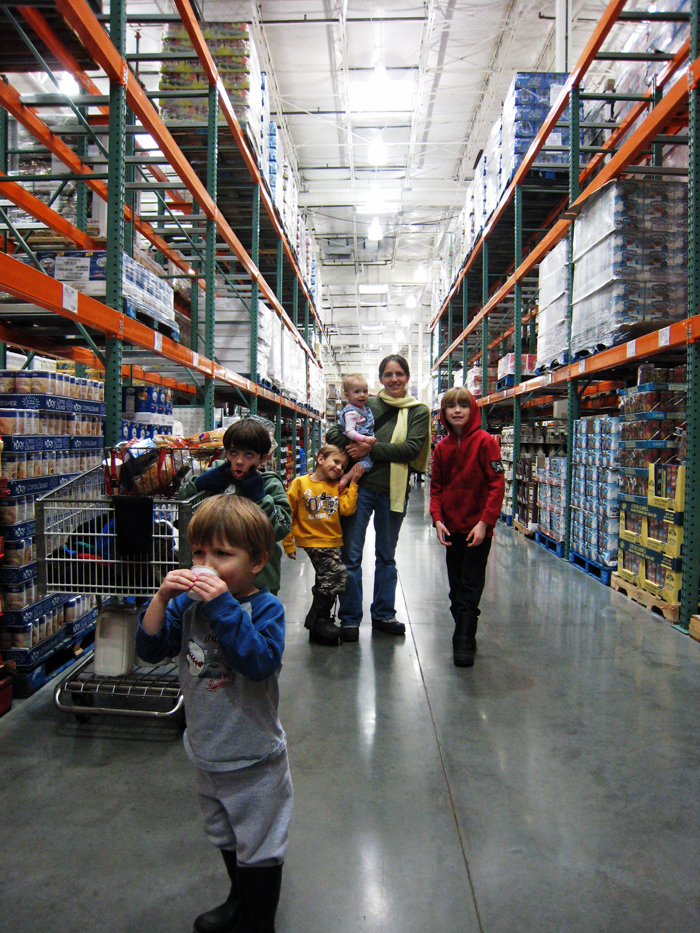 7. Free samples
Depending on what time you visit, there may be a number of free sample carts set up around the food aisles of Costco. Some days, you could make the Sample Tour serve as a meal.
Some of the samples I would never buy, but many of the foods they serve have provided opportunities for my kids to try things that they might not touch at home. And we've found some favorite treats by tasting the samples.
Costco is nowhere near perfect. And it wouldn't be fair unless I told you the things I'm not crazy about.
Some of the negatives of shopping at Costco…
It's often busy.
That can be problematic, especially when you're herding many children. Unless FishPapa comes with, I usually don't take the whole flock — unless ice cream is involved as a bribe, er, reward.
Weeknights can be slower and an easy way to get in and out without a lot of hassle. Recently, we've done it a few times on date night where FishPapa drops me at the door while he goes to wait in the gas line. By the time he's gassed up and parked, I'm all done with the shopping so we meet at the checkout and I get help pushing that full cart to the car. When we divide and conquer, neither of us has to do all the things.
Want more help in your life as mom? Get the newsletter!
Sign up for the newsletter for bonus offers, surprise giveaways, extra content, and special deals.
Packaging is heavy.
Unless I specify to the clerk that I would like the boxes packed light, I am in for some weighty issues once I get to the car. I threw out my back loading my Costco haul — twice, I think — so now I am very careful about how I load. Or I bring along someone who can lift.
They want you to upgrade.
Costco offers standard, business, and executive memberships. The executive membership offers you a cash back incentive. We've done this in the past and found that it really wasn't worth the heftier fee.
I've been hassled by Costco employees on more than one occasion, insisting that I upgrade. One even said, "If you would just upgrade, we'll stop bugging you." That alone makes me dig my heels in. No means no.
(Yes, we've spoken to management; yes, I've written to Costco. But, they must not need my business so badly that they're going to do anything about it.)
So far I've been able to put other coping techniques into practice at the checkout and have avoided confrontation the last two weeks. But, I'm on my guard, and honestly, it does take some of the joy out of shopping there. Is it a deal breaker? Not yet. And I sincerely hope it doesn't become one. I like my buck fifty hot dog too much.
Since I first wrote this post in 2011*, we have upgraded to the Executive Membership. I'm not sure if they still hassle people to upgrade or not. We've found that the higher tier membership and the accompanying cash back reward are typically a wash or a small profit, so we've kept that membership level for the last few years.
But what about the $55? (Or $110?)
To some people, paying $55 for the privilege of shopping at Costco — or the $110 Executive Membership — may not be worth it. But, I look at it this way:
We go there about once or twice a month.
The $110 divided across a year is about $2 a week, less than I used to pay for a newspaper full of coupons.
I easily save that two dollars in milk prices alone.
Anything over that two dollars is savings.
With the executive annual 2% reward, we usually get a rebate check between $65 and $100 at the end of the year, reducing our cost even further.
For us, it's worth it.
One caveat — it's worth it, provided we aren't tempted to pay higher prices on Costco items that aren't deals. It's rare that we buy anything that isn't the known stock-up price, but it does happen. I still think it's worth it.
What's been YOUR experience with warehouse clubs?
*This post was originally published on March 26, 2011. I have updated it to reflect current practices.
For further reading: