Shopping at a warehouse store and making bulk purchases can be a great way to save money. Here are 8 reasons why you should shop at Costco.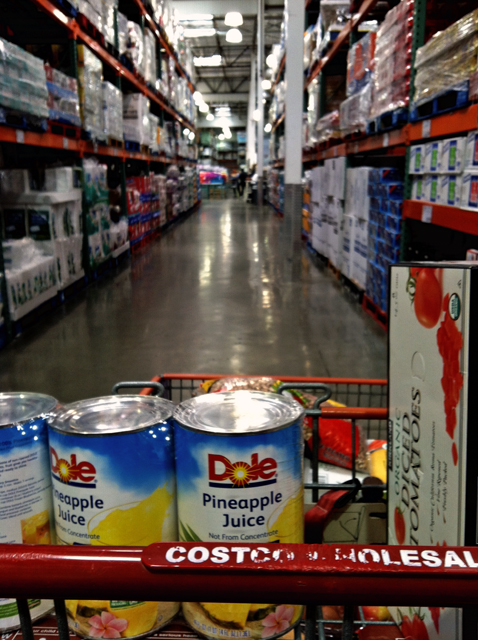 It was over twenty years ago that I started shopping at Costco-the-store-formerly-known-as-Price-Club. FishPapa and I were just dating then. (His nickname was Fish.) We lived in Santa Barbara; the nearest Price Club was in Oxnard. It was a good 45-minute drive, but it was worth it.
Often it was his mom and I who would make the drive, eating at the nearby Soup Plantation or grabbing a hot dog at the food court. Years later in my first pregnancy, Fish and I would make that long drive through dinner time traffic just for the hot dogs!
Over the years, Costco has come to provide our family with huge savings on a number of items that we regularly buy. While we don't buy everything we eat at this warehouse store, we do buy a fair number of things.
A Costco membership is a valuable weapon for me in the battle against high grocery bills. Here's why: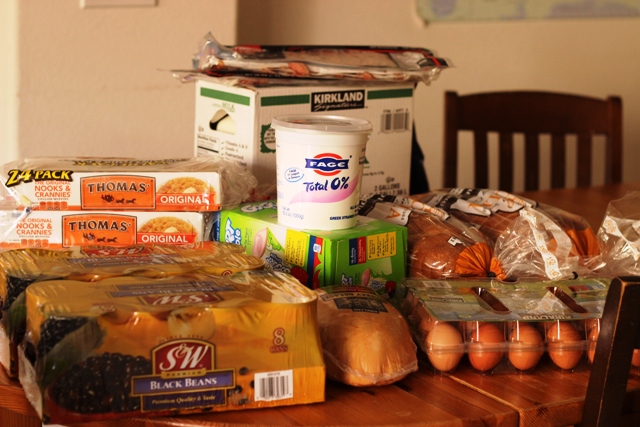 1. Lowest prices on many staples
Costco offers us the lowest price on most of the dairy, bread, and fresh produce that we buy. Organic eggs for $3.50/dozen? Yes, please.
My list of regular items includes: sourdough and rye breads, English muffins, bagels, deli turkey breast, Tillamook cheese, shredded mozzarella, sausages, eggs, milk, yogurt, bacon, beans, pasta, tomato products, olives, bananas, apples, and spices.
2. Easier bulk buying
I buy a lot of food. A lot. There are some things that it just doesn't make sense to buy in small packages. The bulk buying — and the bulk pricing — really works for me. I particularly love buying in bulk when I'm going to do some freezer cooking.
Just pay attention to prices. Costco ginormous package isn't always the cheapest. I keep a price book in my head to make sure I'm not spending more than I should.
3. Discount non-food stuff
We've bought eyeglasses, orthotics, tires, and car loans through Costco. All have been really good deals. Costco sells appliances, tools, dishes, clothes, etc. The selection is not vast, but the prices are generally good.

4. Great selection of healthier items
There are some items I will only buy at Costco because they have a better ingredients list. For instance, did you know that a lot of commercial tuna has soybean oil in it? Not at Costco.
Increasingly, Costco is offering more organic and cleaner food products. I love it!
5. Cash back for purchases
After much kicking and screaming on my part, we finally upgraded to the Executive membership. This membership offers 2% back on purchases, up to $750 for a 12-month period. While the Executive membership costs more ($110 compared to $55), it has always paid for itself.
I can't find the information on their site, but when we upgraded, they told us that our "earnings" check back would be at least the difference of the $55. That is, if we didn't earn that much in our 2%, they would give it to us. Last year's check was $62, so we gained back $7.
6. Awesome food court
While it's certainly not health food, Costco's food court offers take-out/junk food for great prices. You can get a Kosher hot dog and a soda for a buck fifty. Who else does that?
My homemade pizza is better than Costco's, but theirs is very decent for ten bucks.
7. Fun food a plenty
Costco offers all kinds of things that you might not think to buy, but that is totally awesome. Use caution: some of it may not be a great deal, may not be needed, or may come in too big a bag for you to consume at a healthy speed without going bad.
But, you can find some awesome stuff there.

8. No-questions-asked return policy
If you don't like something you buy at Costco, you can return it without any issue. You must have original packaging, but they are great about returns, even when I don't have a receipt.
I had plants die shortly after planting once, and they had me dig the plants up and return them. Then I got the money back. Easy-peasy.
This policy makes it easy to try something, risk-free. They started carrying canned skipjack tuna last fall at a significantly cheaper price than their albacore. I gave it a shot, but we didn't like it. I took back the other cans in the pack and got my money back.
How does Costco compare to Sam's Club?

There is no Sam's in my area currently so I can't give recent data. In Kansas 2003, we had memberships to both. My feeling was that Costco is like Target (a little nicer, a little cleaner, a little more expensive) as Sam's is like Walmart (a little less on all those counts). Your mileage may vary.
These are the reasons why a Costco membership is a must-have for our family. While we need to exercise caution — there's just too much "fun" to buy there — it helps us save money on food costs.
What's been YOUR xperience with Costco?
Is it worth your membership investment?