Perhaps you're heard stories from friends or acquaintances who came home to find that a power failure — or careless child leaving the freezer door open — had caused the contents of their freezer to thaw completely, leaving a soggy, sad mess. You commiserated with their plight, but inwardly you were sighing, I'm so glad that's not me.
Yeah, well, I thought that once, too. In fact I prided myself on the facts that ours was a chest freezer — and thus, could not appear to be shut when it had, indeed, been left open — and that our garage didn't have electrical issues.
That is until the breaker went out one weekend during a home improvement project and we didn't know that we had killed power to the freezer. Until three days later when I went to make lunch.
I called FishPapa at work, crying: mumble mumble died!

FP, alarmed: Who died?!

FM, wailing: The freezer!

FP, trying to maintain his composure: I'm so sorry that happened to you, honey.
Yes, so was I. I had recently scored some great grocery deals, and the freezer was stocked with a fortune of food for a fraction of the price. Sure, it wasn't a lot of money that was lost, but it took a lot of work and time to coupon and shop and snag the deal. I vowed that a freezer fail would never again rob me blind.
So, the deep freeze sat dormant for a year, until I finally bought one of these babies: a freezer alarm.
A what?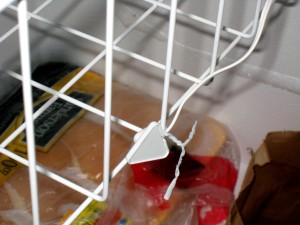 A freezer alarm. It's this little doo-dad that sits in my freezer and screams its head off if things start to heat up in there.
Our freezer is in the garage, right next to the entry to the house. FishPapa placed the sensor in the freezer and mounted the alarm right inside the house, securing the wire to the wall. It is a wonderful bit of security that gives me peace of mind. It cost about $10 (or free if you use Swagbucks) and has worked really well in the three to four months since we got it.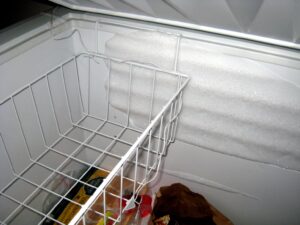 Our particular model goes off whenever the freezer has been opened for more than a few minutes, like when we're loading or unloading many things at once. It seems rather "sensitive" which I like. I feel better that it goes off in such a short amount of time because I know that it's working for me.
That is particularly helpful when it comes time to prepare a lot of meals at one time and fill the freezer like a crazy woman. Stay tuned for that early next week!