The traditional "white" sweet potato makes lovely, almost crisp hashbrowns.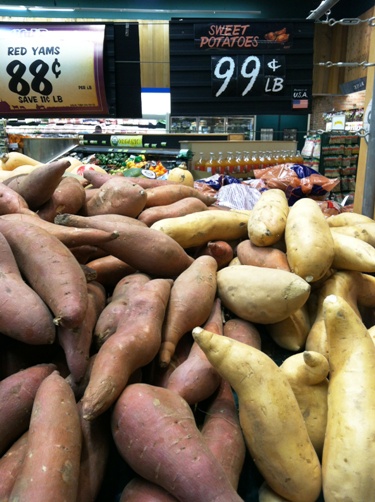 Over the last month or so, I've explored some foods I'd never previously had. Some I'd never even heard of. Some I bought but haven't yet tried like the kombucha sitting in my fridge.
During my Whole30 I had a lot of sweet potatoes, looking for a starch to fill the gap that bread, pasta or grain might normally take care of. Sweet potatoes are filling, for sure. In fact, they are usually so big that I can't finish one in one sitting and so I had leftovers for future meals.
Now, I know the story how what passes for yams in the States aren't really yams, but sweet potatoes with an identity crisis. You can read more about the difference between the different roots here.
I see "garnet yams" often in these here parts and they've been in our produce box throughout the fall and winter. I like garnet yams or orange sweet potatoes okay, I guess. I found out that they don't really "crisp", and so hashbrowns or fries are a little lackluster.
It was while I was abstaining from regular potatoes that I discovered "the true sweet potato", the white one from whom the orange one seems to steal the show. They look very much alike, but they are a different color. The white sweet potatoes are, in my opinion, sweet, but not as sweet as the garnets. Plus, they crisp ever so slightly when fried, making them perfect candidates for hashbrowns.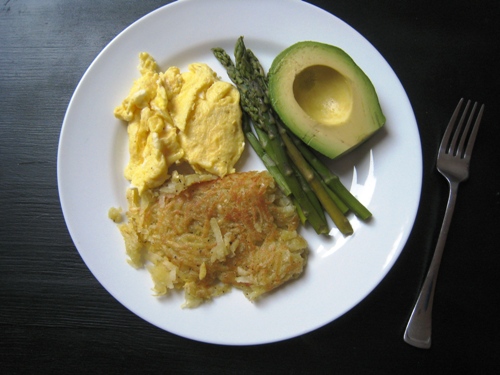 I tripped out my family by making these. They assumed they were standard hashbrowns, but no. They are definitely sweeter. However, this recipe comes together in a flash with very little effort. I have enjoyed them in place of traditional starches at all three meals of the day.
Recipe: Sweet Potato Hashbrowns
Ingredients
2 tablespoons olive oil
1 large white sweet potato, about a pound, peeled and shredded
Garlic Sea Salt (I used Real Salt brand) and pepper to taste
Instructions
In a medium skillet, heat the oil until shimmery.
Add the shredded potato and spread in an even layer in the pan. Press down. Season to taste with garlic salt and pepper.
Cook over medium heat until tender and browned on bottom, about 5 to 7 minutes. Flip and continue cooking on other side another 3 to 5 minutes or so. Serve immediately.
Preparation time: 5 minute(s)
Cooking time: 10 minute(s)
Number of servings (yield): 4
 Are YOU a fan of sweet potatoes?