Print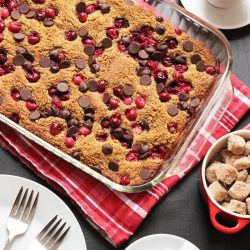 Cranberry Chocolate Chip Snack Cake
With its sweet crumb top, tart cranberries, and rich chocolate, this snack cake is perfect with coffee or milk. Warning: no leftovers.
Preheat the oven to 350°. Grease a 9×13-inch baking dish.

In the bowl of a food processor fitted with a metal blade, combine the flours, brown sugar, and butter. Pulse until coarse crumbs form.

Remove 1 cup of the mixture and set it aside.

Add the milk, egg, vanilla, orange zest, baking powder, and salt to the remaining flour mixture. Blend until smooth.

Pour the batter into the prepared pan. Sprinkle the reserved crumb mixture over the batter. Sprinkle the cranberries and chocolate chips over the crumb mixture. Bake the coffeecake for 35 to 40 minutes or until a tester comes out clean.
Stock up on ingredients when they are on sale. The holidays are a great time to stock up on baking ingredients. Cranberries will also be more readily available around Thanksgiving and Christmas. Watch for them to be marked down right after the holidays so don't hesitate to stock up and fill your freezer with them.
If you need to make some substitutions or omissions, you can skip the orange zest. It's not critical and if you don't have any oranges or they aren't on sale, it's not a huge deal. You can reduce the amount of chocolate by half if you prefer to save there as well. I've made it with as little as 1/4th of a cup and it's been great.
Nutrition Facts
Cranberry Chocolate Chip Snack Cake
Amount Per Serving
Calories 292
Calories from Fat 95
% Daily Value*
Fat 10.6g16%
Cholesterol 37mg12%
Sodium 177mg8%
Potassium 155mg4%
Carbohydrates 45.7g15%
Protein 3.8g8%
Calcium 60mg6%
Iron 1.4mg8%
* Percent Daily Values are based on a 2000 calorie diet.