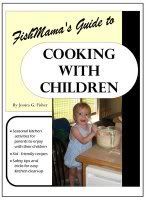 Ever wonder how to get kids enthusiastic about mealtime? Stumped for ideas and recipes to try with your children? Looking for simple solutions to cooking with little ones?
Well, look no further! FishMama's Guide to Cooking with Children includes:
Seasonal kitchen activities for parents to enjoy with their children
Over 25 kid – friendly recipes sure to satisfy even the pickiest eaters
Safety tips and tricks for easy kitchen clean-up
I'm no expert, believe me. I'm just a mom who likes to make cool cakes for her kids. When they told me that I couldn't make them pie for their birthdays, I had to get creative. My basic formula is to take what interests my kids, find toys and candy to go with the theme and then create a scene on top of a cake. Think third grade diorama and make it edible. It's pretty much what the bakery does, only:
My kids have a lot of creative license in choosing a theme. The sky's the limit in terms of themes.
The birthday child gets to keep an entertaining functioning toy rather than a useless, plastic cake topper.
I don't pay a small fortune to celebrate with a festive cake.
Still not convinced you can do it? Then buy this book!