Are you looking for some easy meals that taste great and fit the budget? This Back to Basics Meal Plan is your answer for simply delicious dinners all month long.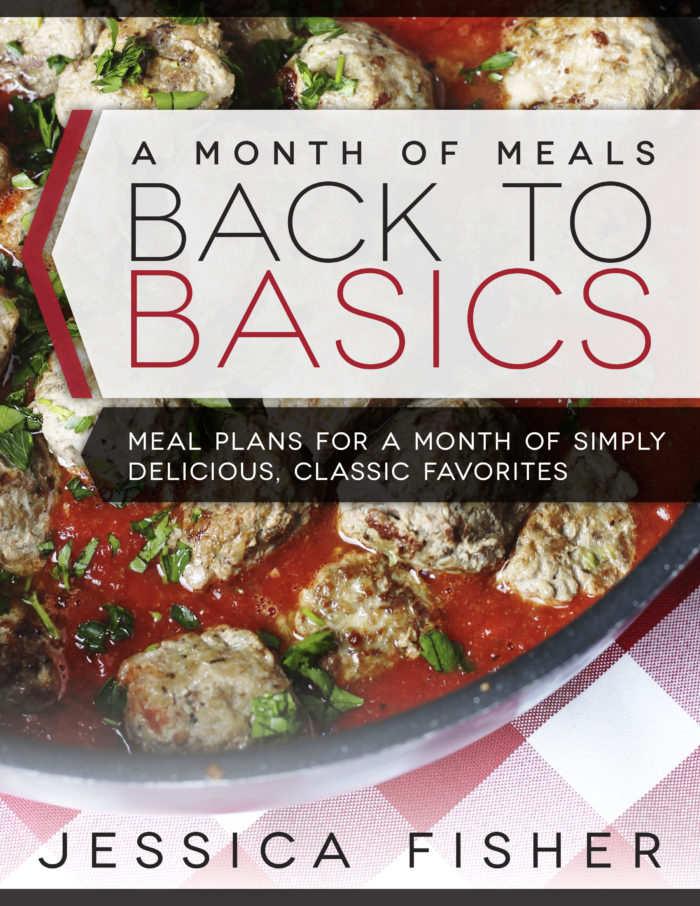 Do you find that time doesn't slow down? Even on lockdown?
I don't know about you, but with kids at home and a spouse working from home, my life got a whole lot busier last spring when outside activities shut down.
It was a potent reminder how much I need to be on the ball when it comes to meal planning and prepping so that I can feed my family healthy food they'll want to eat and that I can afford.
That's why I love this Month of Meals: Back to Basics. Not only does it handle the nutritious, delicious, and affordable, but it also throws EASY for good measure. Whether you're an old pro in the kitchen or a novice home cook, this basics meal plan is designed to make suppers simple for the weeks to come.
A Month of Meals: Back to Basics is a curation of some of my favorite basic dinner recipes. Not only are they simple and easy to prepare, but they promise to please even the pickiest of palates.
From lasagna and homemade pasta sauce to crispy chicken fingers and homemade pot pie, you'll feast on simply delicious, classic favorites. Not only does this meal plan provide 30 favorite recipes, but it also gives you the keys to pairing those main dishes with simple and delicious sides.

A Month of Meals: Back to Basics Meal Plan
Having a meal plan at the ready enables me to do several things:
avoid too much take-out  – We like to support local businesses, but we still gotta keep our budget in check!
grocery shop quickly and easily – add in grocery pick-up and you are golden!
thaw frozen ingredients in a timely manner
prep ingredients in the morning or the day before when I have more time than right at 6 pm when everyone is hangry
enlist family members to help with meal prep
save money because I am buying ingredients on purpose, not on impulse
This Back to Basics meal plan provides you with those super powers. With your PDF purchase, you'll receive:
30 budget-friendly, main dish recipes (these are not found in any of my cookbooks)
4 weeks of meal plans
5 grocery lists (1 for each week as well as 1 for the whole month so you can shop the sales or just stock up for the month, knowing you'll use those items up eventually)
side dish suggestions so you don't have to wrack your brain for ideas
homemade alternatives to commercial products so you can save money and eat more healthfully
weekly prep tips
leftover alerts to help you avoid waste
bonus: appetizer and dessert ideas to make every meal special.
This Back to Basics Meal Plan is back for just one month. Get it while you can!