Print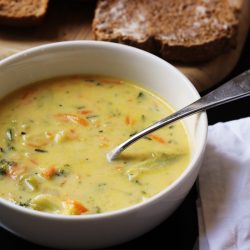 Cheddar Cheese Soup with Zucchini, Broccoli, and Carrots
This recipe for Cheddar Cheese Soup is creamy and comforting. Filled with bits of zucchini, broccoli, and carrots, it's healthy comfort food.
In large saucepot, melt butter. Add garlic, zucchini, carrots, and onion. Saute until veggies are tender. Stir in broccoli and broth. Simmer until broccoli is tender.

Meanwhile, melt butter in large pot. Whisk in flour and cook for a minute or two. Whisk in milk until smooth. Simmer until thickened.

Whisk in cheddar cheese. Incorporate vegetable mixture into cheese sauce, whisking until smooth.

Serve immediately.
To freeze: cool the soup and store in meal- or individual-sized portions in the freezer, for up to 2 months. Reheat before serving.