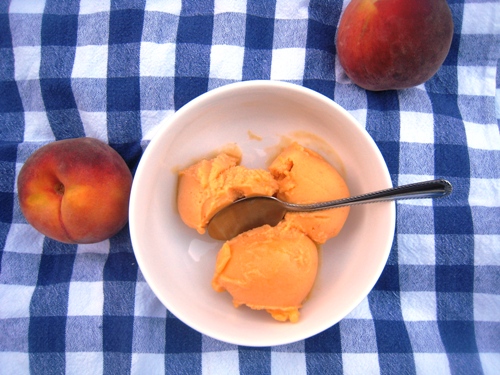 We've owned a few different ice cream makers over the years. Our first purchase was the one that you had to add salt and ice to. I think we used it twice. We had a couple cheapos afterwards that went the way of a donation truck because I didn't use them all that often.
But, last year when I started hearing more about food additives and in particular what they add to ice cream, I decided to reconsider making ice cream myself.
What I found out was that through savvy shopping, I could make organic ice cream at home, cheaper than if I bought a carton of conventional at the store. Go here to see how I crunched the numbers.
After that I started experimenting making other ice creams and then sorbets, using pureed fruit. I'm looking forward to developing some honey or maple-sweetened concoctions throughout the summer.
Favorite recipes so far:
I've also made Peach Sorbet, Mint Ice Cream, and Maple Vanilla Ice Cream but have yet to document them.

Care and storage
It's pretty simple to store the ice cream maker. They've slimmed down tremendously in the last twenty years. I store the silver freezing canister in the freezer so it's always ready to go. The other parts store easily in a cabinet over the refrigerator. I wash it all before storing just like I would wash dishes. I wipe down the main motor component, but don't wash it in a tub of soapy water, of course.
Purchasing a machine
I didn't shop around. I bought the only model Costco had last spring, the Cuisinart ICE-20. It was being discontinued at the time, but that was fine by me. It was less than 35 bucks!
The newer model comes in all kinds of fancy colors, though, which is fun for summer.
I'm looking forward to exploring more frozen desserts, especially the naturally sweetened ones, in the next few months. Let me know your favorite flavor so I can try it.
What's your experience with an ice cream maker?
Love it or hate it? Do tell.
Disclosure: This post does include Amazon affiliate links. If you make a purchase through those links, I am paid a small amount in way of advertising fees.
(Check out past posts in which I wax eloquent about the bread machine, the food processor,the immersion blender, the waffle maker,  the Keurig, the electric griddle, the home juice extractor, the toaster oven, the slow cooker, the Magic Bullet, and the deep freezer.)