A bread machine can be a valuable asset to your kitchen. I can, but don't want to, live without it.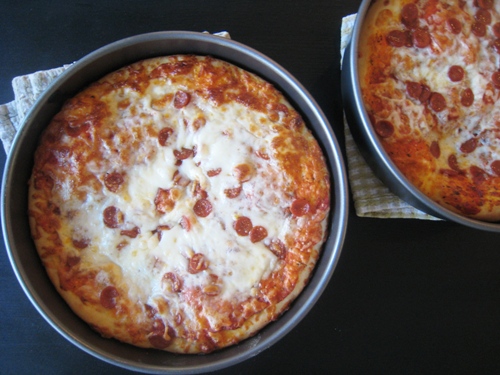 Once upon a time, I was a lost cause in a kitchen store. Santa Barbara was a fairly smallish town when I lived there as a college student, newlywed, and then a young mom. And "the" kitchen store was Jordano's. It was upscale as most thing in Santa Barbara are. It was a wonder to behold. I drooled with envy each time I walked in.
I spent a lot of money on dishes and kitchen gadgets in those early years of homemaking. Some of those items went the way oaf the garage sale years ago. Others, like my favorite dishes, are with us today.
Over the years, I've learned to stay out of kitchen stores, unless I have a particular need. My knees still get weak when I walk through Sur la Table or Williams-Sonoma. I have a husband-turned-Alton Brown-fan who regularly reminds me about the dangers of unitaskers.
That does not, however, deter me from the small kitchen appliances that I know and love. With time I've discovered which items really help me in the kitchen and justify their use of kitchen real estate.
This series is designed to help you consider which kitchen appliances you might want to make a part of your kitchen team.
Can we talk bread machines?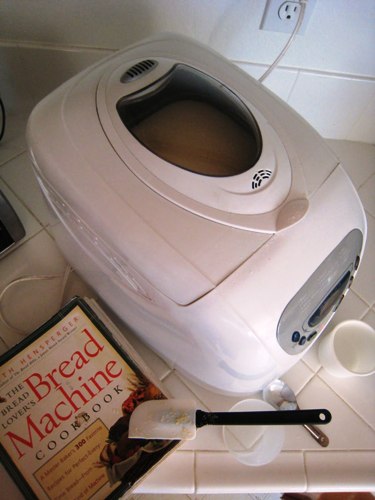 When I married Fish, I moved into his little 200-square foot studio. It was the pool house/guest house on a larger property. His landlords became family to us during the five years we lived there. Karen was also a fan of Jordano's. One day she brought home a bread machine. It was big and bulky. We were all fascinated about how it worked. I remember gathering in their kitchen, clustering with their kids around the machine, to peek through the window.
It was like 1950s tv for the 90s.
Since we lived in such a small space, it didn't seem like a practical purchase for us.
Fast forward five years and we were a young family living in a 2000 square foot home. We lived in a rural area. Most of my friends grew vegetables in the garden, ground their own wheat, and baked their own bread.
I borrowed a friend's mill and heavy-duty mixer to see if I was ready for the expense. I wasn't. Too loud, too bulky, too much flour dust flying. I didn't see how a Bosch would really help me in the kitchen, especially when I hated to clean it.
Instead, while browsing through Target I saw that bread machines had reduced in price as well as size since I'd last seen one. The cheapest model was a sleek $50, significantly less than the mill and mixer combination I'd been considering.
Hubby got me one for Christmas that year, 2001. Over the last dozen years, we've gone through two machines, always the lower end model from Target or Walmart. This means the Oster or Sunbeam by default. I don't have experience with the higher end models, but I know folks that love them.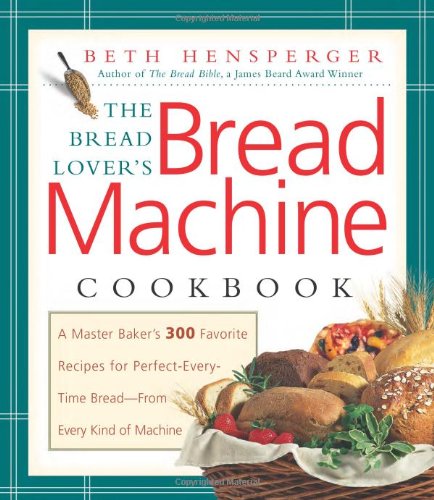 Appliance Companions
One essential companion to a bread machine is The Bread Lover's Bread Machine Cookbook by Beth Hensperger. I purchased this early in my bread machine ownership. My copy is falling apart.
(A fun aside: little did I know twelve years ago that the man who edited that book would someday be my cookbook editor! 2001 Jessica would be floored.)
This bread machine cookbook offers excellent advice on how to get the best performance from your machine as well as how to adapt your own recipes to bread machine recipes. It's really not that hard.
Over the years I've expanded my baking supplies to include parchment paper, silpat mats, and a bench knife. These aren't necessary for using the bread machine, but they are nice to have.
Use of a Bread Machine
I'll be honest, I'm not currently a huge fan of bread baked in the machine. The paddle sometimes lands in a weird spot. The bread sometimes sinks. The Bread Machine cookbook helps counteract some of that, offering tips and foolproof recipes.
Once upon a time, I baked bread on a daily basis in the machine and that worked really well for us. But, since my family can now inhale a loaf of bread in a matter of seconds, I find it more helpful for making dough.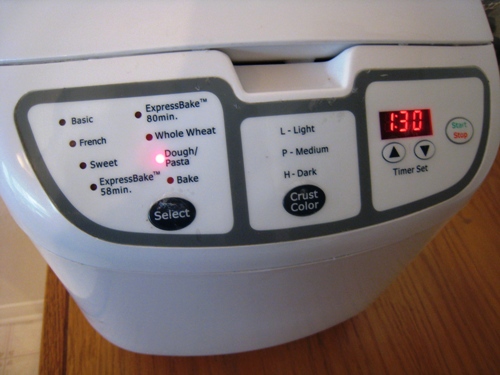 Why not use a mixer then?
Ah, good question. I have a love-hate relationship with my KitchenAid mixer, an appliance that my husband bought me for my birthday about five years ago. It's the mess and clean up that slay me.
Plus, to make bread dough in the mixer, I have to think. I have to watch and adjust how long the ingredients have to mix. I might need to change the hook or paddle.
I don't really have to think with the bread machine. I just add the ingredients and push start. I come back ten minutes later with a rubber spatula to make sure everything's mixing well into the dough ball. Then I just walk away. No greased bowls, no rising time, no thought.
We use the bread machine weekly to make pizza dough as well as several times a month to prepare other baked goods to freeze.
Some of my favorite recipes include:
Care and storage
Three bread machines in twelve years? I'm not sure if that's a good record or not. I'm sure as soon as I hit publish on this post, the current machine will die. That's what happened the last time I waxed eloquent about the bread machine.
Our first two machines outlived their bread pans. The bread pans are more expensive to replace than buying a new machine. It shouldn't be that way, but it is. Take good care of the pan.
Some folks don't like the idea of storing such a large machine. In seasons when I used it on a daily basis, I was happy to have it on the counter. Nowadays, it's stored in a lower cupboard of a desk in our kitchen. We pull it out a few times a week and then put it back in. In seasons when it sees a lot of use, I leave it on the desk that doesn't really get used as a desk.
If you don't have kitchen storage space, you can stash it in a nearby closet or cupboard in the garage or hall.
Purchasing a machine
We got our first, second, and third machines new. I know plenty of people who've found new or gently used machines at the thrift store or at garage sales. You might even ask a friend or neighbor if you can borrow their machine to see if you like it and if you have space in your home for the appliance.
As I look at the current models available and see that they don't look significantly different than they did twelve years ago, I'm a little taken aback by the pricing. The models we've purchased were $35 and $50. I don't see a machine for less than $70 currently. If I were to replace our machine now, I'd probably use a coupon on what was available at Bed Bath and Beyond to get the price point lower or use Swagbucks.
What's your experience with a bread machine?
Love it or hate it? Do tell.
Disclosure: This post does include Amazon affiliate links. If you make a purchase through those links, I am paid a small amount in way of advertising fees.