Good morning, Sunshine! Start the day right with a short stack of delicious, whole wheat blueberry pancakes. They'll come together quickly and easily with a homemade mix.
Pancakes can be ultimate comfort food. I mean, entire restaurants are dedicated to pancakes, and believe it or not, civilizations through the ages have enjoyed these delicious flat cakes. It's even tradition that you should make pancakes for Mardi Gras.
Ancient Rome topped them with honey; Elizabethan England flavored pancakes with rosewater; Early American settlers poured on the molasses. Crepe, blin, johnny cake, panne-quaiques — they're all good.
And they're especially good when made with whole grains and dotted with juicy blueberries!
Can I Use Frozen Blueberries In Pancakes?
Absolutely! No need to thaw them. Just add the frozen berries to each pancake once you have poured the batter into the griddle. Make sure you add the blueberries before you flip them over.
Do I Need To Use Whole Wheat Flour?
You don't need to! You could definitely swap and use all purpose flour instead. I like using whole wheat flour in this recipe to make them more nutritious. I recommend keeping your whole wheat flour in the freezer. That way I can buy in bulk and extend their shelf life. And if you buy generic it's another great way to save some money on your groceries.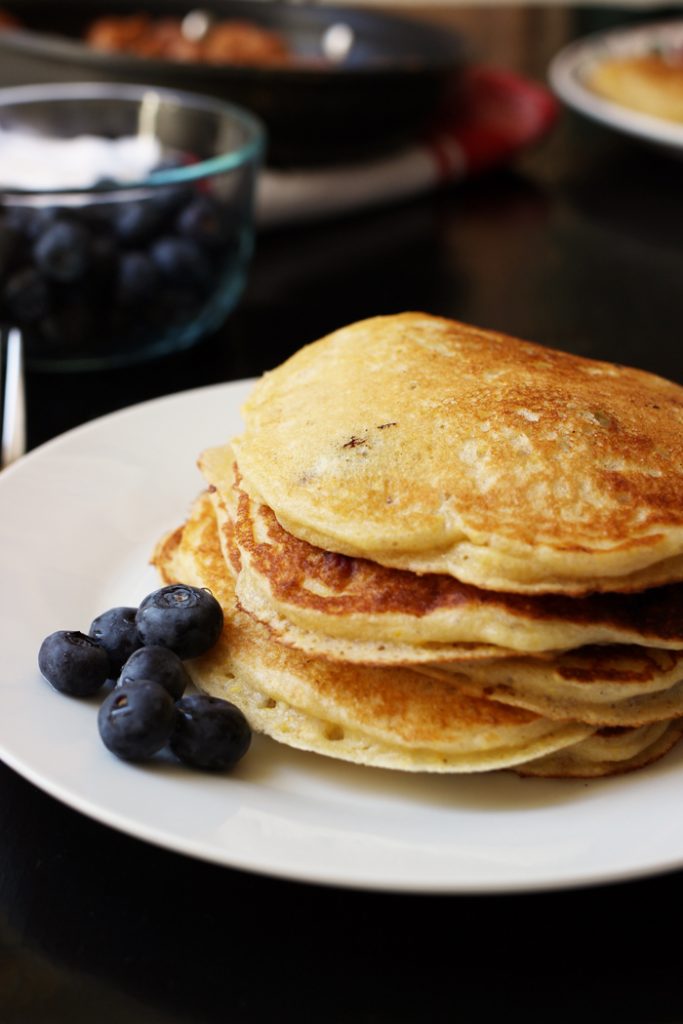 How To Make Pancakes Ahead Of Time
For over twenty years, pancakes have been a regular on our family menu. However, here's a little secret, after awhile this mama got a little tired of measuring after being up all night with a baby and up early with hungry toddlers. I needed a way to make pancakes and keep my sanity, too.
Enter: the homemade pancake mix.
Yep, you read that right. I no longer mix up pancakes on the spot. I prep a bulk batch of pancake mixes to stash in the cupboard. I mark on the bag the wet ingredients that need to be added, so that I don't even have to look up the recipe again.
It's like having a boxed pancake mix at hand, only better. That way I can whip up this recipe, these whole wheat banana pancakes, or even these pancakes with apples and whipped maple butter. Whenever the pancake mood strikes!
Whole Wheat Blueberry Pancakes
Whole Wheat Blueberry Pancakes that you can prep ahead of time for an easy Sunday morning breakfast!
Ingredients
Dry Team (can go in ziptop bag)
3/4

cup

whole wheat flour

1/2

cup

unbleached, all-purpose flour

1/2

cup

cornmeal

1/3

cup

rolled oats

3

tbsp

granulated sugar

brown sugar, or sucanat

2

tsp

baking powder

1

tsp

baking soda

1/2

tsp

salt
Wet Team (can be added prior to cooking)
2

cup

buttermilk

1/3

cup

neutral oil

2

egg

1

cup

blueberries
Instructions
In large mixing bowl, combine dry ingredients, whisking to combine. If it's already bagged and ready to go, just go to next step.

In other bowl, combine wet team.

Add dry team to wet ingredients and stir just until mixed. Some lumps are okay.

Fry on hot, oiled griddle until brown and cooked through.
Notes
To make as a mix: Take a large ziptop bag or container and label it with the wet ingredients and the baking instructions. Measure out the dry ingredients into the bag. Seal and store until ready to use.
Alternatively, you can freeze cooked and cooled pancakes. Just wrap short stacks in plastic wrap and place in a ziptop freezer bag.
Promptly store leftovers in an airtight container in the refrigerator, for up to 3 days.
Nutritional values are approximate and based on 1/4 the recipe.
Nutrition
Calories:
513
kcal
|
Carbohydrates:
65.2
g
|
Protein:
13.3
g
|
Fat:
23
g
|
Saturated Fat:
3.9
g
|
Cholesterol:
87
mg
|
Sodium:
776
mg
|
Potassium:
614
mg
|
Fiber:
3.8
g
|
Sugar:
16.5
g
|
Calcium:
2780
mg
|
Iron:
0.7
mg