Whole 30 with Modifications: Here's my log of what I'm eating to troubleshoot inflammation and maybe lose that extra five pounds.
For the past two months, I've had pain in my hands, like, it-hurts-to-curl-my-fingers-around-the-steering-wheel pain. Last week it got to the point that I wanted to take advil. All the live long day. I had six babies without pain killers; I'm not really into pain killers. This was kind of a warning signal to me.
Yesterday (7/30/15) I went to the doctor. She ran a panel of tests to look at my calcium, magnesium, thyroid, and inflammation. In the meantime, I'm going on a 21-day eating plan to kinda detox. The summer has been full of ice cream, Doritos, and s'mores. Okay, not "full" of, but definitely more than normal.
Plus, the doctor's scale revealed that I gained back the pounds I lost in France.
My friend Andrea is a couple years younger than I, but we've kinda had parallel journeys in trying to reform our diets and not let pain invade our lives. I've watched her do this cleanse twice now. It's similar to Whole 30, so it's nothing new in the big scheme of my life. However, there are a few differences:
21 days instead of 30
juices and smoothies are allowed
bananas, strawberries, and citrus are not
red meat and eggs are out; legumes and grains are back in
caffeine is out
two snacks a day are okay!
Whole 30 with Modifications
So basically, I came to the conclusion that maybe I could handle another Whole 30 with some modifications. I have batted around Andrea's diet differences, thinking about the legumes and grains and smoothies, and coming to a nice combo of the two for myself. Even the Whole 30 people say it's a learning tool, not a lifestyle.
While I'm not doing whole hog Whole 30, I think it will be good for the goals I have (reduce inflammation, lose a few pounds).
Here are my Whole 30 modifications:
to give my body a break from soy, sugar, dairy, alcohol, gluten, grains, and legumes
allowing myself snacks, juices, smoothies, and fruit "dessert" in moderation
focusing on green tea and half caf for my morning beverage when I can stand it
go for 21 days at least (my first whole 30 was 30; my second lasted 14 days) I am focusing on the middle
to focus on more nutritious foods
to limit my red meat and eggs (The eggs was actually the deal-breaker to try Andrea's challenge. I want to have eggs, but I'm going to limit them.)
And here's my eating log:

Day 1
Breakfast: My morning cuppa was half caf with coconut milk. Trader Joe's has been perpetually out of coconut milk, but turns out that Ralphs/Kroger brand has the same ingredients. It's just a little more expensive. (Edited to add: It's also not very good. I found that Sprouts brand is more like what Trader Joe's had.)
I also made a green smoothie with kale (prechopped from Trade Joe's thank you very much), coconut milk, coconut water, blueberries, mango, chia seeds, and almond butter. The almond butter really threw the flavors off. It was edible, but not over the top delicious.
Morning Snack/Post Workout Meal: Scrambled eggs with kale, peppers, and onions, green tea, and a handful of almonds.
Lunch: I met my husband at Chipotle for a lunch date. I went with a chicken salad with vegetables, mild salsa, and guacamole. It was good, but not over the top or anything. Rice really does make a difference.
Aperitif: Black olives and Pellegrino and Lime
Dinner: I let the littles make dinner for the family: French Bread Pizza. I had chicken cooked in coconut oil and Cajun Spice Blend, roasted vegetables (sweet potato, zucchini, onion, pepper, and garlic, doused with olive oil and sprinkled with salt, pepper, and Herbes de Provence), and a spinach salad with red onion, raisins, and almonds.
Dinner was probably the best meal of the day. 🙂
I'm looking at this as a project, taking it one day at a time. I don't intend to go all 30 days, but hope to at least hit 21. My daughter's birthday is the 25th, and I intend to eat cake! I'm also hoping that the inflammation will have abated somewhat.
I'm okay with these modifications mainly because I don't have huge dependence on smoothies or juice or snacking. I'm not going to give up an aperitif while I make dinner. I'll just tweak these things to be Whole 30.
Day 2
Breakfast: I'm okay with not having a protein at every meal. At least I think so! Since I don't want to overdo the eggs and I have a big work day ahead of me (meaning less time to cook), I went meatless for my breakfast. I had green tea and leftover vegetables from last night when I woke, and an hour later I had a smoothie with coconut milk, pineapple, and mango. Pineapple is supposed to be an anti-inflammatory.
Lunch: Spinach Salad with leftover chicken and vegetables from last night with ½ an avocado.
Afternoon Pick-me-up: Iced Coconut Latte; ¼ Larabar
Pre-Church snack: We were in a hurry, so I ate the rest of the Larabar and an apple in the car. Ha! Totally breaking the W30 rules.
After-Church dinner: Protein-style hamburger with mustard and vegetables, fries BECAUSE I'M TOTALLY BREAKING THE RULES. Just in case anyone wanted to point that out, I thought I would beat them to it. 😉
If you hadn't figured out already, I'm focusing on the ingredients aspect of W30, not the habits.
Feeling okay. Just a little tired. Trying not to think about the Whole30, but just taking it a meal at a time.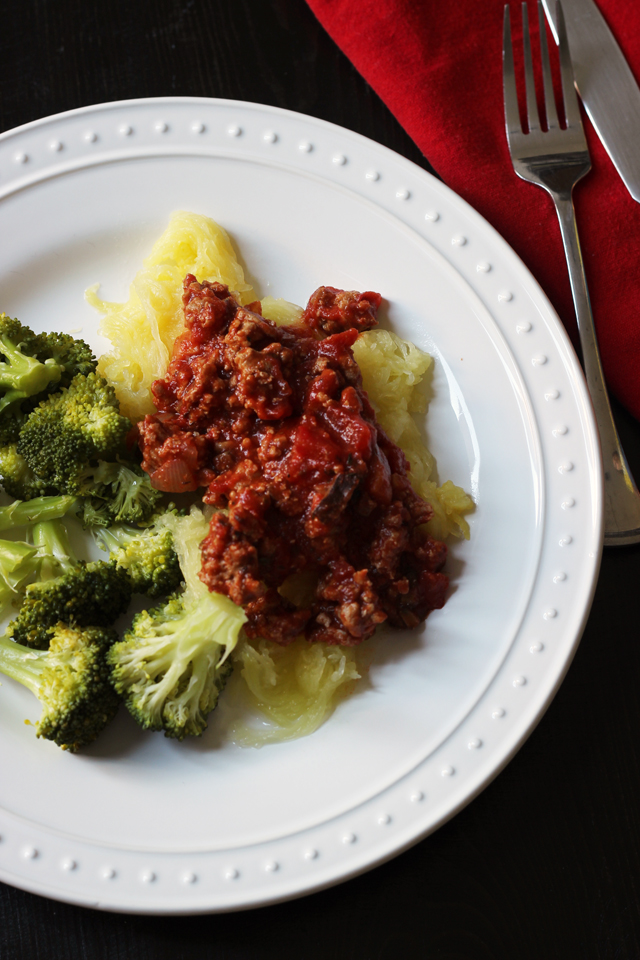 Day 3
Sundays are my day to sleep in, but I woke early, like 6. Too early on a day of rest, but oh-well.
I checked my lab results online which was a bad thing to do on the weekend when the doc is not in. It doesn't look great.
Breakfast: Fried egg, uncured bacon, hashbrowns in avocado oil, leftover vegetables from Friday night, ¼ an avocado. Coconut latte. Very good.
Snack: handful of almonds
Lunch: Chipotle salad with steak, fajita veg, mild salsa, and guacamole. I know their oil isn't technically okay, but it's rice bran which I think is better than the soy they used to use, so I'm not going to sweat it.
Afternoon: What was left of my coconut latte that I refrigerated so that it was iced when I wanted it later. Waste not, want not. 😉
Dinner: Spaghetti Squash with Turkey Bolognese and Steamed Broccoli with Ghee.
Dessert: Kit's Organic Dark Chocolate Almond Bar — so good! These are $1.25 this week at Sprouts.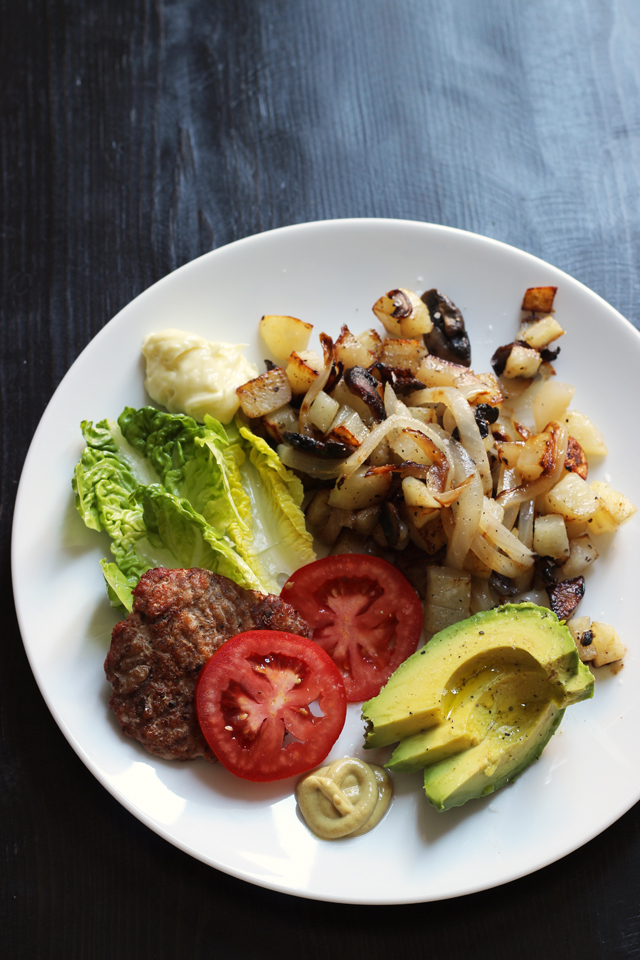 Day 4
Today was a mite stressful. Called the doc as soon as I could. They called me back to tell me we need more tests. I did that this afternoon: more blood work and an ultrasound. Totally would have liked to open a bottle of wine while I made dinner. Sigh. Sticking to my Whole21 unless the doc tells me otherwise. 🙂
Pre-yoga breakfast: Monkey Salad and Coconut Latte
Post-yoga breakfast: Smoothie of Kale, Coconut Water, Coconut Milk, Berries, and Pineapple. Okay but not great. I've been limiting bananas and I already had one for the day.
Lunch: Chicken Caesar Salad (homemade dressing, no croutons or parm) with avocado
Dinner: Turkey Burger with Cajun Spice Mix, Home Fries (with mushrooms and onions), avocado, tomato, lettuce, homemade mayonnaise, and alcohol-free Dijon mustard (That's an Amazon link because I couldn't find the right product on the brand's site. It was really good!)
Lunch and Dinner were delish!
Day 5
Breakfast: Trader Joe's Chicken Garlic Sausage (Whole30 compliant), sweet potatoes, onions, mustard, and mayonnaise and a Coconut Latte
Lunch: Cajun Chicken, Bacon, Green Beans, Hashbrowns, mustard, and mayo
Dinner: Date night! We went to Chipotle. There are no carnitas in Southern California, so I went with steak, (yes, I know rice bran oil, not gonna sweat it), veggies, salad, mild salsa, and guac.
Went to bed by 9 but did not sleep well, even though I drank Yogi Bedtime Tea right before. Slept "in" until 6:45, so I think I got 8 hours somewhere in there.
Day 6
Breakfast: Fried Eggs, Sweet Potato and Zucchini Hash, Coconut Latte
Lunch: Trader Joe's Chicken Garlic Sausage (Whole30 compliant) with leftover Sweet Potato and Zucchini Hash
Dinner: Roast Chicken with Mashed Potatoes and Whole 30 Gravy, Spinach Salad
Day 7
Breakfast: Aidell's Chicken and Apple Sausage with Sweet Potato and Zucchini Hash and Avocado, Coconut Latte, Larabar
So, I made it seven days and then found out that my blood work was showing some more serious stuff. I went mostly off plan until I got a diagnosis.
I've got the diagnosis now. 8/19/15 – hyperthyroidism driving by autoimmune processes. Whether that is Grave's or something else, my life has taken a turn I didn't expect. I may have some more longterm dietary changes soon. I'm not sure what I want to do. Forever? That is a long time.