Need some summer dinner ideas for your Whole 30 experience or just healthier eating in general? Try these Whole 30 recipes that are perfect for summer.
I like pretty much all kinds of foods. I don't eat exclusively paleo. I don't have any food sensitivities. And while I do a Whole 30 every so often, it's not the only way I eat. It is, however, one of my favorite ways.
I'm not sure why, but it turns out that about 50% of my meals lean toward Whole 30 recipes. I love the clean, fresh flavors. I love the abundance of vegetables. I love the hearty protein. While I might occasionally indulge in a sprinkling of cheese or a slice of baguette, Whole 30 recipes are some of my favorites for every day.
Whether you are embarking on a Whole 30 elimination diet or just want to focus on protein and veg, these recipes are for you. They are some of my favorites, and they are perfect for summer.

Whole 30 Recipes for Summer
Whole 30 Recipes for Summer
10 Whole 30 Recipes perfect for summertime!
You might also like:
What are your favorite Whole 30 recipes for summer?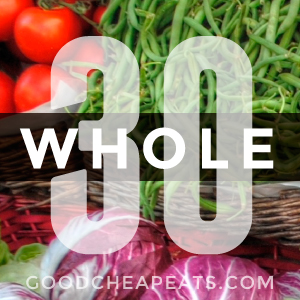 Are you looking for more good cheap eats?