Want a peek into our grocery cart? Here's how I'm buying groceries and feeding eight people on the cheap.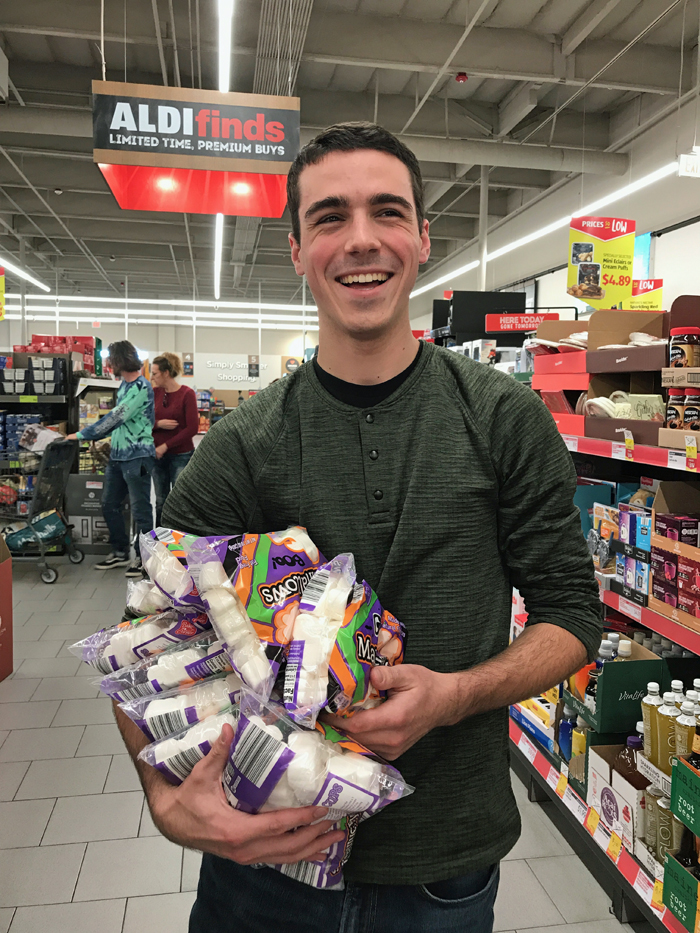 Hey, hey, hey! Here we are, not only at the end of the month, but the end of the year. Time sure flies. Especially when there's grocery money to spend.
The year has been good to us. I've had some ups and downs healthwise, some culinary triumphs and at least one dinner that wasn't fit to eat.
On the plus side is that we're still in the black. I was holding my breath while I tallied all the grocery receipts, but it turns out we did okay. Scroll down for more details.
But first, an explanation of the photo of this handsome, young man. He's my second born, 18 years old and a freshman in college. He is also my right hand man, particularly when it comes to grocery shopping.
We were in ALDI one day earlier this month and he spied ghost marshmallows on clearance for 17 cents a bag. Seeing as your s'mores and your rice krispie treats don't care what shape your marshmallows are, he promptly scooped up an armful of packages and bought them for his own special stash.
Cracked me up!
And made me proud. All this penny pinching pays off when your kids know the value of a dollar and how to spot a good deal.
The Grocery Geek report
For those of you new here, Grocery Geek is my regular report of how I shopped for groceries, what deals I found, and my running total of how we're sticking to a budget for groceries.
Here's the rundown on my shopping this week. As you read, keep in mind who and how I'm shopping:
My grocery shopping profile
To update you on my grocery geekiness: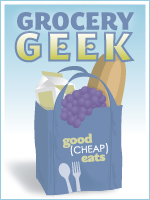 I'm feeding eight people, ages 55, 46, 21, 18, 16, 14, 12, and 10. Five of those people are males. They eat A LOT!
I'm shooting for a budget of $1100 this year, trying to beat what the feds think it will cost. Per the most recent USDA food cost reports it should cost our family $1373.30 to eat all meals at home under the "thrifty plan" for people of our demographics.
We live in Southern California where produce is cheap, but meat and dairy are not.
I'm trying to feed us mostly unprocessed foods, with a few "healthier" convenience items thrown in and a junk food splurge* here and there.
I work at home and teach four of our kids, so I don't have as much time for fiddling in the kitchen as I would like.
I no longer use coupons on a regular basis, though I do love the coupons that Ralphs offers.
I have at least ten grocery stores within 5.5 miles of my house. It is easy (for better or for worse) to stop at several stores to get the best deals.
We mostly eat at home. My husband and college age son often pack lunch and breakfast to work, but sometime have lunch out. My husband and I enjoy a date once a week. FishPapa takes one child out to "dinner with dad" once a week. We eat out as a family on average once a week.
BEFORE YOU JUDGE ME FOR EXTRAVAGANCE, please read this post.
What I spent on groceries in December: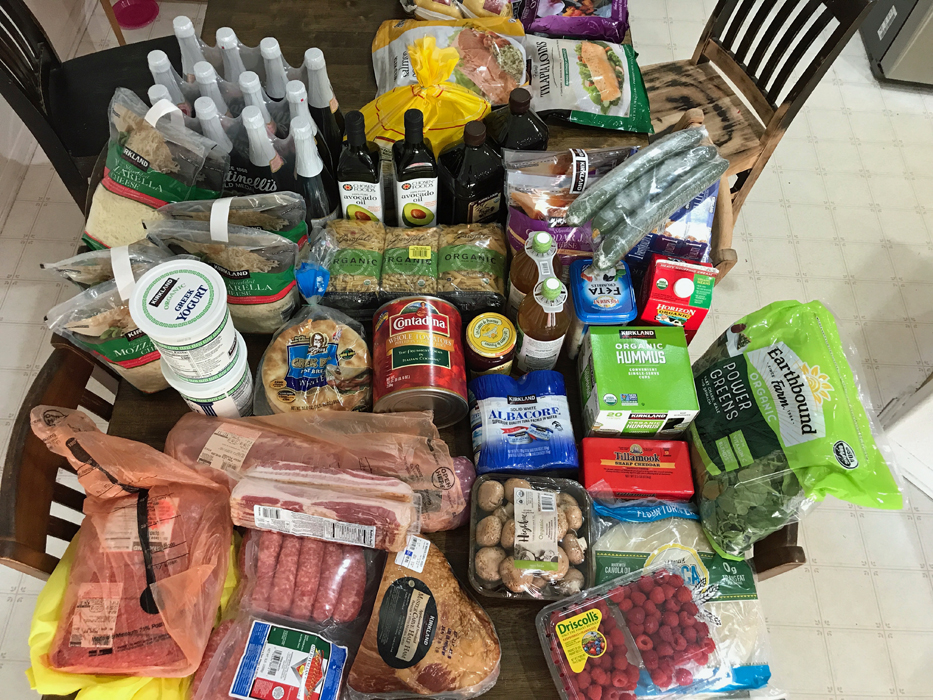 Costco
peeled tomatoes $2.99
heavy cream $9.59
shredded cheddar $12.69
canned tuna $13.99
butter $11.19
Martinelli's 4-pack $6.19 after CRV
Greek yogurt $5.59
cucumbers $3.99
raspberries $5.49
organic mushrooms $5.99
tostada shells $3.49
cornish game hens $14.99
frozen salmon $19.99
organic pasta $8.79
flour tortillas 43.69
frozen tilapia $16.49
frozen ono $19.89
crumbled feta $6.89
uncured bacon $13.99
apple cider vinegar $5.69
power greens $4.99
avocado oil $9.69
raspberry jam $6.99
mild Italian sausage $13.99
ground beef $24.10
olive oil $14.99
hummus singles $6.49
shredded mozzarella $11.79
half ham $10.85
pork loin on clearance $17.11
pita bread $3.39
Tillamook $8.99
minus Executive membership rebate
Total spent: $280
Sprouts
eggplant $0.98
zucchini $0.98/lb
red bell peppers $0.98 each
grass fed beef $2.99/lb
minus $5 coupon
Total spent $27
ALDI
eggs $1.49/dozen
milk $2.25
frozen green beans $1.19
sparkling water $0.65 after CRV
bottled water $3.49
taco shells $0.99
tortillas $1.95
grapes $0.75/lb
deli cuts $2.99
cranberries $1.98
enchilada sauce $1.79
green onions $0.99
bagels $1.99
b/s chicken breast $1.89/lb
peeled garlic $2.99
black beans $0.89/can
broccoli crowns $1.25
mushrooms $0.99
mangoes $0.39 each
Total spent: $100
Ralphs
tomato paste $0.69
brown sugar $2.57
jalapeños $0.14
Italian sausage BOGO $3.69
Total spent: $8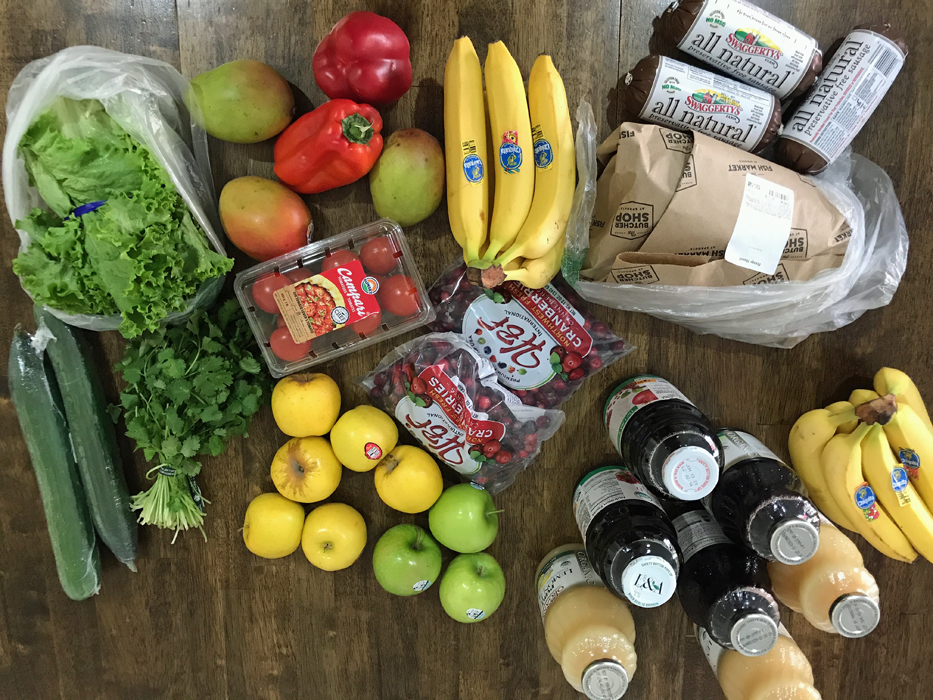 Sprouts
tomatoes $0.98
cilantro $0.77
cranberries $0.98
apples $1.29/lb
lettuce $1.69
cucumbers $0.98
apples $1.48/lb
red bell peppers $0.98/each
mangos 3/$1
bananas $0.59
organic bottled juice on clearance $2.99 each
breakfast sausage $2.00
rump roast $2.77/lb
Total spent $62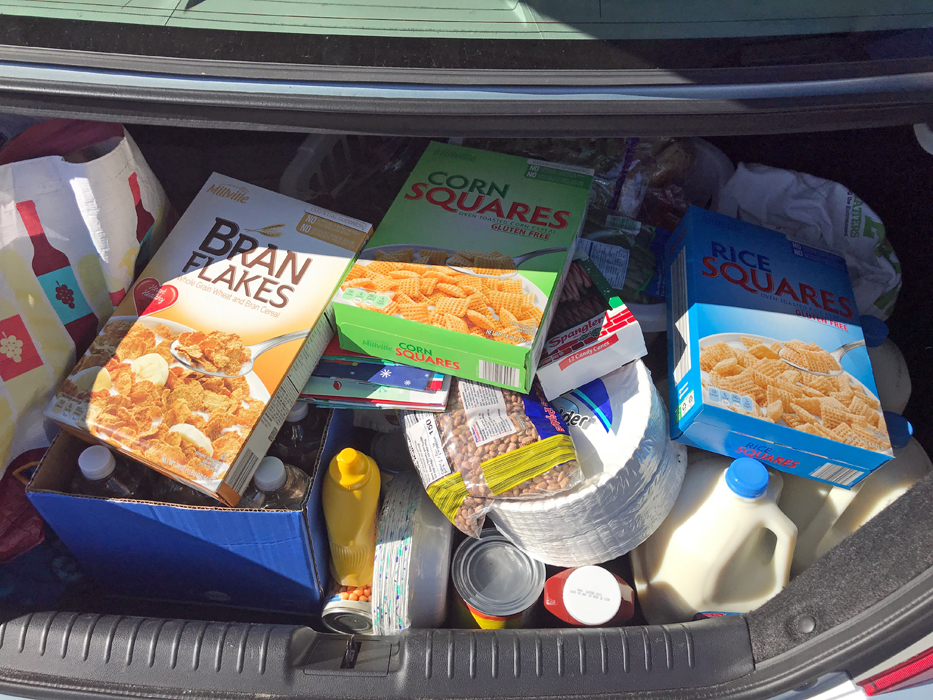 ALDI
sparkling water $0.65 after CRV
dried pinto beans $2.89
black beans $0.89/can
bran flakes $2.29
cereal $1.99
tortillas $1.59
chopped spinach $0.99
pepperoni $2.19
tea $1.89
cream cheese $0.99
bagels $1.99
10# russet potatoes $2.49
eggs $0.99
swiss cheese $2.99
sour cream $1.29
enchilada sauce $1.79
almond milk $2.69
baby lettuce $1.99
country style pork ribs $1.99/lb
b/s chicken breasts $1.89
frozen potatoes $1.46 to $1.69
cottage cheese $1.99
organic ketchup $1.49
milk $2.25
mustard $0.75
cilantro $0.45
Brie $2.99
green onions $0.75
garbanzo beans $0.69
Total spent $122
Costco
awesome raspberry jam we went back to stock up on before it's gone $6.99
bottled water $6.99
white vinegar $3.69
shredded cheddar cheese $12.69
whole roasted turkey breast $17.28
Tillamook $8.99
organic spring mix $3.99
cranberries $2.99
tortillas $3.69
raspberries $7.99
hummus singles $6.49
Total spent: $103
Walmart
brown sugar $1.98
white sugar $2.56
Total spent $7
Trader Joe's
includes vacation snacks – I gave the each kid a $5 budget to splurge
baguette $1.99
white cheddar puffs $1.99
crackers $1.39 to $2.79
kettle corn $2.49
chocolate milk $2.69
chips $2.29
vinegar $2.29
string cheese $2.99
drinking yogurts $3.79
almonds $5.99
pecans $4.99
brioche toasts $1.99
almond butter $5.99
elderflower soda $3.49
vanilla yogurts $2.99
chocolate $1.99
eggs $1.79
red wine vinegar $1.99
hot sauce $2.29
Total spent: $81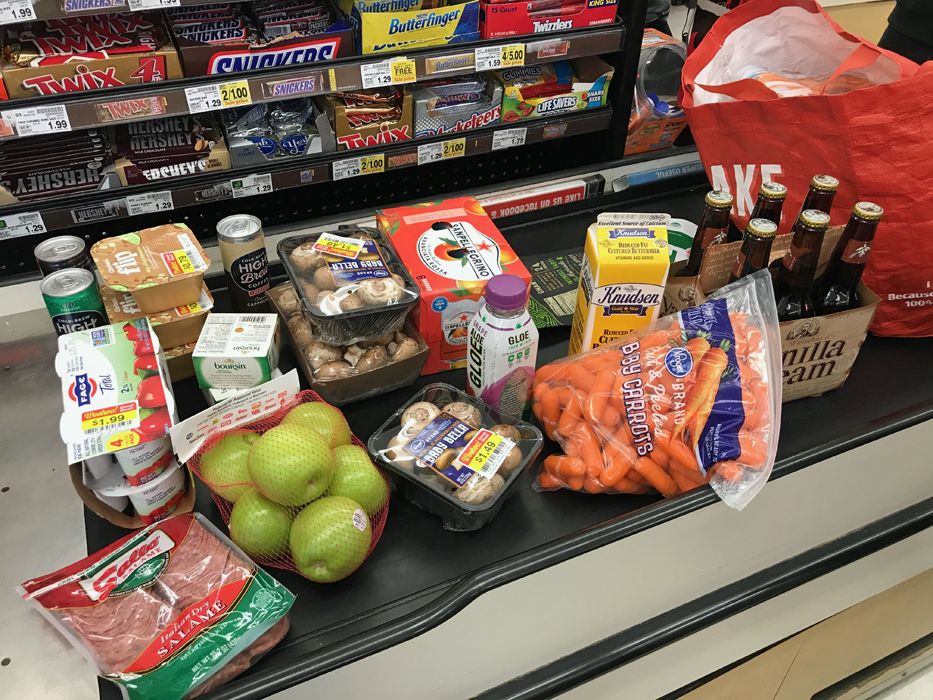 Ralphs
And a few more travel snacks, etc.
beef jerky $3.99
soda $4.99
sparkling juice $5.99
buttermilk $3.19
protein shake $2.49
yogurt $0.79 on clearance
coffee drinks $1.67
carrots $3.49
mushrooms $1.49 to $2.39
clearance produce $0.99
kale chips $3.99 after coupon
aloe juice free after coupon
yogurt $1.99
salami $5.99
Boursin BOGO $5.99
energy shot free after coupon
saltines $0.59 on clearance
coffee drink free after coupon
lemons $3.99
Total spent $65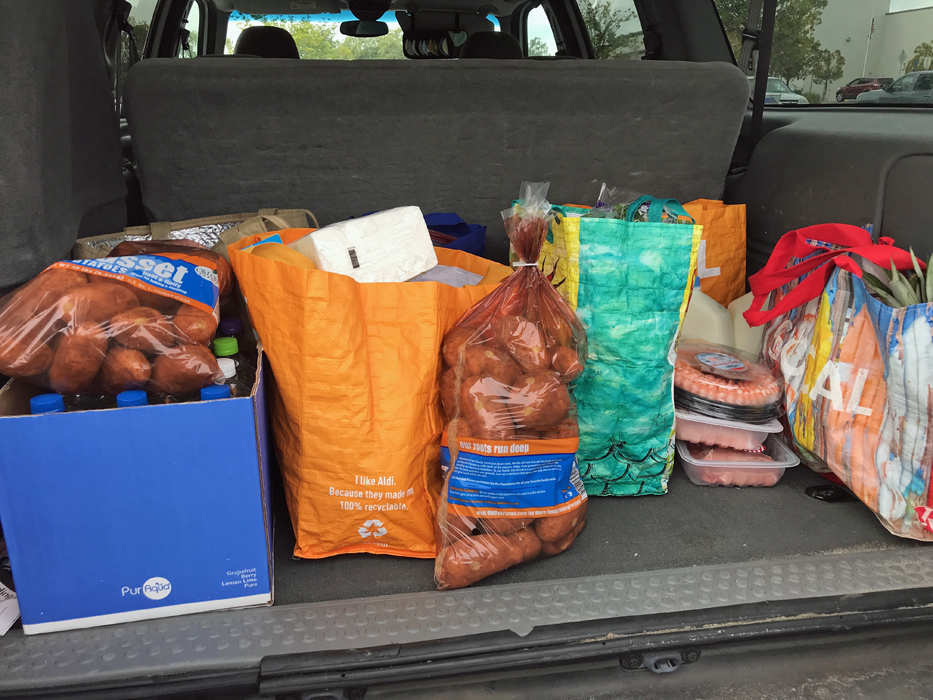 ALDI
eggs $1.49
sour cream $1.29
cream cheese $0.99
cocktail sausages $2.49
cottage cheese $1.99
crescent rolls $0.89
frozen orange juice $1.19
shrimp ring $6.99
10# russet potatoes $0.99
oranges $1.99
grass-fed cheddar $2.99
avocado $0.48
deli cuts $2.99
instant oatmeal $2.99
swiss cheese $2.99
bacon $3.49
diced tomatoes $0.69
Brie cheese $2.99
smoked salmon $3.99
butter $2.89
crushed tomatoes $0.99
frozen appetizers $2.99 to $5.89
diced green chiles $0.59
fire roasted tomatoes $0.75
pineapple $0.95
sugar $1.89
crackers $2.99
tomato paste $0.39
sparkling water $0.65 after CRV
yellow onions $1.39
crackers $1.75
taco shells $0.99
mushrooms $1.79
kiwi $3.89
cilantro $0.48
apples $1.99
pepperoni $2.19
peppers 3-pk $2.99
broccoli crowns $1.45
banana $0.39/lb
pomegranates $0.99
milk $2.25
buttermilk $0.99
pork ribs $3.74 to $4.31
Total spent: $143
Ralphs
organic b/s chicken breast $9.53 to $9.89 on clearance
roast beef $3.99 on clearance
tortilla chips $1.67
coffee $5.77
powdered sugar $2.57
cooking sherry $3.19
carrots $3.49
mushrooms $1.19 on clearance
organic spinach $0.74 after clearance and coupon
jalapeño $0.20
Martinellis @.109
Total spent $69
Sprouts
avocados 2/$1
oranges $0.98/lb
celery $1.48
pasteurized eggs $5.99
Total spent $11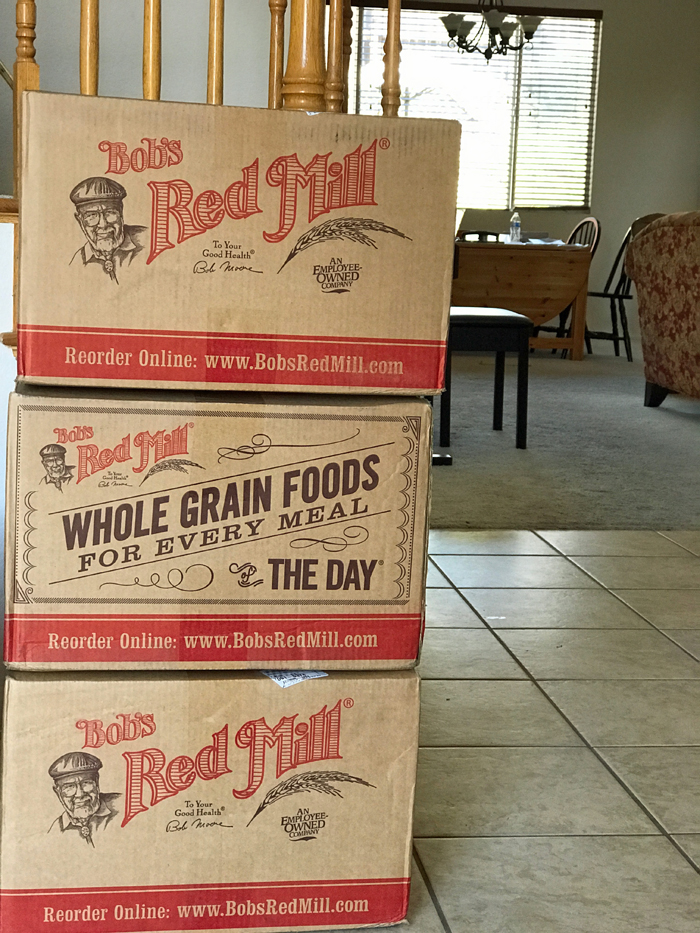 Bob's Red Mill
case artisan bread flour $21.49/4 bags
unbleached, all-purpose flour $15.99/4 bags
whole wheat pastry flour $15.99/4 bags
whole wheat flour $15.99/4 bags
minus 30% discount
Total spent $90
Spent in December: $1168
Spent in 2018:
January: $490
February: $1084
March: $1224
April: $1009
May: $994
June: $1095
July: $1354
August: $1624
September $787
October: $1278
November $1117
December $1078
Total spent YTD: $13,134
That's an average of $1102/month!
So here we are. All said and done, we did pretty well. We averaged only $2 over budget this year, which means….
I'm gonna see how low I can go in the new year. I'm feeling a little gazelle intense, so we're going to see if we can lower our food budget to $1000. It will be tricky, especially since the feds say we should be spending several hundred dollars more.
But, I'm gonna try!
In the meantime, the Pantry Challenge starts up this week so we can get a great start on our 2019 grocery budget. I'll be posting pics of my freezer and pantry at the end of the week when I share the first weekly update on Saturday. Stay tuned.
How was your grocery geeking this year?