Want a peek into our grocery cart? Here's how I'm buying groceries and feeding eight people on the cheap.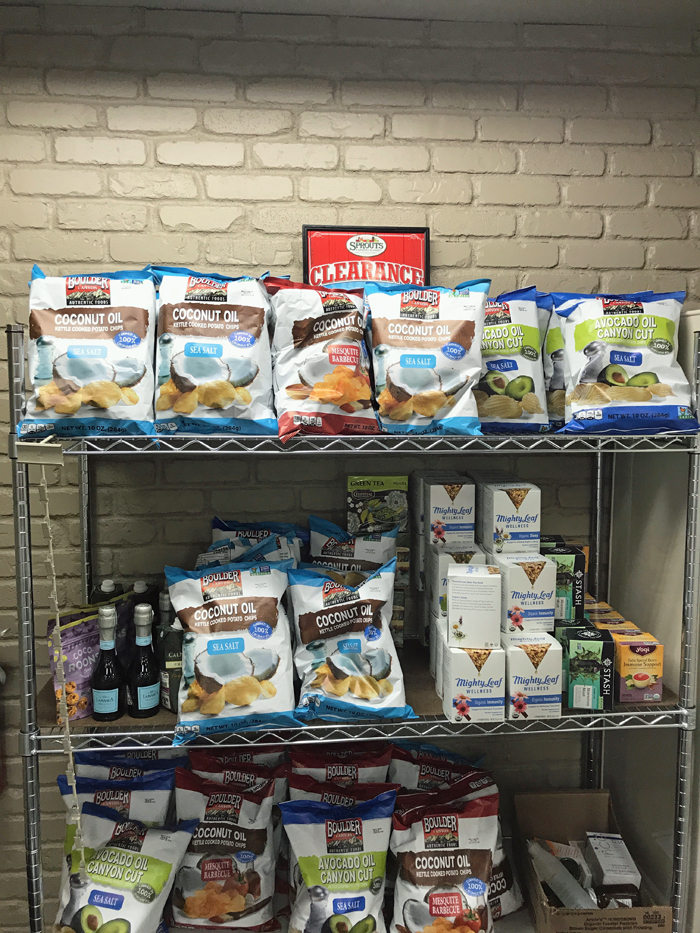 Howdy! Howdy! The Grocery Geek is back! And in full force! If you are on my email list, you probably already received my September ramble. If not, here's the scoop: Two weeks ago we decided to make some changes to our total budget; we're acting like we're in debt, so we can save some more money each month.
Kinda exciting when it's really not critical. It becomes kinda like a game! So, we're living like it's 2008 and working toward spending only what we need to spend.
If you've been following along with the Grocery Geek report, you know that last month, I did a big Ma Ingalls stock-up as if San Diego was going to get snowed in and I'd lose access to the 23 stores in a 10-mile radius. Part of that is the farmer DNA in me, part just because the deals were so amazing.
This month I focused on using up what we had, which included a freezer full of freezer meals, as well as shopping sales and clearance. I scored big time AND, as you'll see, got our 2019 monthly average for groceries well below our target.
October will be another refill the freezer month, but I think we'll do okay, particularly if I shop the sales right.
Of note: As I was going over my receipts, I found two errors from Ralphs that I didn't catch at the time. My bad. I'm taking back one item (that was supposed to be a Free Friday item) and going to ask them if they'll refund a double charge, even though it's been a week. We'll see what they say. It's very handy to take photos of your groceries, LOL!
Anyway, here we are…
The Grocery Geek report
For those of you new here, Grocery Geek is my regular report of how I shopped for groceries, what deals I found, and my running total of how we're sticking to a budget for groceries.
Here's the rundown on my shopping this week. As you read, keep in mind who and how I'm shopping:
My grocery shopping profile
To update you on my grocery geekiness: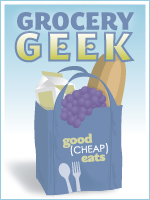 I'm feeding

 

eight people, ages 55, 46, 21, 17, 16, 14, 11, and 9. Five of those people are males. They eat A LOT!
I'm shooting for a budget of

 

$1100 this year, trying to beat what the feds think it will cost. Per the most recent

 

USDA food cost reports it should cost our family $1346.60 to eat all meals at home under the "thrifty plan" for people of our demographics.
We live in Southern California where produce is cheap, but meat and dairy are not.
I'm trying to feed us

 

mostly unprocessed foods, with a few "healthier" convenience items thrown in and

 

a junk food splurge* here and there.
I

 

work at home and teach five of our kids, so I don't have as much time for fiddling in the kitchen as I would like.
I

 

no longer use coupons on a regular basis, though I do love

 

the coupons that Ralphs offers.
I have at least

 

ten grocery stores within 5.5 miles of my house. It is easy (for better or for worse) to stop at several stores to get the best deals.
We

 

mostly eat at home. My husband and college age son often pack lunch and breakfast to work, but sometime have lunch out. My husband and I enjoy a date once a week. FishPapa takes one child out to "dinner with dad" once a week. We eat out as a family on average once a week.
BEFORE YOU JUDGE ME FOR EXTRAVAGANCE,

 

please read this post.
What we spent on groceries in September:
ALDI
sugar $1.89
organic diced tomatoes $1.65
organic ground ginger $1.99
mustard $1.75
onions $1.35
cilantro $0.33
cottage cheese $1.99
chips $1.99 to $2.49
crushed tomatoes $0.99
canned garbanzo beans $0.69
crushed red pepper $0.99
chili pepper paste $2.99
organic ketchup $1.59
green tea $0.99
cookies $1.99 to $2.29
organic sandwich bread $4.29
b/s chicken breast $1.49/lb
Total spent $67
ALDI
shredded frozen potatoes $1.69
water bottles $2.99 plus CRV
salsa verde $1.79
diced green chiles $0.59
eggs $0.95/dozen
Total spent $20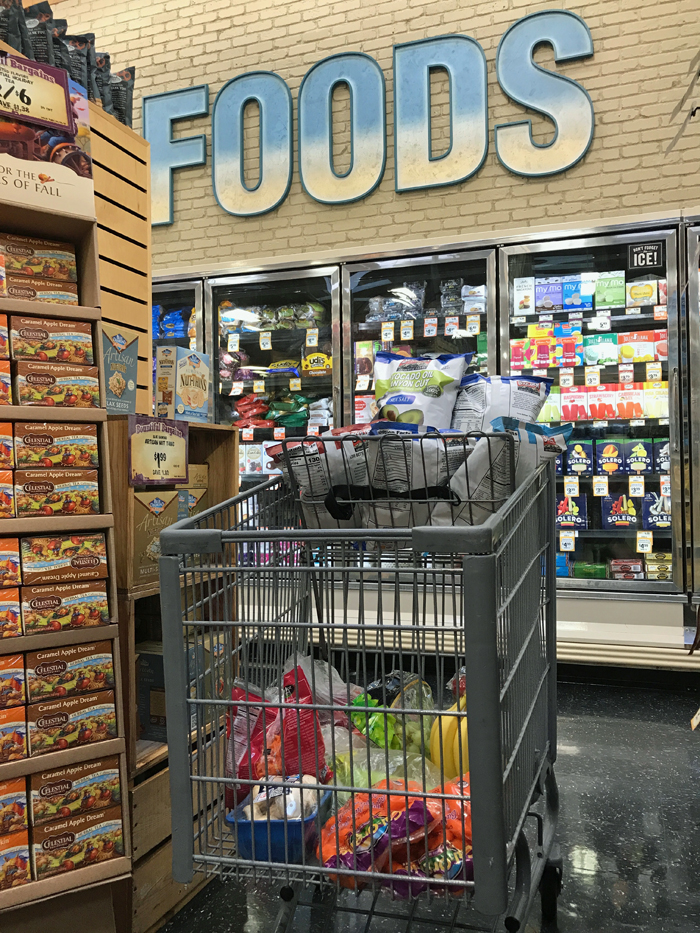 Sprouts
strawberries$2.50
grapes $0.77/lb
jalapeños 8/$1
organic baby carrots $0.98/lb
organic celery $0.98
organic apples $0.98/lb
mushrooms $1.99
red bell peppers $0.88
shredded carrots $1.99
bananas $0.59/lb
clearance potato chips $1.99
Total spent $28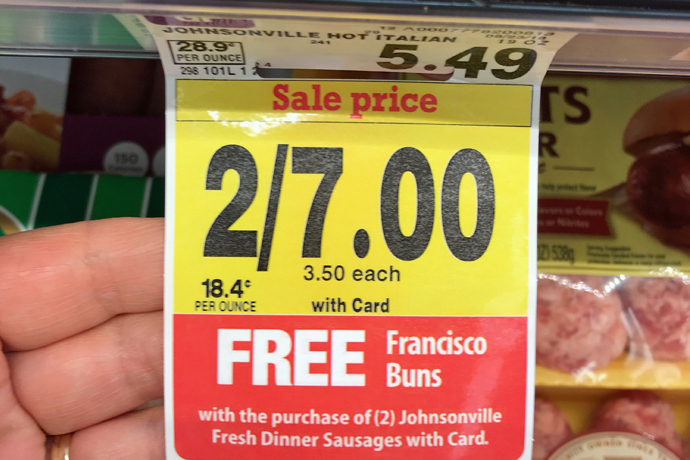 Ralphs
Mission chips $1.69/large bag
Italian rolls FREE with purchase of sausages
penne $0.99/lb
Life cereal $0.99/box
Ding Dongs $2.79 (I was binge-watching The Closer)
Peatos $2.50 (supposed to have been free Friday download, will take back)
pasta $0.79
yogurt packs $0.99 to $1.99
xl large fage $5.99
individual yogurts $0.49 manager's special
sausage $3.50/lb
organic chicken hot dogs $1.29 manager's special
Boursin $2.49 manager's special
mentos gum FREE with coupon
Total spent $49
Sprouts
lemons 2/$1
limes 3/$1
apples $0.98/lb
bananas $0.59/lb
organic lemon juice $4.49
raspberry zinger tea $3.50
Total spent $18
Sprouts
clementines $2.98/2#
sushi $5 each
cranberry juice $2.99
Total spent $16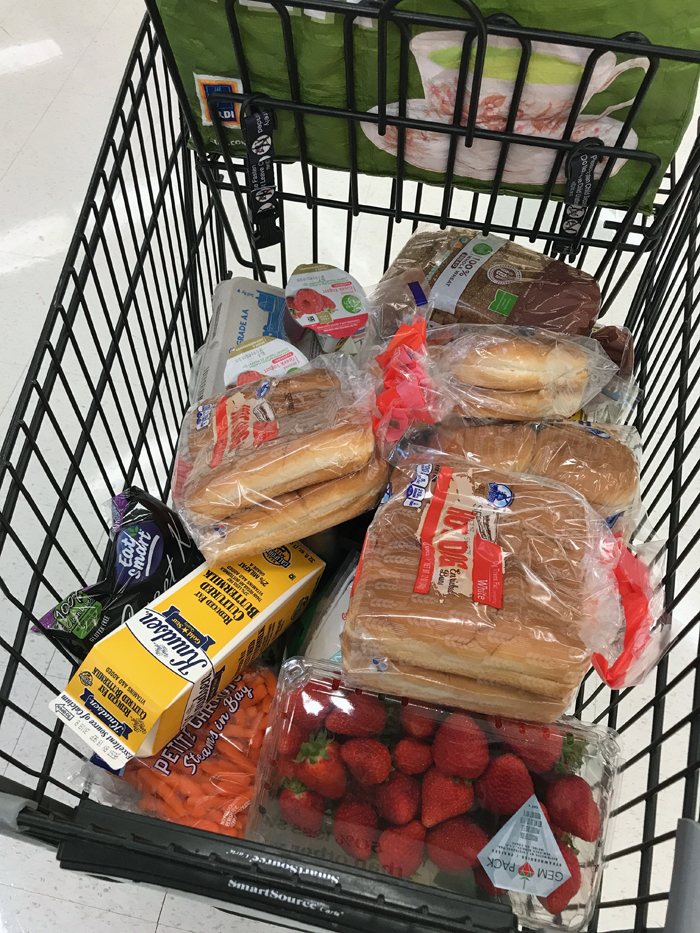 Ralphs
hot dog buns $1.00 manager's special
hamburger buns $0.49 manager's special
buttermilk $3.19
mozzarella $3.39
eggs $2.59
milk $2.49
broccoli $1.99/lb
strawberries $1.99
carrots $0.99
kale salad kit $2.50 manager's special
organic sandwich bread $0.79 manager's special plus coupon
sour cream $1.99
Face yogurt $1.79 to $1.99 manager's special
individual yogurts $0.49 manager's special
chocolate milk $2.99
ham $1.24 to $1.99 sales plus coupons
uncured hot dogs $2.79
sourdough bread $0.49 manager's special
Total spent $54
Sprouts
baby carrots $0.88
5# russet potatoes $1.99
grapes $0.68/lb
cilantro $0.50
tomatoes $0.88/lb
grape tomatoes $2.50
cucumbers $0.88
zucchini $1.29/lb
jalapeños 8 for $1
XL avocados $2.00
apples $0.88/lb
mushrooms $3.99
red bell pepper $1.50
red onions $1.29/lb
coleslaw mix $1.49
bananas $0.48/lb
milk $2.59
Total spent $34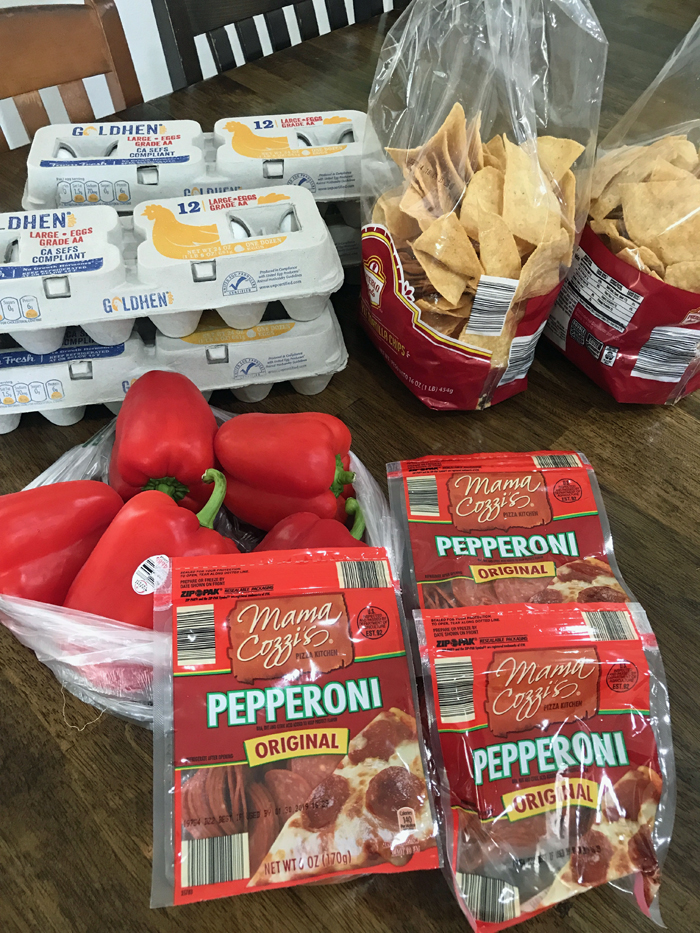 ALDI
sparkling water $0.65
eggs $0.95
pepperoni $2.19
red peppers $0.78
chips $1.99
kefir $2.29
Total spent $37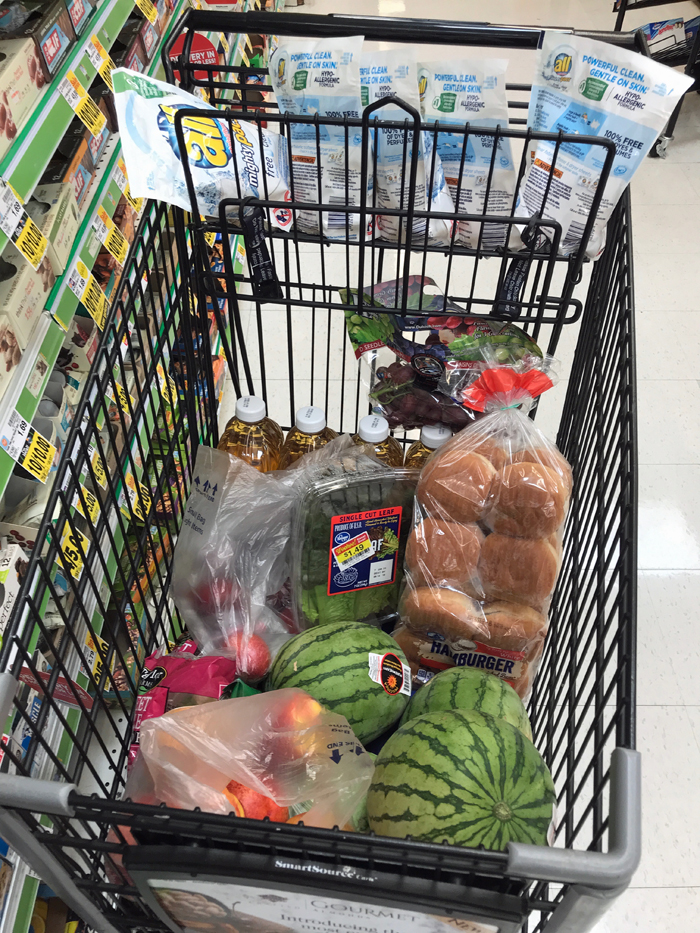 Ralphs
hamburger buns $1.19 manager's special
mozzarella cheese $3.39
gourmet jam $2.29 manager's special
grapes $0.88/lb
nectarines $0.99/lb
plums $0.99/lb
red leaf lettuce leaves $1.49 manager's special
salad kit $1.49 manager's special
personal watermelons $1.25 each
yogurt FREE with coupon
epic bar FREE with coupon
organic apple juice $0.99
Total spent $32
Sprouts
5# potatoes $1.99
broccoli crowns $1.79/lb
cilantro $0.50
garlic $0.50
green leaf lettuce $1.29
jalapeños 8 for $1
mild cheddar cheese $4.74
Total spent $12
ALDI
cottage cheese$1.99
taco shells $0.99
corn tortillas $1.95
milk $2.10
iceberg lettuce $0.95
eggs $0.95
Total spent $19
Walmart
10# unbleached flour $5.98
Total spent $12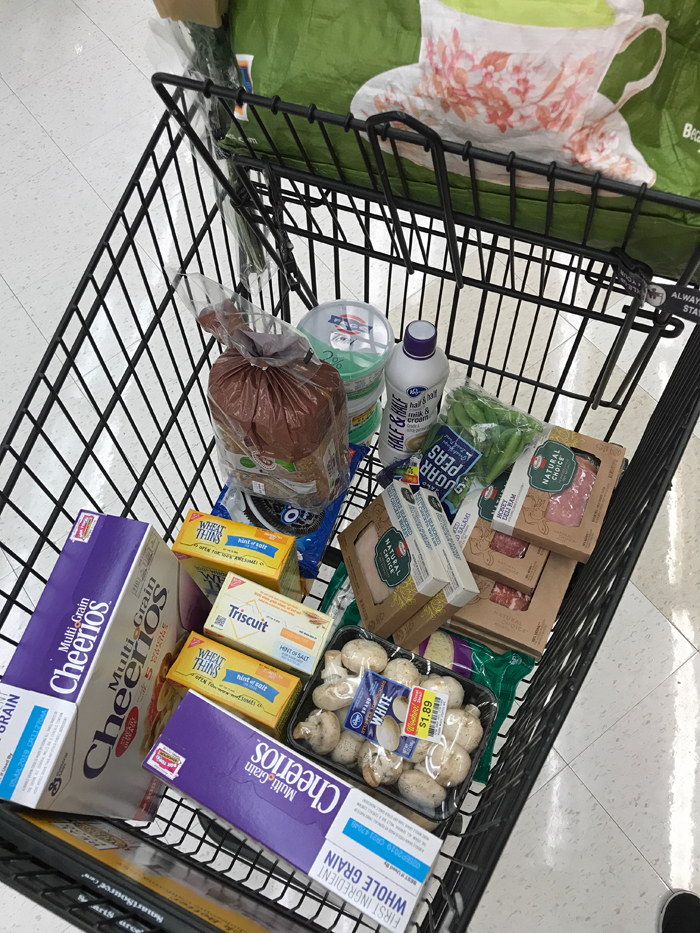 Ralphs
large boxes multi-grain cheerios $1.49 sales plus coupon
family pack Nabisco crackers $1.99
family pack Oreos $1.99
shredded cheese $2.99
half and half $2.99
mushrooms on clearance $1.89
sugar snap peas $2.49 on clearance
yogurt $1.79 on clearance
sandwich bread $3.49
lunch meat $2.99
bacon $3.19 to $3.99
Total spent $56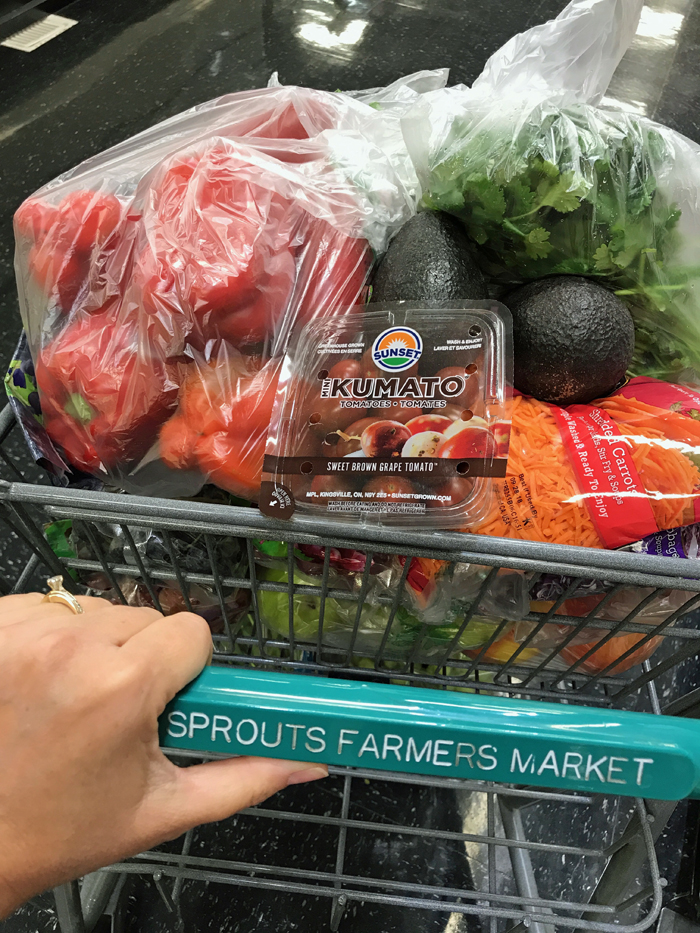 Sprouts
pears $0.98/lb
grapes $0.77/lb
apples $0.99/lb
cilantro $0.50
XL avocados $2.00
kumato tomatoes $1.98
mini watermelon $1.98
organic spinach $4.99
nectarines $0.77/l
bell peppers $0.50
red cabbage $1.49
romaine lettuce $1.29
shredded carrots $1.99
bananas $0.59/lb
boneless pork roast $1.99/lb
xtra lean ground beef $2.99/lb
Total spent $88
ALDI
shredded frozen potatoes $1.69
frozen green beans $1.19
eggs $0.95
potato puffs $1.69
crushed tomatoes $0.99
flour tortillas $1.59
roma tomatoes $0.89/lb
sour cream $1.29
10# russet potatoes $2.49
white vinegar $2.39
diced tomatoes $0.69
10# long grain rice $3.99
broccoli crowns $1.35
pineapple $0.95
extra sharp cheddar $2.99
milk $2.10
b/s chicken breasts $1.89/lb
Total spent $62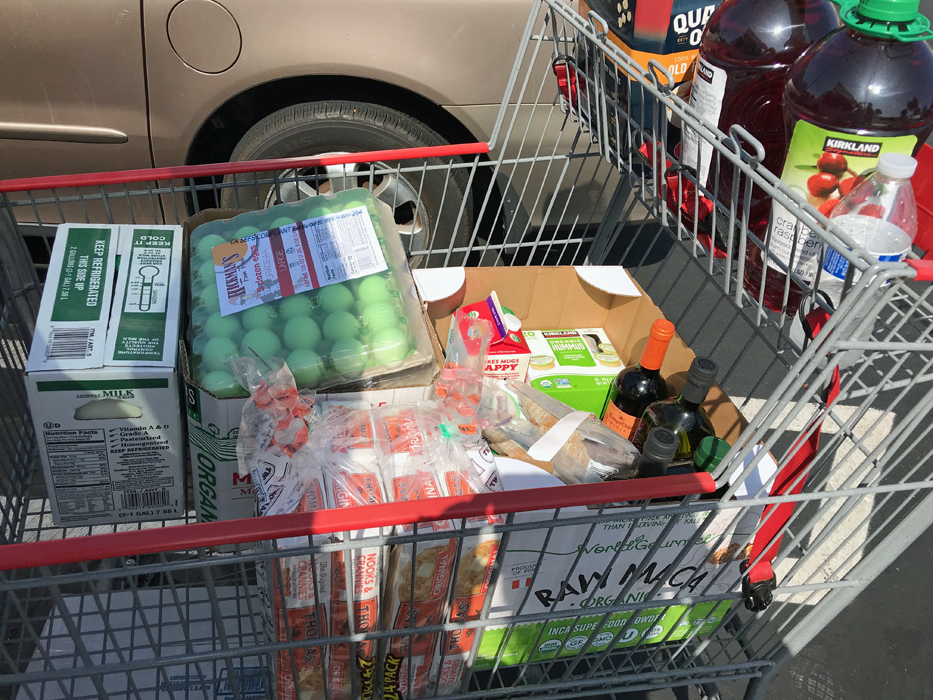 Costco
greek yogurt $5.59
Asiago cheese $8.01
English muffins $6.79
milk $4.49
shredded mozzarella $11.89
avocado oil $9.69
olive oil $14.69
cran-raspberry juice $5.99
quaker oats $8.39
tortillas $3.69
5 dozen eggs $6.99
half and half $5.69
hummus singles $10.99
mini baby bel $7.39
Italian sausage $11.99
sharp Tillamook $8.99
breakfast sausage $13.99
Total spent $158
Ralphs
XL goldfish crackers $3.99 with digital sale
vegetable medley $2.49 mgr's special
bananas $0.59/lb
mushrooms $1.89 mgr's special
salad kits $0.99 mgr's special
coleslaw mix $0.69 mgr's special
organic hamburger buns $0.99 mgr's special
organic sandwich bread $1.49 mgr's special
Siggi's yogurt $2.49 mgr's special
Italian sausage $2.49 mgr's special
Total spent $40
September subtotal: $802
minus $9.o0 Ibotta earnings
minus $6 Ralphs adjustments
Spent in September: $787
Spent in 2018:
January: $490
February: $1084
March: $1224
April: $1009
May: $994
June: $1095
July: $1354
August: $1624
September $787
Total spent YTD: $9661
That's an average of $1073/month!
Woohoo! So, while I certainly went over last month, I was clearly under this month. With the cushion I'd built in January due to an extreme Pantry Challenge, our yearly average is well under budget.