Want a peek into our grocery cart? Here's how I'm buying groceries and feeding eight people on the cheap.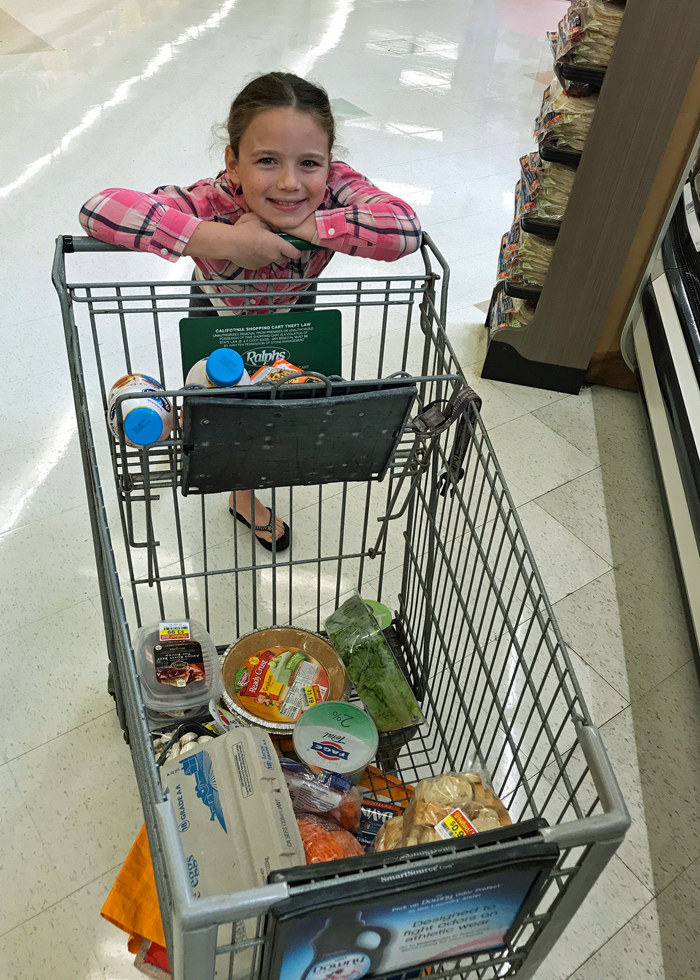 Did you know…. when I started this blog, this girl was a baby. We were still paying off consumer debt so that we could live debt-free. When she accompanied me grocery shopping, she sat in a baby carrier.
Today she pushes the cart.
It's been a crazy ten years, so different than when I was shutting her eldest brother (now 21) in the grocery cart. In the late 90s I had no clue how to work the deals, shop the clearance, or make such canny use of leftovers.
Proof that you really can teach an old dog new tricks. 😉
Ten years ago when my girl was just a babe in arms, our grocery budget was a slim $500/month. Today my small army of boys (4 of them) has grown into a terrific team of teen and adult men — with the appetites to match.
While we've more than doubled our grocery budget over the last ten years, I'd say we're still doing pretty well when it comes to sticking to a frugal lifestyle.
This past month I got a little lackadaisical in my shopping, but as you'll see at the end of this post… it all works out!
The Grocery Geek report
For those of you new here, Grocery Geek is my regular report of how I shopped for groceries, what deals I found, and my running total of how we're sticking to a budget for groceries.
Here's the rundown on my shopping this week. As you read, keep in mind who and how I'm shopping:
My grocery shopping profile
To update you on my grocery geekiness: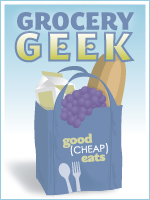 I'm feeding

 

eight people, ages 55, 46, 21, 17, 16, 14, 11, and 10. Five of those people are males. They eat A LOT!
I'm shooting for a budget of

 

$1100 this year, trying to beat what the feds think it will cost. Per the most recent

 

USDA food cost reports it should cost our family $1349.60 to eat all meals at home under the "thrifty plan" for people of our demographics. I did the math for the upcoming birthday age switching and next month the USDA budget will be $1373.30.
We live in Southern California where produce is cheap, but meat and dairy are not.
I'm trying to feed us

 

mostly unprocessed foods, with a few "healthier" convenience items thrown in and

 

a junk food splurge* here and there.
I

 

work at home and teach five of our kids, so I don't have as much time for fiddling in the kitchen as I would like.
I

 

no longer use coupons on a regular basis, though I do love

 

the coupons that Ralphs offers.
I have at least

 

ten grocery stores within 5.5 miles of my house. It is easy (for better or for worse) to stop at several stores to get the best deals.
We

 

mostly eat at home. My husband and college age son often pack lunch and breakfast to work, but sometime have lunch out. My husband and I enjoy a date once a week. FishPapa takes one child out to "dinner with dad" once a week. We eat out as a family on average once a week.
BEFORE YOU JUDGE ME FOR EXTRAVAGANCE,

 

please read this post.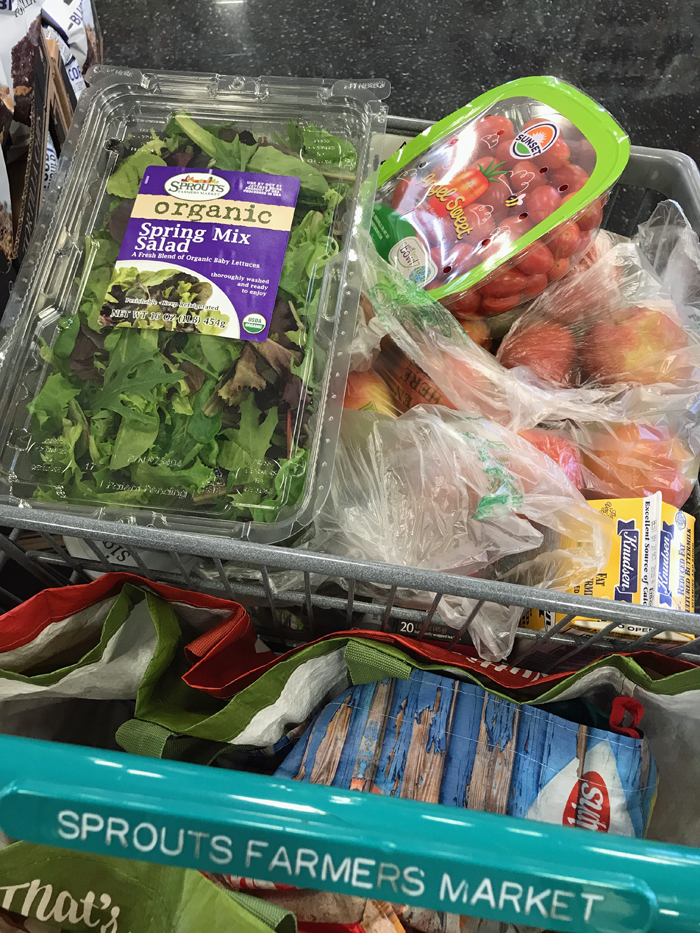 What we spent on groceries in October:
ALDI
deli cuts $2.99
deli cheeses $1.99 to $2.29
sliced pepperoni $2.19
jumbo cooked shrimp $5.49
applesauce cups $1.39
sour cream $1.29
olives $2.99
tostadas $1.39
Doppel Keks $2.29
sparkling water $0.65
canned pumpkin $0.79
onions $0.99
apple chips $1.69
10# potatoes $2.49
grape tomatoes $1.45
sourdough bread $2.89
chips $1.99
cilantro $0.33
ciabatta rolls $2.69
tea $0.99
crackers $1.75
tomatoes $0.79/lb
cucumbers $1.89
chocolate butter cookies $1.99
BBQ sauce $1.49
iceberg lettuce $0.95
spaghetti $1.09
frozen chicken tenders $12.49
b/s chicken tenders $1.49/lb
milk $2.10
eggs $0.95
whipping cream $1.99
Total spent: $145
Trader Joe's
mushrooms $2.49
ravioli $3.49
cookies $1.99
sunflower seed butter $4.99
hot Italian sausage $4.53
almond butter $5.99
pasta $0.99
Total spent: $40
Sprouts
Total spent: $8
Costco
tomato paste $5.99
diced tomatoes $5.99
olives $9.99
case bottled water $4.99
chicken bakes $10.99
orange chicken $9.49
heavy cream $9.59
Thin Addictives $4.99
hummus singles $6.49
hamburger buns $2.19
shredded cheddar/jack $12.49
garlic $8.99
avocado oil $9.69
potstickers $7.99
canned tuna $13.49
mayonnaise $6.99
Biscoff $4.99
Organic beef base $5.99
tortillas $3.69
salt $2.79
organic maple syrup $11.69
pepper grinder $6.89
sliced sourdough $3.69
deli turkey breast $12.65
shredded mozzarella $11.89
sharp cheddar $8.99
hot dog buns $2.19
Yakisoba $11.99
yogurt $6.59
Total spent: $259
ALDI
eggs $0.95
b/s chicken breasts $1.89/lb
cottage cheese $1.99
milk $2.25
jalapeños $0.69
red peppers $0.98
seedless cucumbers $1.89
cilantro $0.39
roma tomatoes $0.79/lb
organic baby carrots $1.49
crushed red pepper $0.99
organic baby spinach $2.95
frozen hash browns $1.69
Total spent: $50
Sprouts
apples $0.98 to $1.29/lb
avocados $1.66
organic spring mix $4.99
red bell peppers $0.88 each
large container grape tomatoes $3.98
hibiscus tea $3.49
buttermilk $2.99
yogurt $4.49
Total spent: $40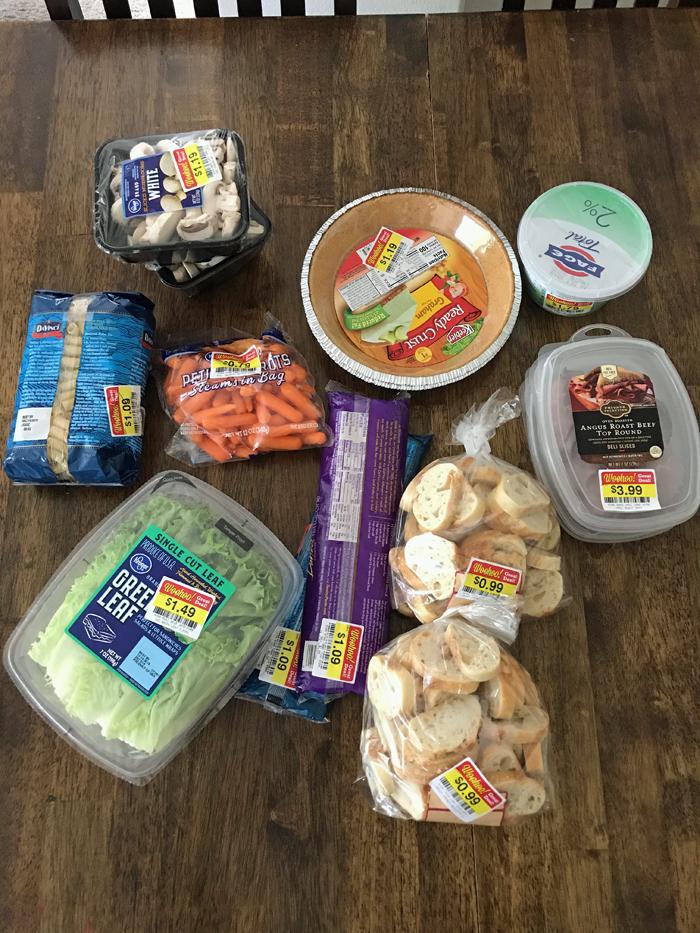 Ralphs
juice $0.89 markdown
rice FREE after digital coupon
eggs FREE after digital coupon
pasta $1.09 markdown
yogurt $1.25 FREE after digital coupon
tuna pouch FREE after digital coupon
graham cracker pie crust $1.19 markdown
raspberries $2.99 on sale
carrots $0.79 to $1.99
mushrooms $1.19 markdown
lettuce leaves $1.49 markdown
yogurt $1.79 markdown
Lunchable $1.49 on sale
deli roast beef $3.99 markdown
baguette $0.99 markdown
Total spent $32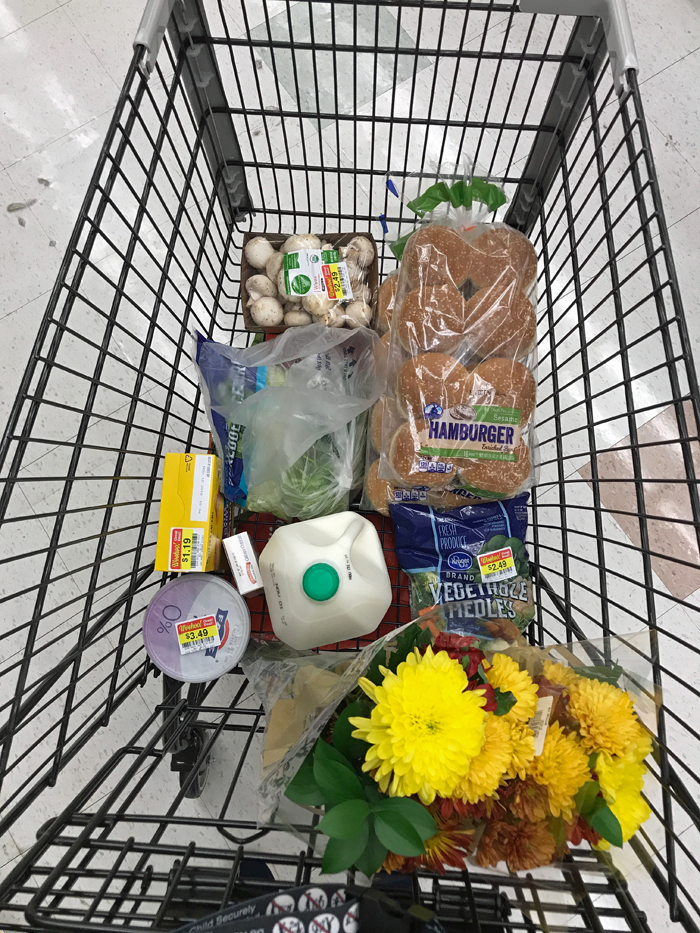 Ralphs
hamburger buns $0.69 markdown
cream cheese $1.99
graham cracker sticks $1.19 markdown
milk $2.69
raspberries $2.99
cilantro $0.99
mushrooms $2.49 markdown
vegetable medley $2.49 markdown
shredded lettuce $1.79
personal watermelon $1.50
bananas $0.59/lb
baby carrots FREE after digital coupon
greek yogurt $3.49
Total spent: $25
ALDI
milk $2.25
b/s chicken breasts $1.89/lb
eggs $0.91
sparkling water $0.65
pepperoni $2.19
4# dry pinto beans $2.89
2# black beans $2.69
sour cream $1.29
tostada shells $1.39
cottage cheese $1.99
cilantro $0.39
seedless cucumber $1.89
taco shells $0.99
tortillas $1.95
chips $1.99
chili powder $0.99
Total spent: $89
Ralphs
frozen pizzas $2.99 with digital coupon
marsala $4.99
flour $1.99
bread flour $4.99
chocolate chips $2.50
milk $1.99
brown sugar $2.69
tea $3.39
cornstarch $1.29
baking soda $0.99
bell peppers $0.88
lemons $2.99
2# strawberries $1.99
coleslaw mix $1.79
mushrooms $1.19 markdown
cranberries $2.99
iceberg $0.99
kettle chips $0.99 with digital coupon
whole wheat bread $1.49 markdown
yogurt $0.79 markdown
dill weed $3.49
organic lemon juice $3.99
bacon $3.99 markdown
hot dogs BOGO $5.99
minus $3 off order
minus $1 off fruit purchase
minus $0.75 coupon
Total spent: $90
Sprouts
5# potatoes $1.99
mushrooms $3.99
broccoli crowns $1.49/lb
pineapple $1.98
apples $0.98/lb
organic baby carrots $1.69
onions 3#/$1.00
rump roast $3.99/lb
cilantro $0.50
green onions $0.69
ground beef $2.99/#
Total spent: $36
Trader Joe's
sparkling water $1.09
water $0.59
organic tea $2.49
apple cider vinegar $2.49
Dijon $1.69
baking powder $1.49
sunflower seed butter $4.99
almond butter $5.99
maple syrup $15.99
sundried tomatoes $2.99
ground cumin $1.99
hot sauce $2.29
ginger paste $1.99
whipping cream $1.29
string cheese $2.99
almonds $5.99
marinated olives $1.79
Total spent: $64
Costco
romaine lettuce $3.99
tortillas $3.69
cranberries $2.99
rice $8.49
vinegar $3.69
milk $4.58
butter $11.19
yogurt $5.59
hummus singles $6.49
pasta $12.99
mozzarella $11.89
chicken bakes $10.99
potstickers $7.99
shredded cheddar/jack $12.69
pomegranate juice $9.59
sparkling cider $8.59
yogurt $6.59
yakisoba $11.99
hams $9.38 to 10.33
Gruyere $10.99
sharp cheddar $8.99
pork tenderloin $19.89
Total spent: $210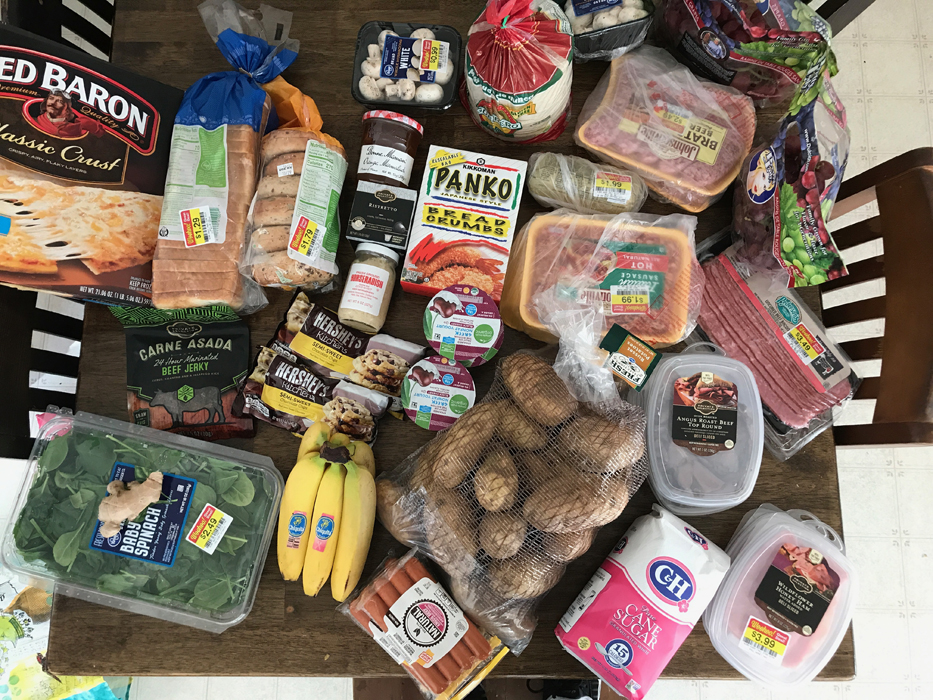 Ralphs
frozen pizzas $1.99 with digital coupon
corn tortillas $2.49
sugar $2.79
beef jerky $3.99
chocolate chips $3.00
orange marmalade $5.29
panko $2.29
ginger $0.33
mushrooms $0.99 markdown
grapes $0.88/lb
bananas $0.59/lb
spinach $2.49 markdown
10# russet potatoes $3.99
yogurt $0.59 markdown
organic sandwich bread $1.24 markdown
organic bagels $1.79 markdown
beef bacon $3.49 markdown
brats $2.49 markdown
horseradish $3.49
hot dogs $1.99
deli meats $3.99
Total spent: $91
Ralphs
rolls $2.50 to 2.79
cream cheese $2.49
eggs $3.59
frozen vegetables $2.79
chili powder $4.99
3-pack bell pepper $0.99 markdown
grapes $0.88/lb
organic sandwich bread $1.29 markdown
Total spent: $32
Vitacost
Total spent: $51
Spent in October: $1278
Spent in 2018:
January: $490
February: $1084
March: $1224
April: $1009
May: $994
June: $1095
July: $1354
August: $1624
September $787
October: $1278
Total spent YTD: $10,939
That's an average of $1094/month!
As you know, I work back and forth, some months spending up to (or maybe beyond?) our budgeted amount, but I make up for it by spending less in other months. Looking at the year as an average helps me stick to our budget without freaking out.
That said, my "cushion" is almost depleted, so the next two months will be critical for keeping to 2018's new budget. Since we plan to do a 2- or 3-week pantry challenge in November, I think we might do okay. It will be a little tough, since the holiday foods are so tempting to me, but I took a look at the calendar today, and I might be too busy to do much shopping!
How is YOUR grocery shopping going?