Want a peek into our grocery cart? Here's how I'm buying groceries and feeding eight people on the cheap.
Hey hey hey! Here we are at the end of November. It was a whirlwind of a month. We celebrated two birthdays as well as Thanksgiving where we hosted an extra five in addition to our 8. My inlaws stayed for a few days as well.
The good thing is that though I did max out our groceries, I didn't go too far over budget. Our average is holding strong for the year. You'll have to scroll down to see where we landed.
As for December and keeping our average under budget, it will be a wee bit tricky. I've had some ongoing vertigo issues and the doc is trying to troubleshoot and rule out all kinds of things. Among his many tests and therapies, he's also put me on a restricted diet.
Avoid salt, caffeine, chocolate, alcohol, and stress — in December!
Hahaha!
The one that will most impact my diet is, of course, the salt, so that means more eating at home, no fast food. Hopefully, it won't have a negative impact on the budget. Just may divert eating out money to the grocery budget to compensate. We shall see!
The Grocery Geek report
For those of you new here, Grocery Geek is my regular report of how I shopped for groceries, what deals I found, and my running total of how we're sticking to a budget for groceries.
Here's the rundown on my shopping this week. As you read, keep in mind who and how I'm shopping:
My grocery shopping profile
To update you on my grocery geekiness: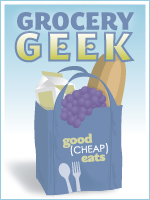 I'm feeding

 

eight people, ages 55, 46, 21, 18, 16, 14, 12, and 10. Five of those people are males. They eat A LOT!
I'm shooting for a budget of

 

$1100 this year, trying to beat what the feds think it will cost. Per the most recent

 

USDA food cost reports it should cost our family $1373.30 to eat all meals at home under the "thrifty plan" for people of our demographics.
We live in Southern California where produce is cheap, but meat and dairy are not.
I'm trying to feed us

 

mostly unprocessed foods, with a few "healthier" convenience items thrown in and

 

a junk food splurge* here and there.
I

 

work at home and teach four of our kids, so I don't have as much time for fiddling in the kitchen as I would like.
I

 

no longer use coupons on a regular basis, though I do love

 

the coupons that Ralphs offers.
I have at least

 

ten grocery stores within 5.5 miles of my house. It is easy (for better or for worse) to stop at several stores to get the best deals.
We

 

mostly eat at home. My husband and college age son often pack lunch and breakfast to work, but sometime have lunch out. My husband and I enjoy a date once a week. FishPapa takes one child out to "dinner with dad" once a week. We eat out as a family on average once a week.
BEFORE YOU JUDGE ME FOR EXTRAVAGANCE,

 

please read this post.
What I spent on groceries in November:
ALDI
frozen potatoes $1.69
frozen green beans $1.19
cottage cheese $1.99
buttermilk $1.79
almond milk $2.69
limes $0.15 each
cilantro $0.45
jalapeño peppers $0.79
mangoes $1.17
Brie $2.99
baby bella mushrooms $1.79
acorn squash $0.78/lb
spaghetti squash $0.78/lb
grapes $0.85/lb
frozen tots $1.95
green tea $1.99
eggs $0.91
10# potatoes $2.49
broccoli crowns $1.39
milk $2.25
black beans $0.89
crackers $1.75
b/s chicken breasts $1.89/lb
pork sirloin roast $1.29/lb
Total spent $74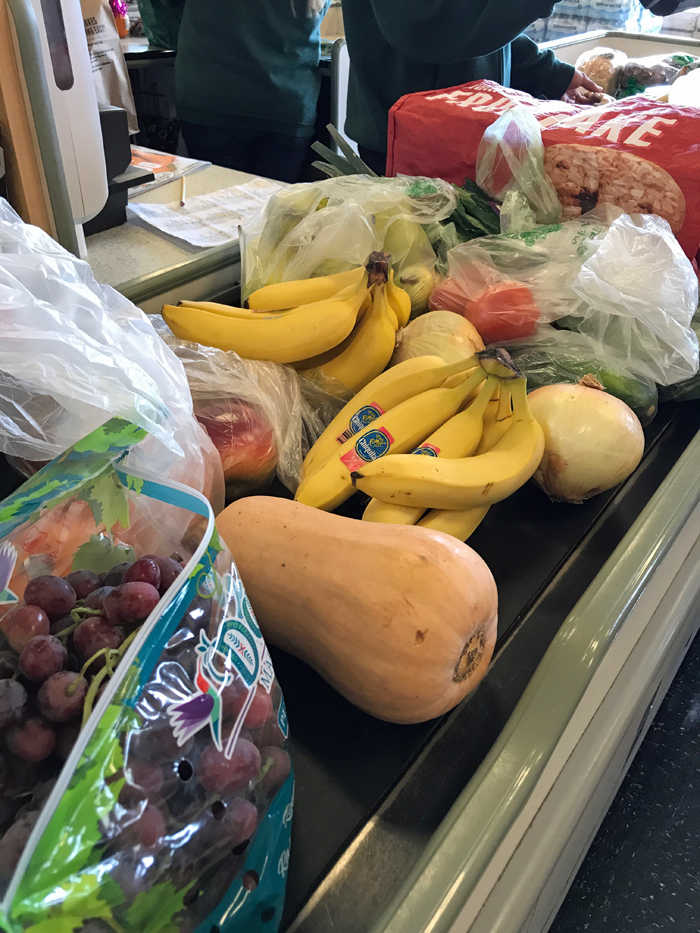 Sprouts
pears $0.77/lb
butternut squash $0.88/lb
zucchini $0.98/lb
apples $1.49/lb
kale $0.99
leeks $1.99/lb
grapefruit $0.99
grapes $0.77/lb
roma tomatoes $0.98/lb
onions $0.50/lb
bananas $0.59/lb
organic canned pumpkin $1.00
deli turkey $3.01 to $3.74
rump roast $6.07 to $10.05
clean ground beef $8.62
Total spent $57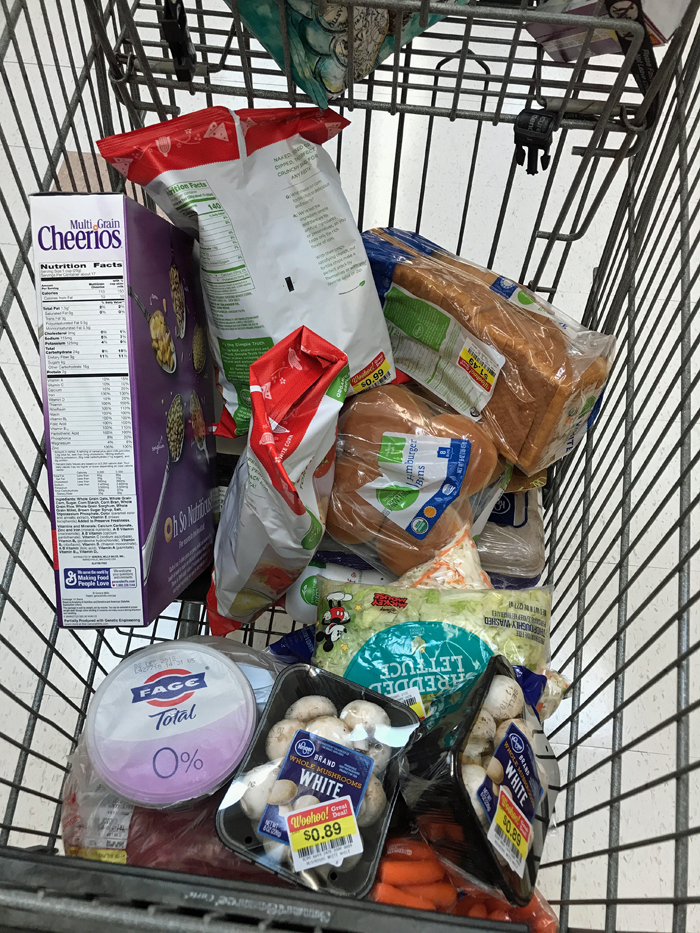 Ralphs
sandwich bread $1.49 on clearance
pastry crisps $1.29 on clearance
milk $2.69
coffee $8.49
Cheerios free after coupon
yogurt free after coupon
coleslaw free after coupon
bagged salad $0.99
mushrooms $0.89
mini baby carrots free after coupon
organic hamburger buns $0.99 on clearance
organic tortilla chips on clearance
Fage yogurt $3.49
half and half $1.99
beef roast $13.41 to $14.52
Applegate sausage $2.99 on clearance
Total spent $65
ALDI
sparkling water $0.65 after CRV
chocolate chips $1.49
eggs $0.91
apples $0.65/lb
milk $2.25
cream cheese $0.99
cottage cheese $1.99
sour cream $1.29
cereal $1.39
pepperoni $2.19
avocado oil $6.99
bananas $0.29/lb
Total spent $76
ALDI
Advent cheese calendar $12.99
tortillas $2.99
salsa verde $1.79
yellow onions $0.99
b/s chicken breasts $1.69/lb
bottled water $3.49
frozen orange juice $1.19
Total spent $61
Sprouts
5# russet potatoes $1.99
broccoli crowns $1.49/lb
campari tomatoes $1.50
fresh pineapple $0.98
lettuce $1.29
opal apples $0.88/lb
pomegranate 3/$5
sweet potatoes $1.29/lb
tea $2.00
ground sage $2.99
organic canned pumpkin $1.50
organic thyme $2.69
organic dill $2.79
grass fed ground beef $2.99/lb
Total spent $61
Walmart
10# unbleached flour $5.98
red chile sauce $1.96
sauerkraut $0.84
whole and crushed tomatoes $1.66
milk $1.98
maseca $2.88
powdered sugar $1.98
flour tortillas $3.88
parsley $0.98
jam $1.98
meyer lemons $2.98
canned artichokes $2.48
Total spent $45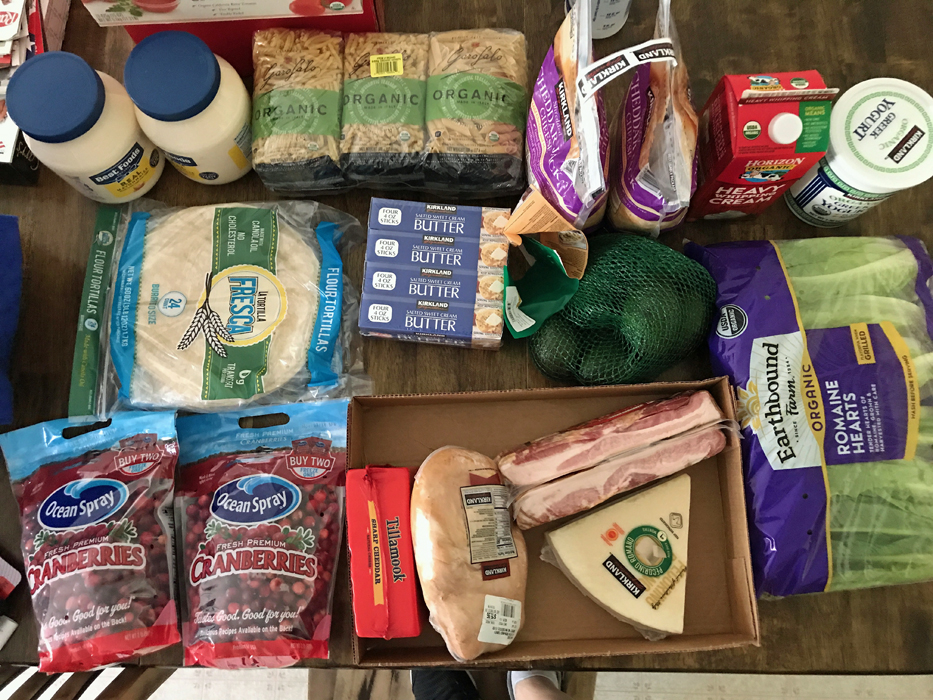 Costco
crackers $6.59
tomato sauce $7.79
avocado oil $9.69
olive oil $14.69
apple cranberry Martinelli's $8.99
heavy cream $9.59
water crackers $5.39
organic pasta $8.79
bagels $5.99
Boursin $5.99
organic romaine $3.99 (before the recall)
turkey breast $15.96
tortillas $3.69
cranberries $2.99
frozen berries $8.89
jam $4.49
Tillamook $8.99
mayonnaise $4.99
butter $11.29
shredded cheddar $12.69
shredded mozzarella $11.99
uncured bacon $11.99
romano cheese $12.52
gruyere $9.69
greek yogurt 45.59
6 ct avocados $6.99
Total spent $232
Sprouts
campari tomatoes $1.50
clementines 2# $1.88
organic celery $0.98
red bell peppers $0.98
bagels $3.99
potstickers $3.99
Total spent $18
ALDI
eggs $0.91
milk $2.25
feta crumbles $2.19
Brie $2.99
frozen green beans $1.19
goat cheese log $1.99
marshmallow creme $0.89
parsley $0.99
evaporated milk $0.59
applesauce cups $1.79
b/s chicken breasts  $1.89/lb
bone-in turkey breast $1.39/lb
sweet potatoes $1.49
fig spread $2.49
10# potatoes $1.29
mini marshmallows $0.89
andes baking chips $2.65
dark chocolate chips $1.89
diced green chiles $0.59
breakfast bars $1.89
chocolate coins $1.99
pretzel sticks $1.49
Total spent $93
Ralphs
pasta shells $1.27
chips $1.67
cool whip $1.25
sour cream $2.49
cream cheese $1.17 to $1.66
gelatin $1.25
cake mixes $0.25 to $1.25
brown sugar $2.57
coffee $4.99
tea $3.39
pepperoncini $2.99
pickles $3.69
salt $0.89
stuffing mix $2.50
flour $2.49
vinegar $1.99
mushrooms $1.99
dole salad kit $1.99
cilantro $0.99
produce $0.99 on clearance
veg tray $4.49 on clearance
apple juice $2.99
yogurt $0.49 on clearance
bone-in turkey breast $1.99/lb
chicken wings $2.28 on clearance
Total spent $83
Sprouts
mushrooms $3.99
clementines $1.88
parsley $0.69
apples $0.88/lb
lettuce $1.29
green onions $0.77
grapes $1.48/lb
super greens $3.49
red bell pepper $0.98 each
mangoes $0.88
roma tomatoes $0.98/lb
shallots $2.99/lb
minced onions $4.49
dry tarragon $4.29
sausage $2.99/lb
turkey wings $3.65
frozen raspberries $2.99
organic mixed veggies $2.00
Total spent $66
Ralphs
rye bread $4.59
sugar $1.99
lettuce $1.29
almonds $3.99
juices $3.49/2
mini carrots $1.09
deli meats $9.99 to $10.80
Total spent $40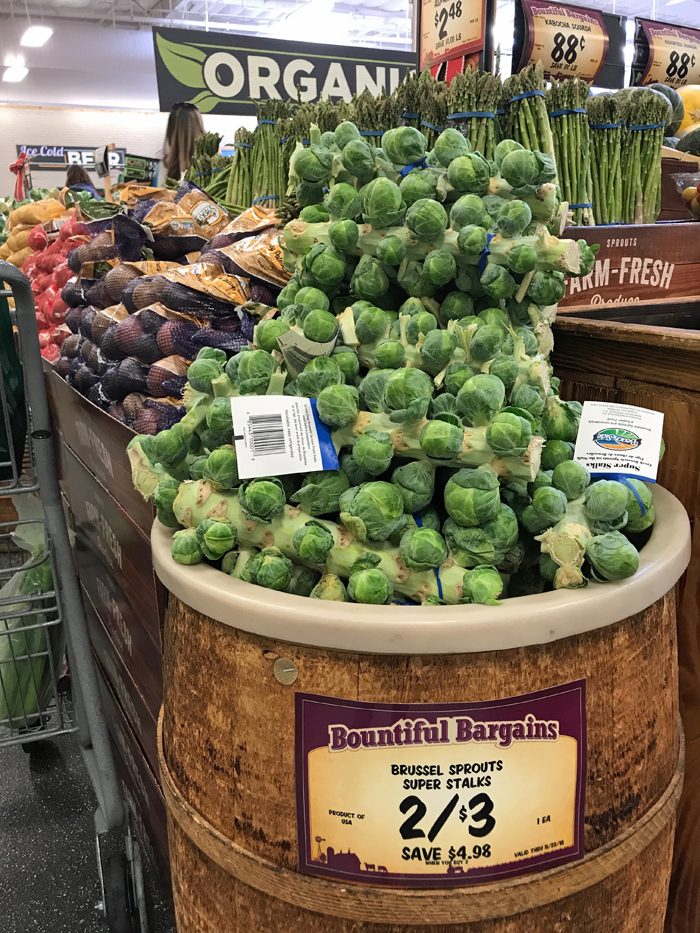 Sprouts
Brussels sprouts  stalks $1.50
cucumbers $1.79
celery stalks $0.98
milk $2.99
Total spent $12
Ralphs
mozzarella cheese $3.47
mushrooms $2.99
Total spent $10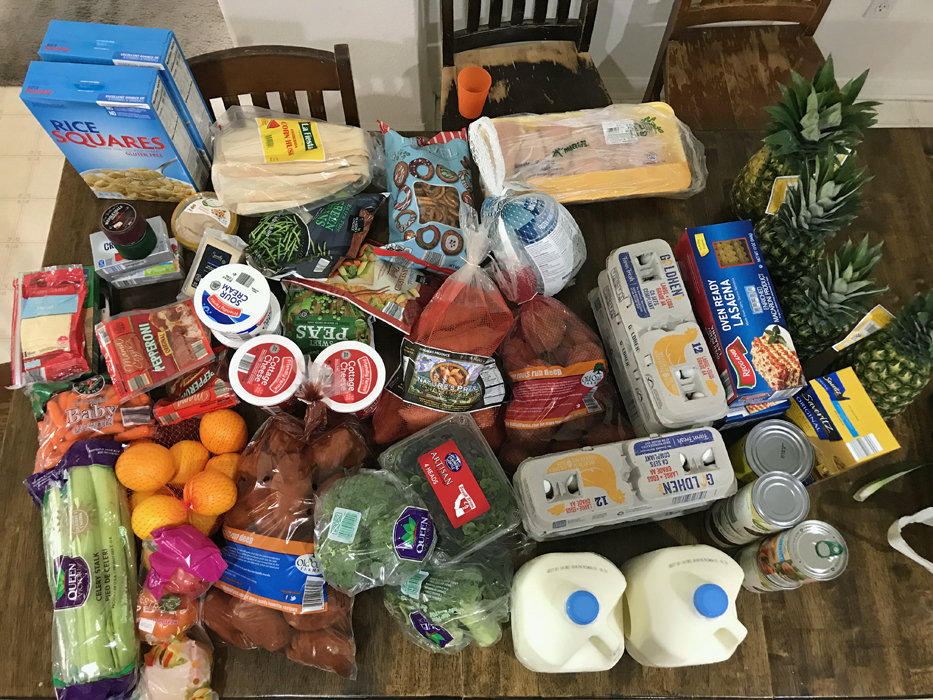 ALDI
breakfast bites $1.00
lasagna noodles $1.59
organic hummus $2.29
deli sliced cheese $1.99
pepperoni $2.19
sliced meat $2.99 to $3.29
frozen green beans $1.19
frozen Asian vegetables $1.59
frozen peas $0.99
corn husks $3.79
cottage cheese $1.99
pretzel rings $1.49
cream cheese $0.99
organic black beans $0.89
eggs $0.91
canned peaches $1.05
cheeses $2.49
lettuce $1.99
rolls $2.95
kisses $2.95
enchilada sauce $1.79
sour cream $1.29
cereal $1.99
10# russet potatoes $1.29
5# red potatoes $1.99
sweet potatoes $0.50 on clearance
milk $2.25
broccoli crowns $1.25
bone-in turkey breast $1.39/lb
cream cheese $0.99
baby carrots $0.69
crackers $1.75
celery $0.25 on clearance
pineapples $0.50 on clearance
navel oranges $1.99
gruyere $4.99
multi-pack peppers $2.99
Total spent $120
Ralphs
buttermilk $3.19
bananas $1.31
Total spent $5
Spent in November: $1117
Spent in 2018:
January: $490
February: $1084
March: $1224
April: $1009
May: $994
June: $1095
July: $1354
August: $1624
September $787
October: $1278
November $1117
Total spent YTD: $12,056
That's an average of $1096/month!