Want a peek into our grocery cart? Here's how I'm grocery shopping and feeding eight people on the cheap.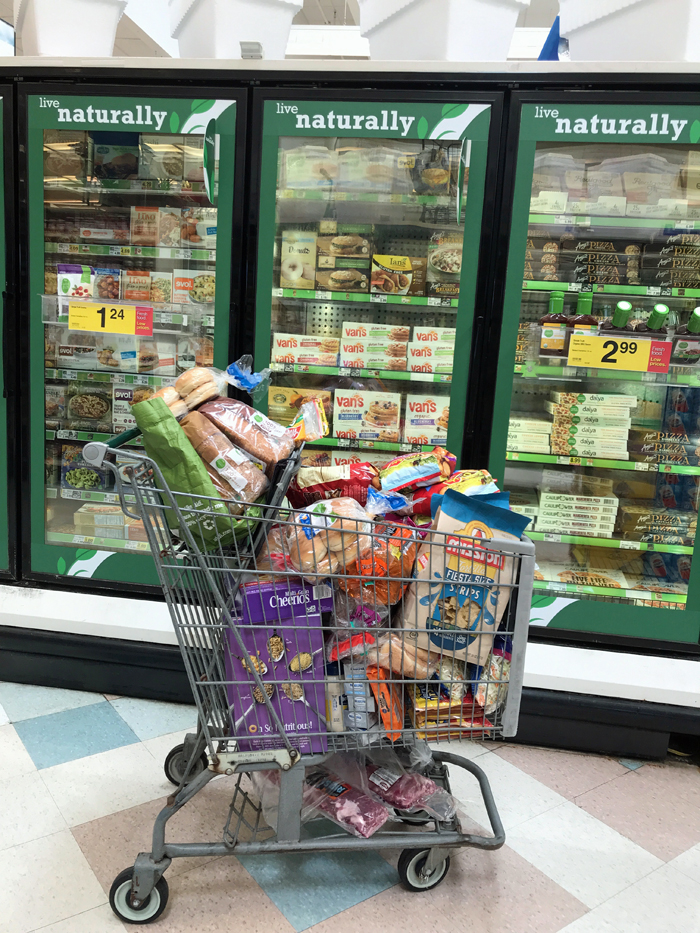 Whew! June has already flown the coop. I'm not sure how that happened, but it did. In a flash! We celebrated two birthdays as well as Father's Day and a little parent getaway in June, but it didn't do too much damage to our grocery budget which is actually pretty exciting.
We've really come to rely on my doing a fair amount of baking, especially sourdough boules for sandwiches, but now that my supply of primo flour has come to an end, I'm not really sure what July will look like. Lucky for me, there was a huge pile of clearance breads at Ralph's on the very last day of the month and I still had grocery money to spend. Boom. Stocked the freezer in case I can't find any good prices on flour.
July's too hot for baking, anyway, right? Well, here's hoping.
And here's….
The Grocery Geek report
For those of you new here, Grocery Geek is my regular report of how I shopped for groceries, what deals I found, and my running total of how we're sticking to a budget for groceries.
Here's the rundown on my shopping this week. As you read, keep in mind who and how I'm shopping:
My grocery shopping profile
To update you on my grocery geekiness: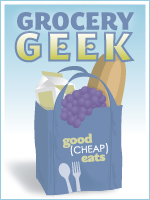 I'm feeding

 

eight people, ages 55, 46, 21, 17, 16, 14, 11, and 9. Five of those people are males. They eat A LOT!
I'm shooting for a budget of

 

$1100 this year, trying to beat what the feds think it will cost. Per the

 

USDA food cost reports it should cost our family $1336.20 to eat all meals at home under the "thrifty plan" for people of our demographics.
We live in Southern California where produce is cheap, but meat and dairy are not.
I'm trying to feed us

 

mostly unprocessed foods, with a few "healthier" convenience items thrown in and

 

a junk food splurge* here and there.
I

 

work at home and teach five of our kids, so I don't have as much time for fiddling in the kitchen as I would like.
I

 

no longer use coupons on a regular basis, though I do love

 

the coupons that Ralphs offers.
I have at least

 

ten grocery stores within 5.5 miles of my house. It is easy (for better or for worse) to stop at several stores to get the best deals.
We

 

mostly eat at home. My husband and college age son often pack lunch and breakfast to work, but sometime have lunch out. My husband and I enjoy a date once a week. FishPapa takes one child out to "dinner with dad" once a week. We eat out as a family on average once a week.
BEFORE YOU JUDGE ME FOR EXTRAVAGANCE,

 

please read this post.
What we spent on groceries in June: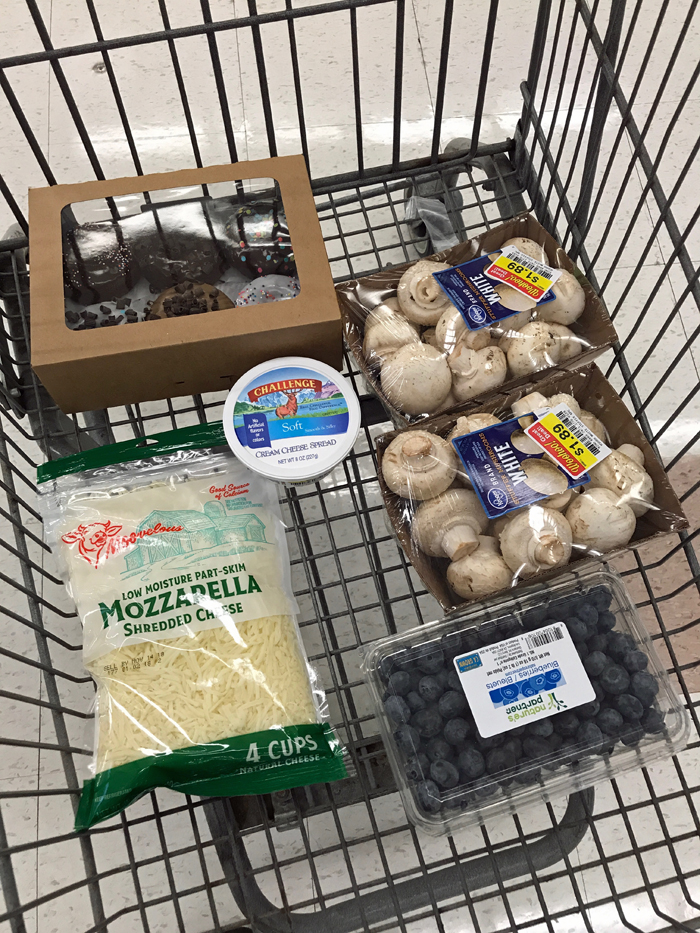 Ralphs
mozzarella cheese$3.29
cream cheese $0.99
blueberries $2.99
mushrooms $1.89
donuts $4.74 – for donut day!
Total spent $16
Costco
Pirate's Bootie $3.89
cheddar/jack shredded cheese $11.99
greek yogurt $5.69
salt $2.79
organic maple syrup $1169
cooking spray $4.99
dill pickles $6.89
sourdough bread $3.69
olives $9.99
milk $4.29
garlic $8.99
Tillamook cheddar $8.99
raspberries $4.99
bagels $4.99
organic spring mix $3.79
tortilla $3.69
hummus singles $6.49
turkey breast $15.36
shredded mozzarella $11.79
heavy cream $9.59
spaghetti $9.99
butter $11.79
organic pasta $8.79
Total spent $188
Walmart
Total spent $7
ALDI
boneless, skinless chicken breast $1.89/lb
shredded frozen potatoes $1.69
10# russet potatoes $2.55
hershey's 6-pack $2.99
organic sandwich bread $2.99
ciabatta rolls $2.89
goat cheese $1.99
green tea $0.99
fruit strips $4.99
feta crumbles $2.19
eggs $0.94/dozen
Total $70

Ralphs
frozen veg $1.00
buttermilk $2.99
pasta shells and macaroni $1.49
extract $2.99
blueberries $2.99
baby spinach $4.99
cherry tomatoes $3.99
bananas $0.59/lb
baby carrots $1.99
tri-tip $3.99/lb
Total spent $46
Costco
butter $11.79
tuna $12.99
Total spent $25
Sprouts
strawberries $0.98
zucchini $1.49/lb
jumbo avocados $1.50
organic broccoli $1.99
organic apples 3# bag $2.98
red bell peppers $0.48 each
red onion $0.99/lb
roma tomatoes $0.99/lb
cherries $2.88/lb
french bread $1.50
Total spent $33
Walmart
tortillas $1.78 to $3.26
bread $3.98
Total spent $12
Ralphs
club soda$0.79 to $1.50
ginger root $2.99/lb
lime juice $4.99
Total spent $8
Costco
oranges $11.49
spring mix $3.79
asiago cheese $8.89
cucumbers $3.49
blue cheese $6.79
pesto $7.89
crumbled feta $4.19
sliced almonds $7.89
bars $10.99
tri-tip $5.99/lb (birthday)
bread $5.79
turkey breast $12.73
Total spent $119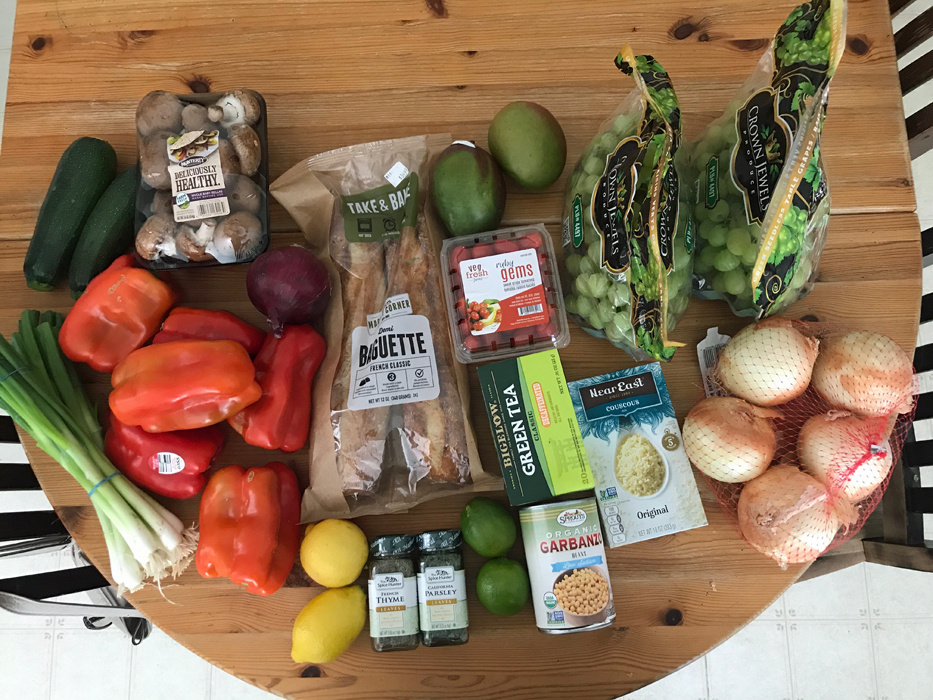 Sprouts
mushrooms $3.49
zucchini $1.49/lb
3# bag onions $1.99
grape tomatoes $1.50
green onions $0.50
grapes $0.77/lb
lemons $0.50
limes $0.50
bell peppers $0.50
mangos $0.50
red onions $0.99/lb
couscous $2.50
tea $2.99
garbanzo beans $0.99
spices $3.99
grass fed beef $3.99/lb
lamb chops $2.99/lb
baguette $3.49
Total spent $72
Sprouts
Total spent $5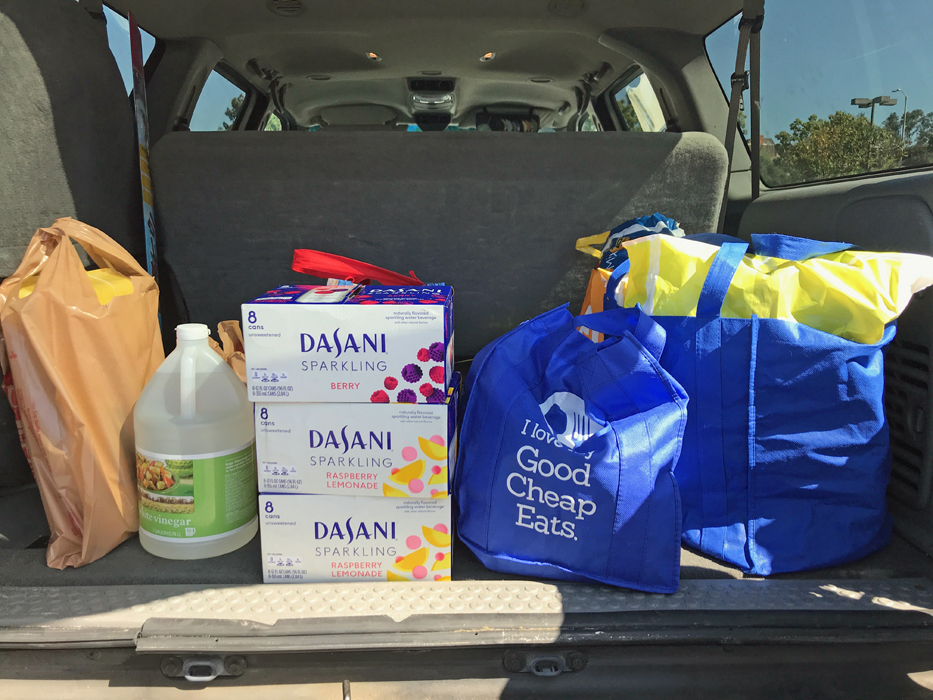 Ralphs
vinegar $2.69
pineapple chunks $1.29
sugar $2.69
hominy $0.99
2# rotelle $2.09
chip multi-bags $4.49
Nando's peri-peri sauce $4.99
sparkling water $2.42/8-pack
green onions $0.99
cilantro $0.69
2# strawberries $1.97
romaine $1.29
bell peppers $1.25
larabars $3.99/5-pack
cherry juice $3.60
chicken breast $0.77/lb
bacon $2.99
breakfast sausage $1.49
Total spent $106
Ralphs
sugar snap peas $4.99
carrots $1.59
bananas $0.69/lb
mango $0.99
raspberries $2.50
blueberries $2.49
Total spent $14
Ralphs
salsa$2.50
milk $2.49
dry black beans $1.29
tortilla chips $0.99
buns $1.25
tortillas $2.50
corn tortillas $1.79
juice $2.00
watermelon $0.99 each
ham $5.99
total spent $32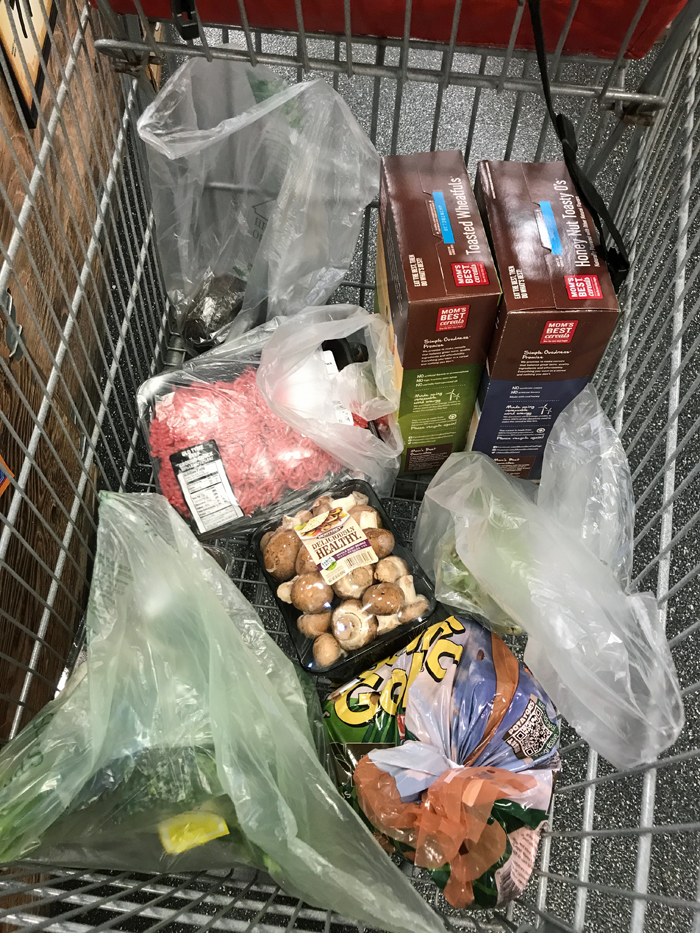 Sprouts
strawberries $0.98
5# russet potatoes $0.98
artichokes $1.66
mushrooms $3.49
jumbo avocados $1.66
organic broccolette $0.98
cereal $1.50
ground beef $3.99
Total spent $33
Trader Joe's
potato chips $2.99
frozen chicken tenderloins $7.49
macarons $4.99
flour tortillas $1.99
drinking yogurt $3.69
rice crackers $2.79
greek yogurt $1.99 to $2.79
sunflower seed butter $4.99
crunchy almond butter $5.99
ak-mak $1.99
24-ounce salami ends and pieces $5.99
almonds $5.99
baby carrots $1.49
cereal $1.99
string cheese $2.99
cashews $7.99
chocolate milk $3.99
Total spent $100
Ralphs
mozzarella cheese $3.39
18-ct eggs $3.59 after digital coupon
milk $2.49
blueberries $3.99
mushrooms $1.89 on markdown
organic bagels $.79 to $1.79 on markdown with digital coupon
ham $6.99
clearance bread $1.99
popsicles $4.49
juice $3.99
2# strawberries $1.97
Total spent $48
Trader Joe's
milk $2.69
buttermilk $1.79
eggs $1.59
bran flakes $1.99
Total spent $16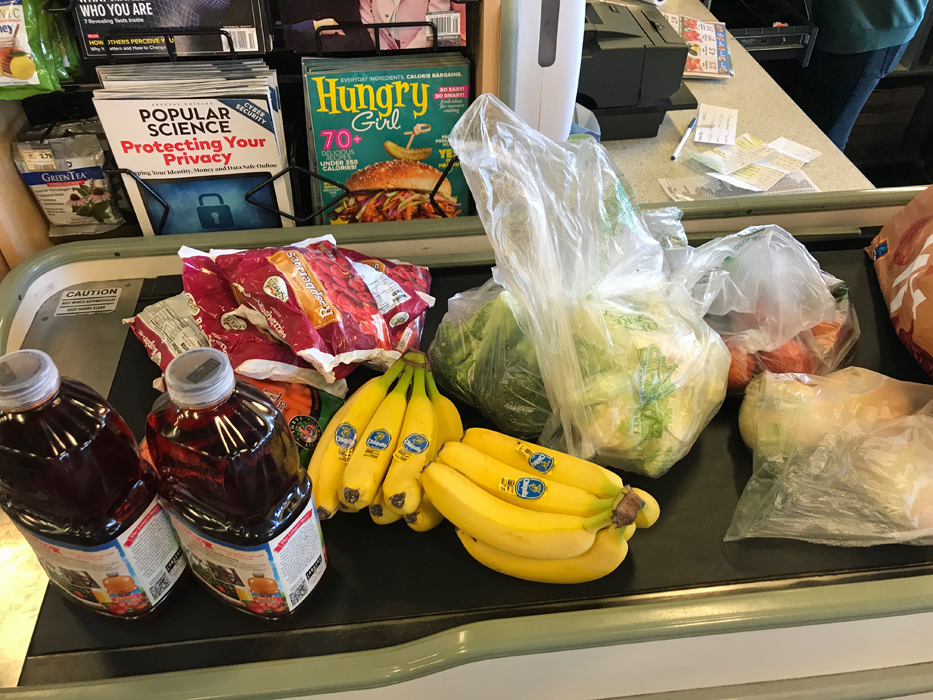 Sprouts
baby carrots $1.29
broccoli crowns $0.98/lb
cauliflower $0.98/lb
nectarines $0.98/lb
sweet onions $0.50/lb
bananas $0.59/lb
juice $2.99
bottled water $3.70
frozen raspberries $1.50/12oz bag
Total spent $32
Ralphs
frozen potatoes $1.99 with digital coupons
popcorn $3.49
pie crust $1.75 (I'm out of flour and haven't found a good deal yet)
cheddar cheese $2.99
tortilla chips $1.69
mayonnaise $2.99
cream cheese $1.49 with digital coupons
Ritz crackers $0.99 with digital coupons
cheerios $0.99 to $1.99 with sale and coupons
apple cider $1.99
hot dog buns $1.25
18-count eggs $3.99
coleslaw mix $0.99
organic hamburger buns $0.99 (on clearance)
organic whole wheat bread $1.49 (on clearance)
Ezekiel bread $2.49 (on clearance)
pork ribs $1.77/lb on sale with digital coupon
Hebrew National hot dogs $1.99 on sale with digital coupon
shrimp $5.99/lb
naan rounds $1.99 (on clearance)
sourdough boules $1.19 to $1.49 (on clearance)
Total spent $111
Spent in June: $1095
Spent in 2018:
January: $490
February: $1084
March: $1224
April: $1009
May: $994
June: $1095
Total spent YTD: $5896
That's an average of $983/month!
So, we're doing okay, despite the crazy that a full house provides. Here's to another tasty month!