Want a peek into our grocery cart? Here's how I'm buying groceries and feeding eight people on the cheap.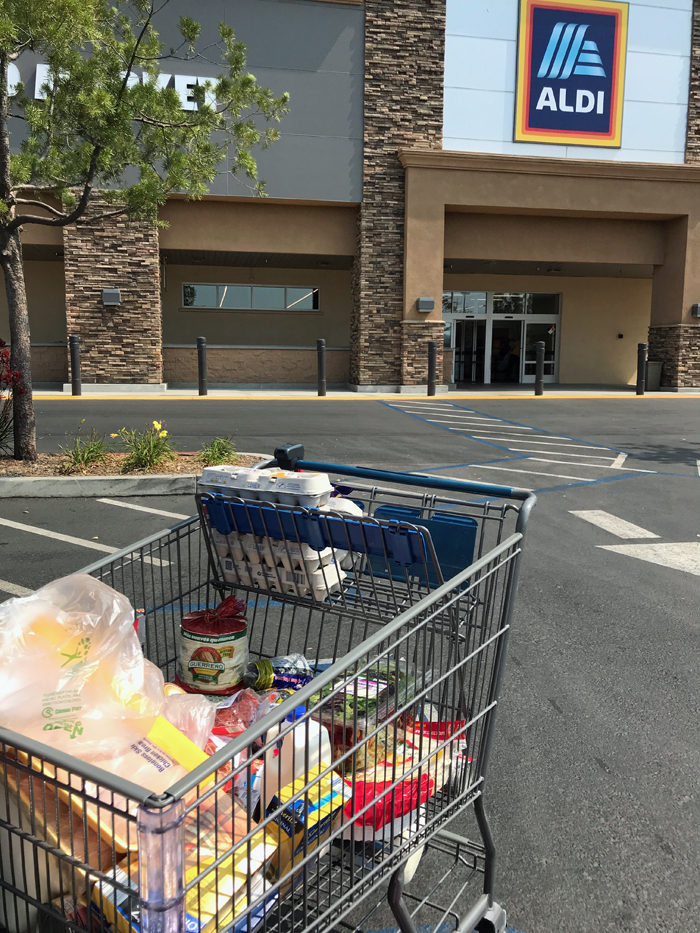 Hey there! Hi there! Can you believe how quickly the summer has flown by? We are inching up on back to school, so I'm battening down the hatches!
July was a pretty relaxing month with beach days and trips to the movies and a weeklong visit from friends-closer-than-family, but at the same time, I tried to keep my eye open for things that will make my life easier once school starts.
If you're new here, you might not know that I teach my kids at home. The two eldest are in college, but I've got four students on my watch. Trust me when I say, "The days are just packed!"
That means I need to be on my game. This month I spent a fair amount of time prepping fruit for the freezer. Or rather, my daughters did. They were my chief cherry pitters as I stocked up on cherries that were on sale. All my kids love to make smoothies, so if I can fill our freezer with bargain frozen fruit, we're in business.
I also found a few other items on clearance, like a variety of jams with at least a year before their best-by dates. That's the only good thing about your Walmart remodeling. They unload some good stuff for cheap. The rest of the time, you're cursing them for moving EVERYTHING to a new location.
But, I digress.
You'll notice that our overall bill this month is a little higher than normal. I attribute that to a few splurges at ALDI as well as the stocking up for later thing. Since our average was already under budget, I had plenty of cushion to go over. In fact, our year-to-date average is still under budget! Yay!
And we've got surplus in the freezer and cupboards for future months. With six kids it's pretty hard to get ahead in a truly substantial way — they are perpetually hungry! — but I'm trying. In doing so, particularly when I find screaming deals, we save a lot of money.
Per the most recent USDA food cost reports (link below), we're more than $300 UNDER a food stamp budget for a family of our make-up. Yay for good cheap eats!
The Grocery Geek report
For those of you new here, Grocery Geek is my regular report of how I shopped for groceries, what deals I found, and my running total of how we're sticking to a budget for groceries.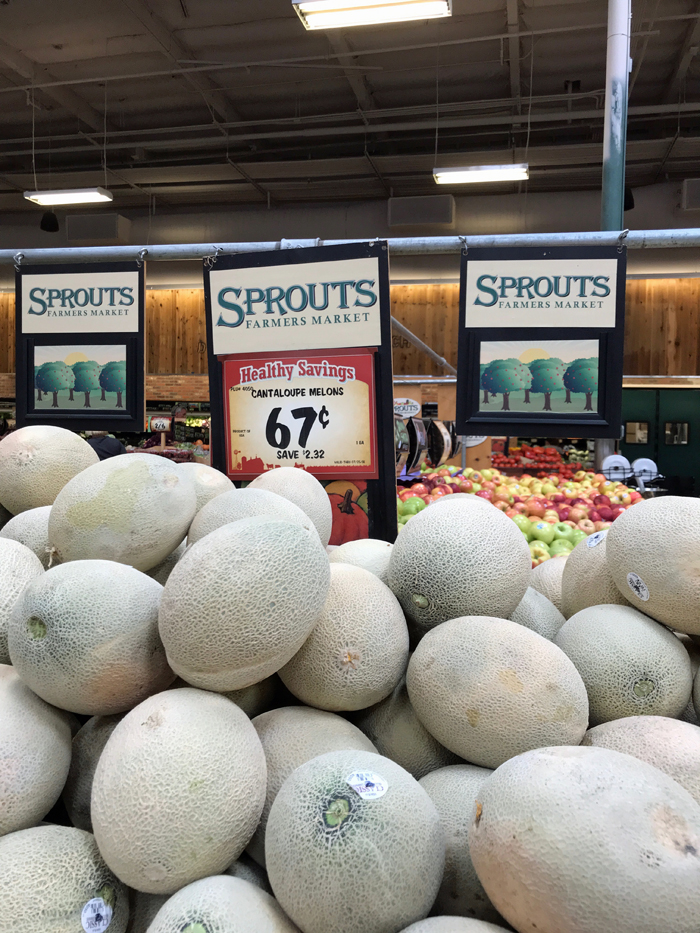 Here's the rundown on my shopping this week. As you read, keep in mind who and how I'm shopping:
My grocery shopping profile
To update you on my grocery geekiness: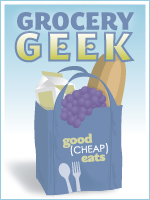 I'm feeding

 

eight people, ages 55, 46, 21, 17, 16, 14, 11, and 9. Five of those people are males. They eat A LOT!
I'm shooting for a budget of

 

$1100 this year, trying to beat what the feds think it will cost. Per the most recent

 

USDA food cost reports it should cost our family $1346.60 to eat all meals at home under the "thrifty plan" for people of our demographics.
We live in Southern California where produce is cheap, but meat and dairy are not.
I'm trying to feed us

 

mostly unprocessed foods, with a few "healthier" convenience items thrown in and

 

a junk food splurge* here and there.
I

 

work at home and teach five of our kids, so I don't have as much time for fiddling in the kitchen as I would like.
I

 

no longer use coupons on a regular basis, though I do love

 

the coupons that Ralphs offers.
I have at least

 

ten grocery stores within 5.5 miles of my house. It is easy (for better or for worse) to stop at several stores to get the best deals.
We

 

mostly eat at home. My husband and college age son often pack lunch and breakfast to work, but sometime have lunch out. My husband and I enjoy a date once a week. FishPapa takes one child out to "dinner with dad" once a week. We eat out as a family on average once a week.
BEFORE YOU JUDGE ME FOR EXTRAVAGANCE,

 

please read this post.
What we spent on groceries in July:
Sprouts
strawberries $0.97/lb (stockpiling in freezer)
5# bag potatoes $1.99
cilantro $0.50/bundle
granny smith apples $0.99/lb
green bell peppers $0.77 each
green onions $0.50
lettuce $0.99/head
zucchini $1.49/lb
jalapeños 8/$1.00
nectarines $0.98/lb
organic gala apples $0.99/lb
organic celery $1.99
red bell peppers $1.25 each
cherries $0.97/lb (stockpiling in freezer)
red onions $0.99/lb
watermelon $2.99
bag shishito peppers $2.99
baking powder $1.99
lemon ginger tea $3.49
carne asada $3.99/lb
fresh sausage $2.99/lb
xtra lean ground beef $2.99/lb
French bread $1.89/loaf
Total spent $87
Vitacost
Occasionally I order flour from Vitacost as a way to find better quality at a reasonable price.
bread flour $4.69/5# bag (stockpiling in freezer)
whole wheat flour $3.19/3# bag (stockpiling in freezer)
Total spent $43
Ralphs
whipping cream $5.49
eggs $3.99
Total spent $10
Sprouts
strawberries $0.97 (stockpiling in freezer)
cilantro $0.50
hot house cucumber $1.50
organic baby spinach $4.99
red bell peppers $1.25
cherries $0.95/lb (stockpiling in freezer)
tea $3.49
greek yogurt $2.99
Total spent $19
Trader Joe's
maple syrup $15.99
cereal $1.99
frozen chicken tenderloins $7.49 (stockpiling in freezer)
milk $2.69
frozen green beans $1.99 (stockpiling in freezer)
almond butter $5.99
juice $2.99
cheddar $2.47
hummus $4.99
3-pack peppers $3.29
Total spent $61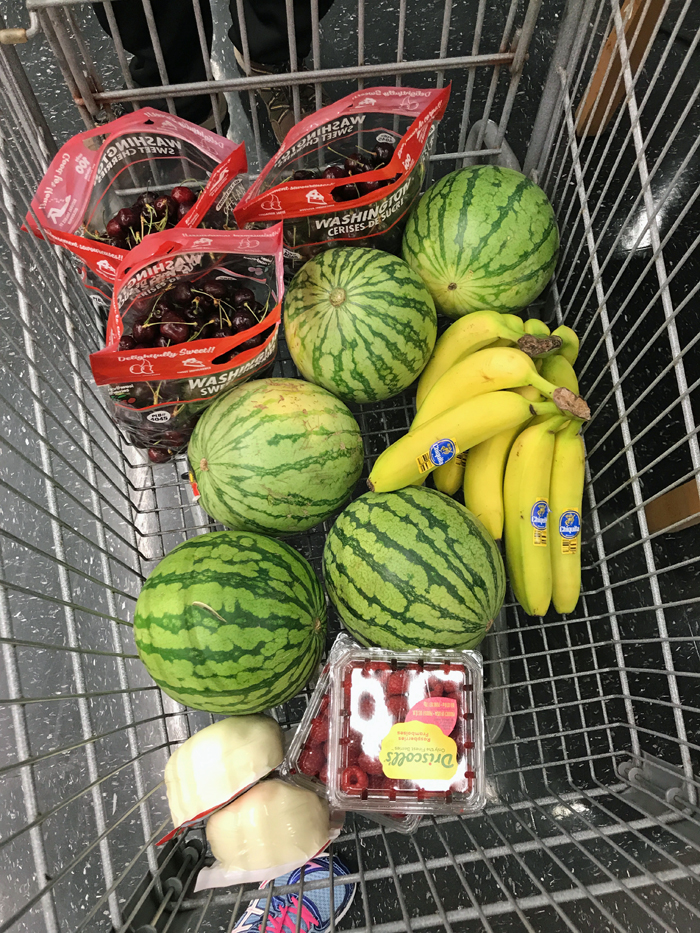 Sprouts
mini watermelon $0.95 each
raspberries $1.50
cherries $0.95/lb (stockpiling in freezer)
bananas $0.59/lb (stockpiling in freezer)
mozzarella $6.99/2#
greek yogurt $2.99
Total spent $38
Ralphs
grape tomatoes $2.99
deli salami $5.50
sushi $8.99 each
deli turkey $10.39
Boursin cheese $3.99
Brie $6.30
Total spent $53
Walmart
milk $2.39
powdered sugar $1.98
sugar $1.98
turbinado $3.98
unbleached flour $5.98
brown sugar $1.98
Total spent $25
Costco
olive oil $14.69-$14.99
dry pinto beans $5.69
organic brown rice $11.99
frozen yakisoba $11.49
hummus singles $6.49
chicken bake $10.99
rotisserie chickens $4.99 each
craisins $4.89
organic spaghetti $8.89
kirkland tuna $12.99
cheddar jack shreds $12.59
organic quinoa $9.49
pesto $4.89
organic honey $13.49
avocado oil $9.69
shredded mozzarella $11.99
pita $3.39
frozen tilapia $16.49 (stockpiling in freezer)
Tillamook cheddar $8.99
frozen french fries $6.59
romaine 6-pack $3.99
frozen Hawaiian chicken $11.49
roast whole turkey breast $3.99/lb
tortillas $3.69
mixed bell peppers 6-pack $6.99
frozen ono $19.89 (stockpiling in freezer)
greek yogurt $5.59
butter $11.19
Total spent $365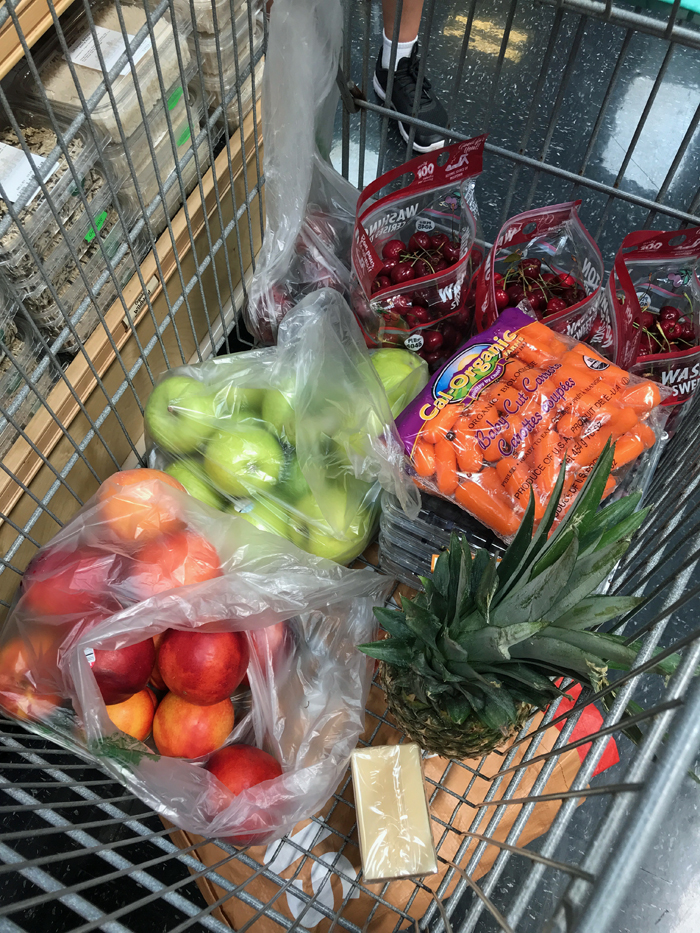 Sprouts
blueberries 18 oz. $1.97 (stockpiling in freezer)
pineapple $1.98
apples $0.50/lb
plums $0.98/lb
nectarines $0.98/lb
organic baby carrots $0.98/lb
red cherries $0.95/lb (stockpiling in freezer)
apple cider vinegar $4.99
Total spent $33
Ralphs
green salsa $0.79
cilantro $0.69
jalapeños $0.99/lb
canned tomatoes $1.69
Total spent $5
Ralphs
cereal $0.99 to 1.69
ice cream and popsicles $4.49 to 4.99
chocolate chips $3.49
grapes $2.99/lb
bananas $0.59/lb
grapefruit $1.29
melon $0.77
mushrooms $2.29
broccoli $1.99/lb
Total spent $38
Sprouts
baby carrots $1.29
melon $0.98
grape tomatoes $1.50
XL avocados $1.66
organic bananas $0.69/lb
mango 2/$1
sweet onions $0.68/lb
organic coconut milk $1.99
greek yogurt $2.99
frozen strawberries $2.99
Total spent $33
ALDI
eggs $0.94
bottled sparkling water $0.69 each after CRV
frozen tamales $5.49
milk $2.10
whipping cream $1.99
tomato paste $0.39
flour tortillas $1.59
fruit $2.19
pepperoni $2.19
salami $3.49
olives $2.99
seedless cucumber $0.95
organic baby spinach $2.49
yellow onions $1.35
diced green chiles $0.59
superfruit spread $2.89
deli sliced cheese $1.99
deli ham and turkey $2.99
red potatoes $2.25
baby carrots $0.89
red onions $0.59/lb
whole carrots $0.95
coleslaw $1.49
red peppers $0.65 each
b/s chicken breast $1.29/lb
Total spent $100
Ralphs
macaroni and shells $0.89
milk $2.49
canned pintos $1.69
large mayonnaise $6.29
shredded lettuce $1.79
mushrooms $2.29
yogurt $5.99
ground pork $2.99 on clearance (stockpiling in freezer)
chuck roast $3.99/lb
clearance bread $0.99
Total spent $60
Sprouts
strawberries $0.97
mushrooms $3.49
melons $0.67
cilantro $0.50
tomatoes $0.98/lb
eggplant $1.25
XL avocados $1.66
nectarines $0.98/lb
organic bananas $0.59/lb
organic celery stalk $1.99
mangoes 2/$1
soba noodles $1.69
tahini $5.99
rice vinegar $2.29
bottled water $3.70 after crv
sliced bacon $2.27
wild sockeye salmon $9.99
Total spent $75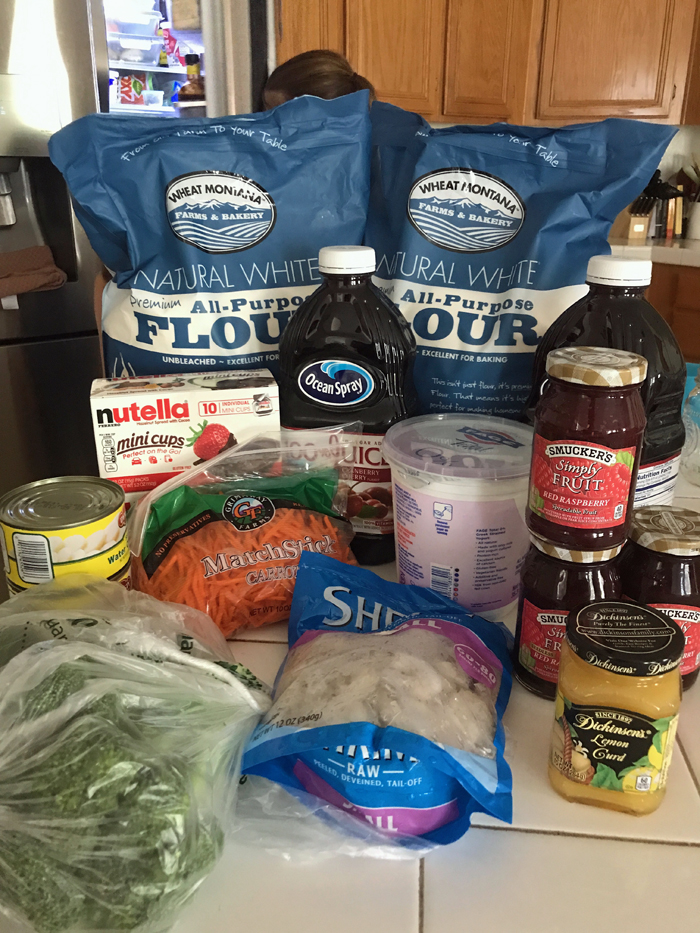 Walmart
juice $3.28
jams on clearance $1-$2 (stockpiling in pantry)
nutella packs on clearance $1.50 (stockpiling in pantry)
greek yogurt $5.38
broccoli $1.68/lb
flour $5.98/10#
limes $0.25
shrimp $5.86
water chestnuts $0.72
shredded carrots $1.67
Total spent $50

ALDI
eggs $0.92
frozen green beans $1.39 (stockpiling in freezer)
frozen bell peppers $1.79 (stockpiling in freezer)
organic whole wheat spaghetti $1.09
organic black beans $0.89
crushed tomatoes $0.99
garbanzo beans $0.69
organic diced tomatoes $1.65
ground black pepper $2.69
salami $3.49
onion flakes $0.99
sparkling water $0.69 after CRV
deli ham and turkey $2.99
olives $2.99
milk $1.38
sour cream $1.29
pickles $3.79
flour tortillas $1.59
black beans $2.49
corn tortillas $2.28
tostada shells $1.85
pepperoni $2.19
cheddar $2.99
hummus $2.29
chips $1.99
cottage cheese $1.29
brie $2.99
chocolate $1.49
whipping cream $1.99
mini bagels $1.99
spinach $1.19
bell peppers $0.75 each
broccoli crowns $0.99
deli sliced cheese $1.99
Italian bread $3.99
coleslaw $1.49
limes $0.15
romas $0.45/lb
graham crackers $1.25
woven wheat crackers $1.75
green tea $0.99
green onions $0.99
flatbread $2.89
cilantro $0.33
jalapeños $0.49 (stockpiling in freezer)
red onions $0.59/lb
milk $2.10
b/s chicken breast $1.89/lb
Total spent $159
ALDI
sparkling water $0.69 after CRV
pepperoni $2.19
jalapeños $0.49
tomato sauce $0.29
tomato paste $0.39
Total spent $27
Trader Joe's
frozen chicken tenders $7.49 (stockpiling in freezer)
tofu $1.69 to $2.49
Total spent $41
ALDI
sparkling water $0.69 after CRV
eggs $0.91
pepperoni $2.19
cottage cheese $1.29
garbanzo beans $0.69
tomato paste $0.39
Total spent $32
Spent in July: $1354
Spent in 2018:
January: $490
February: $1084
March: $1224
April: $1009
May: $994
June: $1095
July: $1354
Total spent YTD: $7250
That's an average of $1036/month