Does looking at other people's groceries fascinate you like it does me? The grocery cart is a lot like a medicine cabinet. You can tell a lot about a person by perusing their shopping items. Want a peek into our grocery cart? Here's how I'm grocery shopping and feeding eight people on the cheap.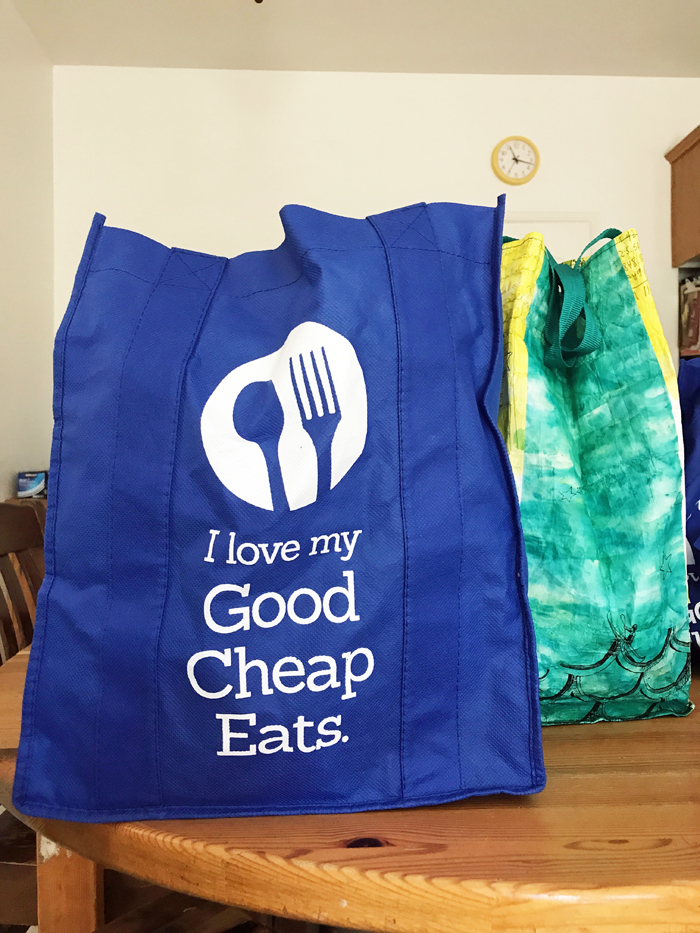 Whew. That month went by quickly. Wasn't it just Easter?!
It's been a busy month for me with school, work, and life. Every day was so busy, I honestly didn't keep a running tally on my grocery shopping; I was a little nervous when I started to write this post. Turns out, I needn't have worried! Good Cheap Eating pays off, my friends!
I made some interesting observations about this month's SIXTEEN shopping trips. I'm a little embarrassed by that number, quite honestly. I shopped this often due to a number of factors:
the vast quantity of food my people eat in a given week. We still only have one refrigerator, so there's only so much I can buy at one time.
the fact that each of my top five stores — there are at least 15 chains within an easy drive of my home — have some really great qualities. I end up "cherry picking," getting the best items at each store.
the fact that I do a lot of running around during a week, so it's not that hard to make a quick stop, particularly if I'm driving in my husband's car and not my big Scourge.
the fact that I was holding out for a big stock-up trip to ALDI, so I made lots of little stops to hold me over. Alas, I only made it to ALDI twice.
It's true; I've found that my five main stores (Ralphs, Costco, Sprouts, ALDI, and Trader Joe's) have very different positives.
Ralphs has the widest selection and great sales/clearance prices on items that I can't really find cheap elsewhere, like organic bread, high quality baking goods, and meats.
Costco is my go-to for a number of items like oils, cheese, some produce, and deli meats.
Sprouts, while lagging in quality lately, has competitive pricing and better quality of produce than ALDI.
ALDI has the rock-bottom pricing on lots of things, but is too far to go on a whim.
Trader Joe's is the easy spot for my husband to stop on date night if I need a few things. 😉 Plus, it's got the best pricing on Asian ingredients, and they sell Ak-mak, which no other local store does.
I'm hoping to get a better handle on planning my shopping trips next month so that I can shop less often. Think I could cut this down by half? I'm thinking I could, especially if I make a list of all the things I bought at Costco this past month and make a stock-up list for the month. I'll report back soon.
Need help trimming the budget? Grab A Week of Good Cheap Eats: Breakfast, Lunch, and Dinner Plans to Help You Trim the Budget.
The Grocery Geek report
For those of you new here, Grocery Geek is my regular report of how I shopped for groceries, what deals I found, and my running total of how we're sticking to a budget for groceries.
Here's the rundown on my shopping this week. As you read, keep in mind who and how I'm shopping:
My grocery shopping profile
To update you on my grocery geekiness: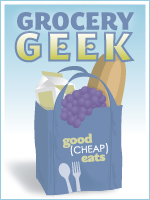 I'm feeding

 

eight people, ages 55, 45, 20, 17, 15, 13, 11, and 9. Five of those people are males. They eat A LOT!
I'm shooting for a budget of

 

$1100 this year, trying to beat what the feds think it will cost. Per the

 

USDA food cost reports it should cost our family $1336.20 to eat all meals at home under the "thrifty plan" for people of our demographics.
We live in Southern California where produce is cheap, but meat and dairy are not.
I'm trying to feed us

 

mostly unprocessed foods, with a few "healthier" convenience items thrown in and

 

a junk food splurge* here and there.
I

 

work at home and teach five of our kids, so I don't have as much time for fiddling in the kitchen as I would like.
I

 

no longer use coupons on a regular basis, though I do love

 

the coupons that Ralphs offers.
I have at least

 

ten grocery stores within 5.5 miles of my house. It is easy (for better or for worse) to stop at several stores to get the best deals.
We

 

mostly eat at home. My husband and college age son often pack lunch and breakfast to work, but sometime have lunch out. My husband and I enjoy a date once a week. FishPapa takes one child out to "dinner with dad" once a week. We eat out as a family on average once a week.
BEFORE YOU JUDGE ME FOR EXTRAVAGANCE,

 

please read this post.
What we spent on groceries in April:
Ralphs
(includes Easter grocery shopping)
tortilla chips $1.77 to 2.44 with sales and digital coupon
cream cheese $1.79
cilantro $0.69
jalapeno pepper $0.12
carrots $2.69
organic romaine $0.74 with digital coupon
clementines $3.77
russet potatoes $3.99
strawberries $1.25
pepperoni $3.49
Total spent: $24
Costco
(includes Easter grocery shopping)
milk $4.20
graham crackers $7.69
triscuits $8.99
bacon $13.99
avocado oil $9.69
organic almonds $12.99
organic frozen berries $7.99
rolled oats $8.39
olive oil $14.99
snap peas $4.49
turkey breast $14.44
crumbled feta $6.79
shredded cheddar/jack $11.89
heavy cream $9.59
mayonnaise $4.99
shredded mozzarella $10.99
whole craisins
organic red peppers $6.99
single hummus packs $6.49
pesto $7.89
cucumbers $3.99
tortillas $3.69
hot dog buns $2.19
2 dozen eggs $3.69
strawberries $4.99
cheesecake $13.99
Total spent: $230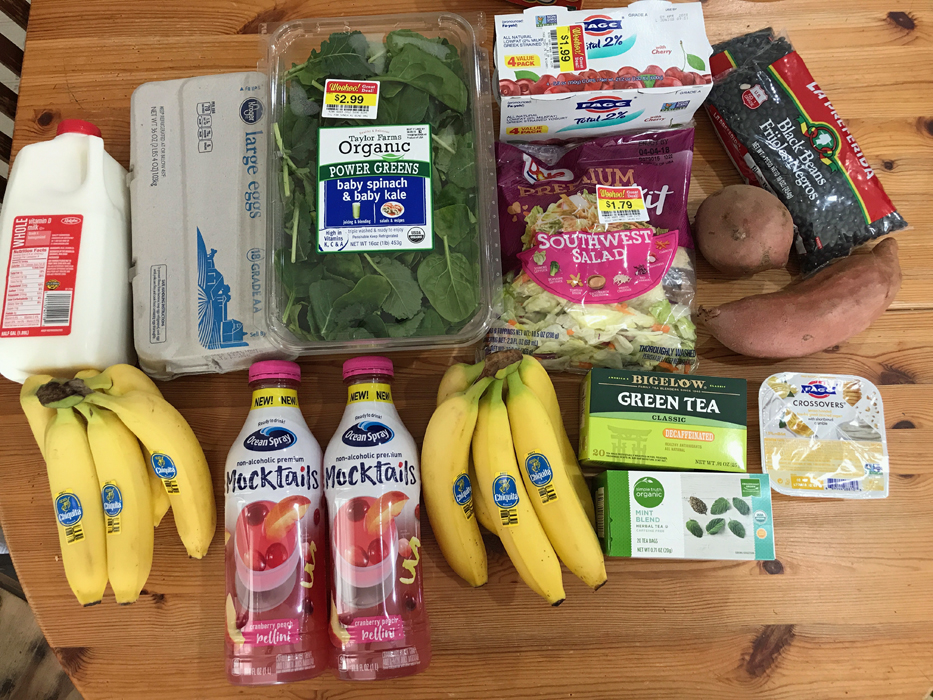 One of the things that keeps me going back to Ralphs is the treasure-hunting known as "find the yellow Woohoo!" tags.
Ralphs
tea $2.99 to $3.99
milk $1.99
juice $1.09 on clearance
black beans $1.19
eggs $3.59
sweet potatoes $1.70
bagged salad $1.79
spinach kale blend $2.99
bananas $0.59/lb
yogurt – free to $1.99
minus 5% off order digital coupon
Total spend $27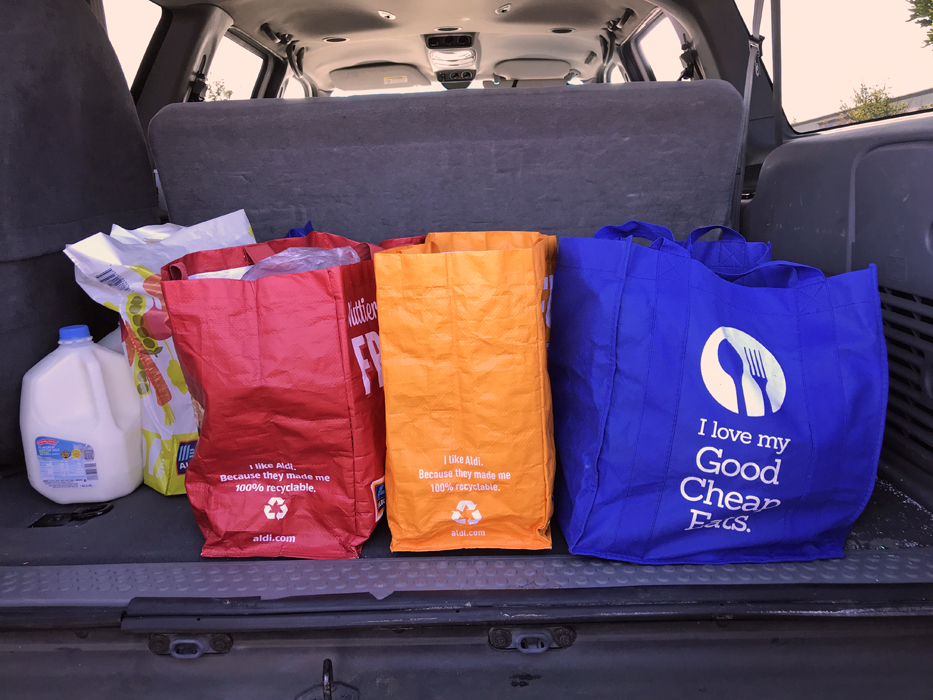 ALDI
sparkling water $0.69 after CRV
crushed tomatoes $0.99
organic tomato paste $0.69
boneless skinless chicken breast $1.49/lb
pepperoni $2.19
broccoli crowns $1.28
eggs $0.94
Total spent $60
Sprouts
mushrooms $3.49
broccoli crowns $0.98/lb
cilantro 2/$1
pineapple $0.88 each
apples $0.77/lb
jalapeños $0.20
avocados $2.00
limes 2/$1
mini watermelon $1.98
organic heirloom tomatoes $1.48
organic cucumbers $0.77 each
organic fuji apples $0.98/lb
organic mangoes $0.98 each
red bell peppers $0.88 each
red leaf lettuce $0.88
roma tomatoes $0.77/lb
bananas $0.59/lb
onions 2#/$1.00
organic lime juice $4.49
sausage $2.99/lb
ground beef $3.99/lb
Total spent $69
Ralphs
masa $2.79
5# dry pinto beans $3.99
sandwich bread $1.59
1 # dry black beans $1.19
organic romaine hearts $3.39
carrots $1.49
blackberries $0.88
canned tomatoes $1.69
garbanzo beans $0.80
protein bars FREE after coupons
organic sandwich bread $2.99
chicken breast $1.79/lb
italian sausage $1.49 to $1.99
baguette $0.99
minus $2 produce coupon
minus $3 meat coupon
Total spent $45
Trader Joe's
white vinegar $2.29
sesame oil $2.69
red wine vinegar $1.99
soy sauce $2.99
milk $1.69
chocolate milk $3.99
maple syrup $15.99
ginger paste $1.99
pasta $0.99 to $1.49
Ak-mak $1.99
whipping cream $1.29
Total spent $44
Walmart
10# unbleached flour $3.48
5# whole wheat flour $5.98
sesame seeds $3.97
poppy seeds $3.97
Total spent $17
Costco
canned tuna $12.99
hummus singles $6.49
organic red peppers $6.99
tortillas $3.69
Total spent $30
Costco
tortilla chips $3.49
rotisserie chickens $4.99 each
tortillas $3.99
croissants $5.99
habanero sausages $13.89
apple and chicken sausages $13.89
organic romaine $3.99
country style pork ribs $15.43
kale salad $4.99
Total spent $85
Keep your eyes peeled in the store. There were lots of juices on the Buy 5 Save $5 special, but these were on closeout so they were much cheaper than all the others.
Ralphs
name brand apple cider $1.09 on closeout plus WYB5
frozen potatoes $2.19
yogurt $1.59 on clearance
pepper $0.79 to $1.49
sweetened condensed milk $0.99
King Arthur flour $2.49/5# bag!
eggs $3.99
apples $0.99/lb
mushrooms $1.89
baby spinach $4.49
strawberries $0.99
uncured lunch meat $2.99
Total spent $56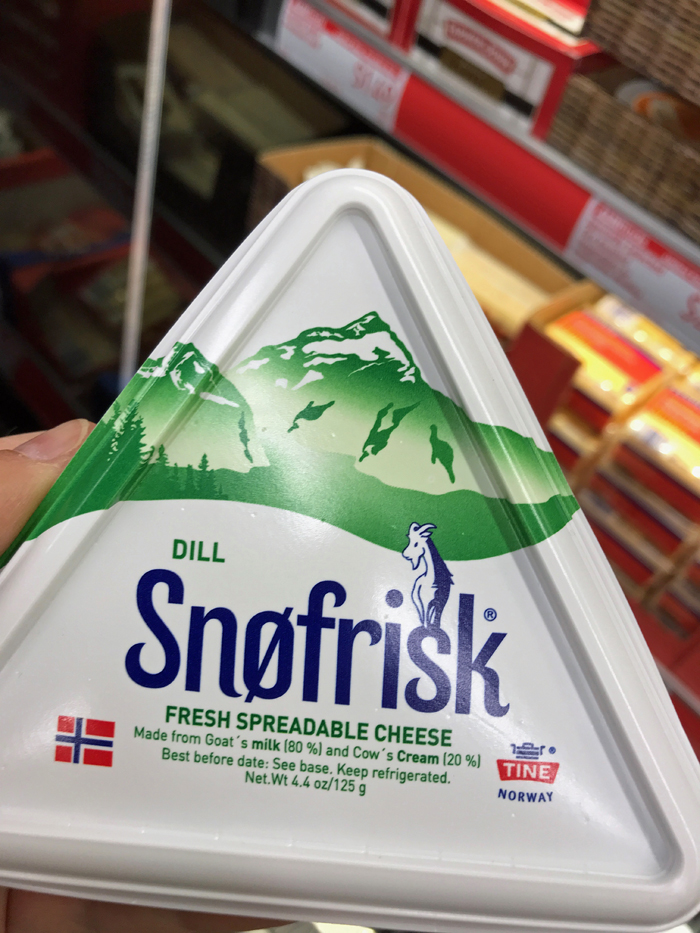 My Aunt Cass, who traveled extensively and even lived in Norway for a time, passed away at the beginning of the month. We tried out this Norwegian goat cheese in her honor.
ALDI
eggs $0.87
carne asada meat $3.99/pound
frozen hash browns $1.69
organic bread $3.99
sour cream $1.29
pineapple chunks $0.95
cream cheese $1.29
goat cheese spread $3.19
tomatoes $0.75/lb
organic diced tomatoes $1.65
crushed tomatoes $0.99
organic coconut oil $3.99
taco shells $0.99
milk $2.10
sparkling water $0.69 after CRV
hot dog buns $0.79
seedless cucumbers $0.79
broccoli $1.25
strawberries $0.89
brie $2.99
applesauce cups $1.39
boursin $3.69
yellow onions $1.35
chicken breast $1.89/lb
Total spent $81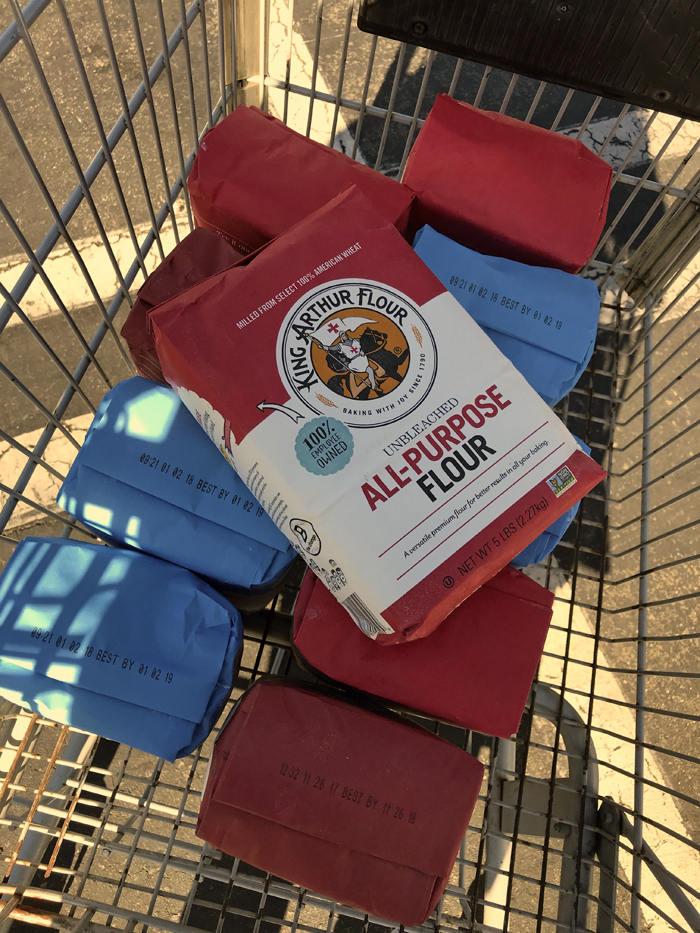 Yes, I really did buy 75 pounds of flour this month! This is only part of my haul. Normally King Arthur Flour is $6/bag. These were on sale for $2.49! I stashed them in the freezer. I've been baking most of our bread with Marilla, my sourdough starter that from my friend Kate who lives in Canada. We go through a ton of flour each month, so this will really help keep the costs down.
Ralphs
King Arthur flour $2.49/5# bag!
shredded cheese $4.69
yogurt $1.59
strawberries $0.99
cilantro $0.50
jalapeños $0.23
green onions $0.49
avocado $2.99
onions $1.59
organic chocolate chips $1.49
sour cream $1.99
Total spent $48
Costco
sharp cheddar $8.99
turkey breast $3.99/lb
organic red peppers $6.99
sliced fresh mozzarella $4.99
uncured Italian deli meats $12.99
shredded mozzarella $11.39
Total spent $74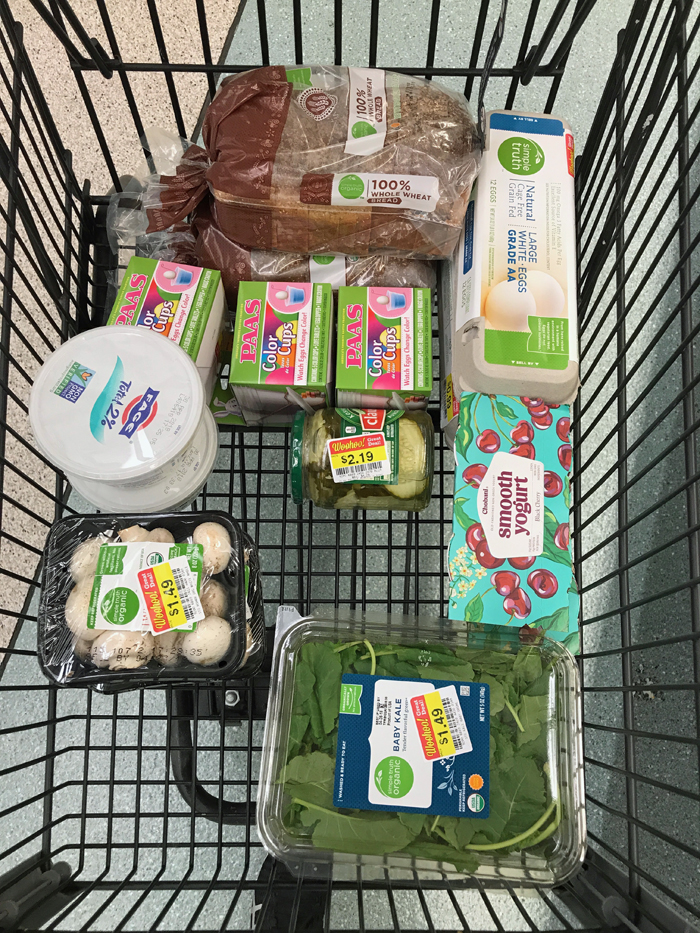 Everything in this cart was more than 50% off. Unfortunately the kale went off really quickly so we had to chuck it. I didn't list the egg dye below because it's not food, but they were 15 cents each! I won't be buying egg dye for a long time.
Ralphs
yogurt $1.59 on clearance
pears $0.88/lb
clementines $3.99
carrots $1.49
baby kale $1.49 on clearance
bananas $0.59/lb
mushrooms $1.49 on clearance
sour cream $1.99
eggs $0.99 on clearance
fage $1.29 on clearance
organic whole wheat bread $1.49 on clearance
pickles $2.19 on clearance
Total spent $32
Sprouts
carrots $1.25
2# strawberries boxes $1.98
5# potatoes $1.99
broccoli crowns $0.98
campari tomatoes $0.98
jazz apples $0.98
cilantro $0.50
jumbo avocados $1.66
red bell peppers $0.98
romaine lettuce $0.99
bananas $0.33/lb
sushi $6.49 to $7.99
ground pork and beef $3.99/lb
hamburger buns $2.99
frozen potstickers $3.99
frozen orange chicken $14.98
Total spent $32
Total spent in April: $1009
Spent in 2018:
January: $490
February: $1084
March: $1224
April: $1009
Total spent YTD: $3807
That's an average of $952/month!
So, we did okay! I'm going to strategize better in May and see how low we can go. I just might have found my dream house which will make beans and rice so much more attractive! Having a goal for your money-saving efforts is always so helpful.
How did YOUR grocery shopping go this month?