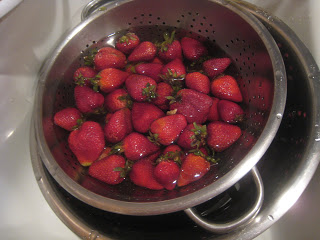 To enjoy the Earth and God's provision is to enjoy fresh produce. Think about all the great flavors God has created: strawberries, grapes, peaches – they're all coming in season. Yum!
Unfortunately, many of the commercially grown food that we consume is tainted with chemicals. Not so good. And we can't all grow our own, nor can we all fit organic fruits and vegetables in the budget all the time. (Though it is easier than you might think.)
Wash Produce Well
So, it's important to remove pesticides and herbicides from food before we eat it. One way to do that is to wash your produce well. You could buy the fancier (and more expensive) vegetable washes or you can simply mix equal parts of vinegar and water to clean away impurities.
It's also good to wash delicate, soft items (like grapes and berries) by soaking them. Here I set a colander inside a large bowl. I filled them with berries and water and a few splashes of white vinegar. A gentle swishing to agitate and loosen grit and voila. Deliciously clean produce. I simply lift the colander out of the water, rinse gently and serve.
Just remember not to wash berries until right before use. Otherwise, they will mold quickly.