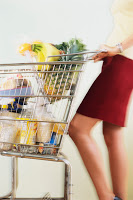 This week I took a mental break from wheeling and dealing. For the most part, I stayed out of the stores. I didn't even go buy a Sunday paper. I printed online coupons when I saw them, but no clipping for me.
Last week I felt I was getting a little too obsessed, so it was good to take a break. I did make a trip to Sprouts since they overlap their sales on Wednesdays. That's nice because I can stock up every two weeks, but still take advantage of all their good deals. One special I found was their vegetable trays.
Normally, I would never buy a party vegetable tray. If I were to bring veggies and dip to an event or serve it at home, I would make my own ranch dressing and chop my own veggies. However, when I saw these for $4.99, I knew I had to get one. In fact, I bought three.
Yeah, the guy at the checkstand laughed at me, too.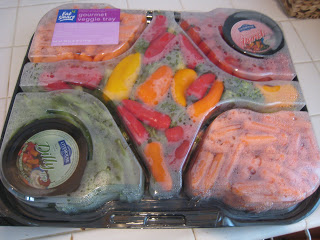 But, c'mon, SIX POUNDS of vegetables and 2 containers of dip for 5 bucks?! That is a great deal. As my friend Jessika and I munched on veggies, we brainstormed all the ways that we could make use of this great deal.
It's more than just a veggie tray, friends.
This particular tray consisted of two pounds baby carrots and about 1 pound each of broccoli, sugar snap peas, grape tomatoes, and baby bell peppers. There was also one container of each dressing: peppercorn ranch and creamy dill.
1. Thin the dip with buttermilk to make a tasty salad dressing.
2. Saute the broccoli and snap peas in garlic, crushed red pepper, and oil for a delicious vegetable stir fry.
3. Make Lynn's Panera Bread Broccoli Cheddar Soup.
4. Use the carrots in Carrot Cake and Carrot Muffins.
5. Toss the dill dip with boiled potato chunks and chopped celery and red onion to make a filling potato salad.
6. Boil a pound of pasta and blanch the broccoli, peas, and carrots. Toss together with Italian salad dressing and chopped peppers and tomatoes for a fresh-tasting pasta salad.
7. Boil the carrots and broccoli until tender. Toss with melted butter, ginger, grated orange peel, and a splash of orange juice. Serve hot.
8. Set on the counter and encourage your kids to snack on veggies.