Are you taking the Efficient Kitchen Challenge this month? It's a collective effort to save time, money, and food. Get more efficient in the kitchen and you'll reap benefits in other areas of life.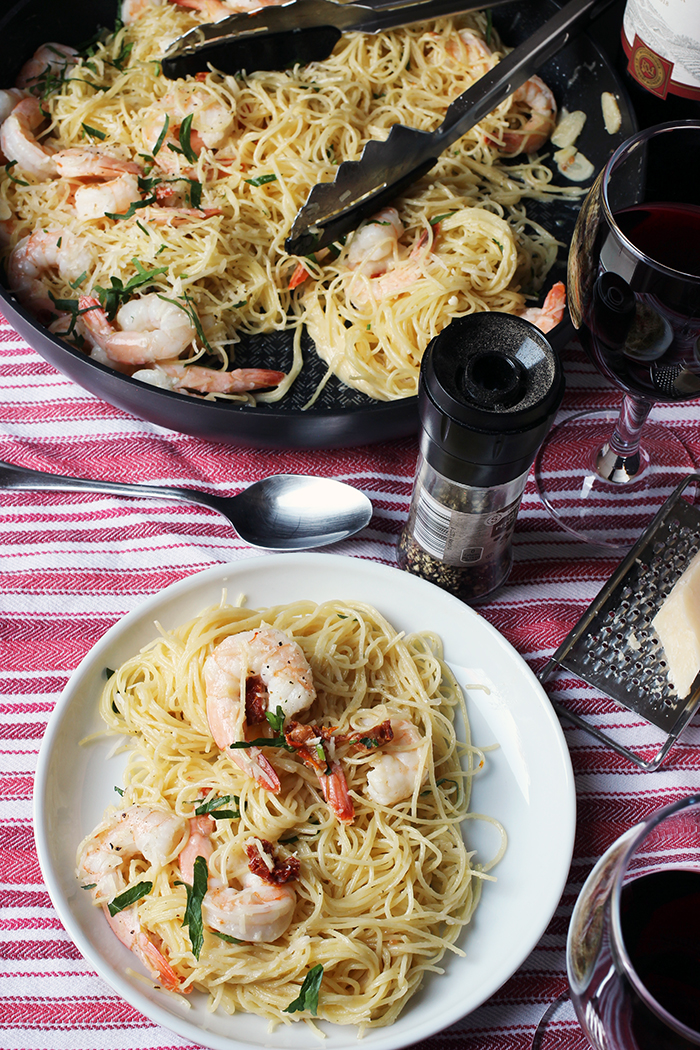 Well, well, here we are on the 15th already! My 17yo said it was a short month and his 11yo sister corrected him that it's Leap Year. But for all intents and purposes, we are halfway through the Efficient Kitchen Challenge.
I must say that it has been an interesting couple weeks. I thought I'd offer you an update and check in to see how you're doing with your own challenges.
As you will remember, I had three main objectives for my kitchen efforts in February:
eating down the pantry – I love to see white space in the fridge or freezer because it's easier to see what's there and make better use of it instead of letting things go to waste.
weekly meal prep – I love getting a head start on the crazy that is called my regular week. Meal prep helps me do that and then some. When I've got meals prepped I'm much less likely to go out to eat. Plus, meal times are so much more fun!
delegation! – My kids all know how to cook, as does my husband. Any of them would gladly help out, but I tend to silo and forget to ask. I can save a lot of time by delegating dinner service, especially if I've already done the meal prep.
We're two weeks into the challenge and the two weeks have behaved very differently.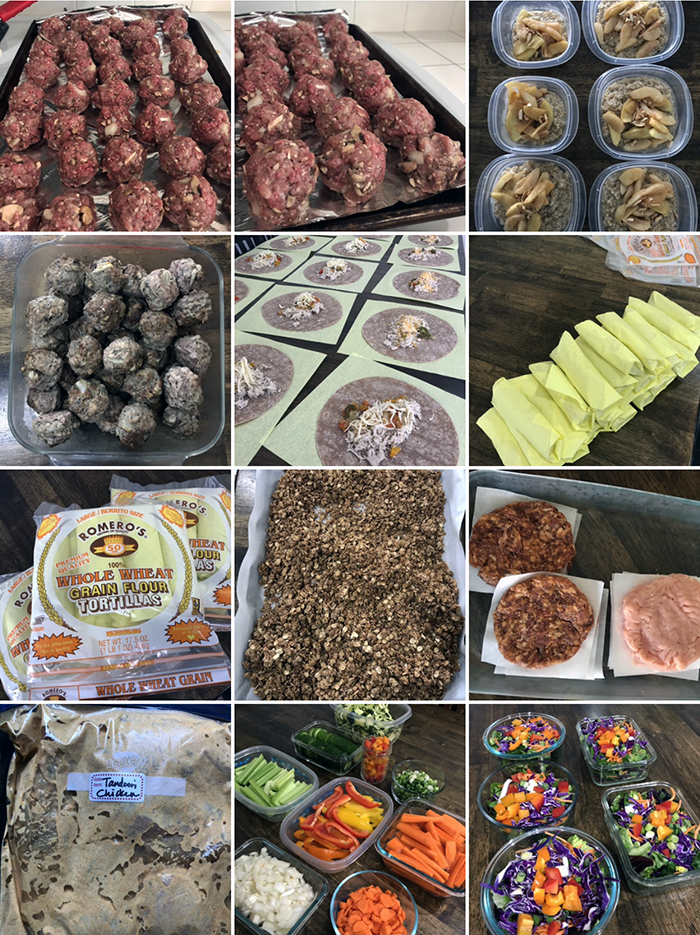 Week 1 of the Efficient Kitchen Challenge
I was on fire, partly because I was energized from saving so much money during the Pantry Challenge.
I even did things like buy marked down cream, whip it up, and freeze it into blobs so that we didn't worry about it going bad before we could use it. Super easy to add cream to coffee now! (You can even make it Chocolate Whipped Cream to freeze.)
Since the fridge and freezer were pretty empty at that point, meal planning was interesting. Normally, I would plan meals based on what we had, only we didn't really have that much! Not unless we were going to eat bacon and sausage at every meal.
My second step of meal planning is to go with the sales and clearance items. The sales weren't all that exciting, but the clearance was! I found enough meats on mark down at Ralphs that it guided my meal planning.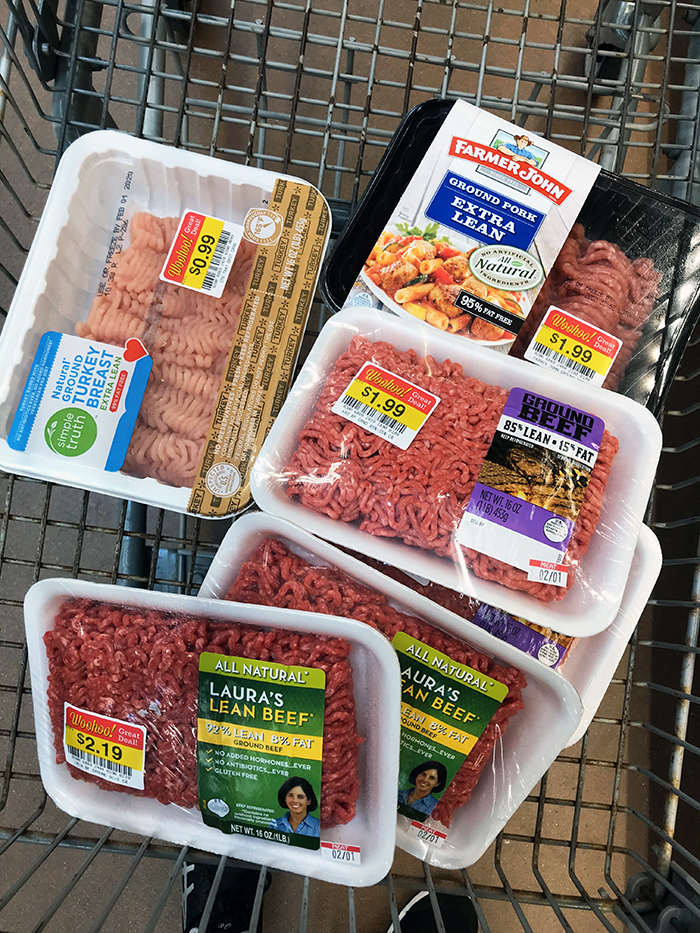 As an aside: I love that Ralphs marks things down. It's like a triple win: they don't have to chuck it, I get a better price, and food doesn't get wasted. Usually, there are a few days left, but I bought these items on their sell-by dates. I froze or cooked things up pronto.
The weekend's schedule cooperated so that I was able to knock out my meal prep and feel really good about the week's menu. I made Chicken Fajita Burritos for Bryan's lunches as well as Tandoori Chicken, Not Too Sweet Granola, Hearty Gluten Free Meatballs, Burger Patties for the Freezer, Oatmeal Bowls with Sautéed Apples and Pears, Meal Prep Salads, and tons of chopped veggies.
I went into Week 1 feeling really good and we ate well. I ended up spending about $200 on groceries for that first week.
Win of the week: Meal Prep and little food waste. And amazing Tandoori Chicken….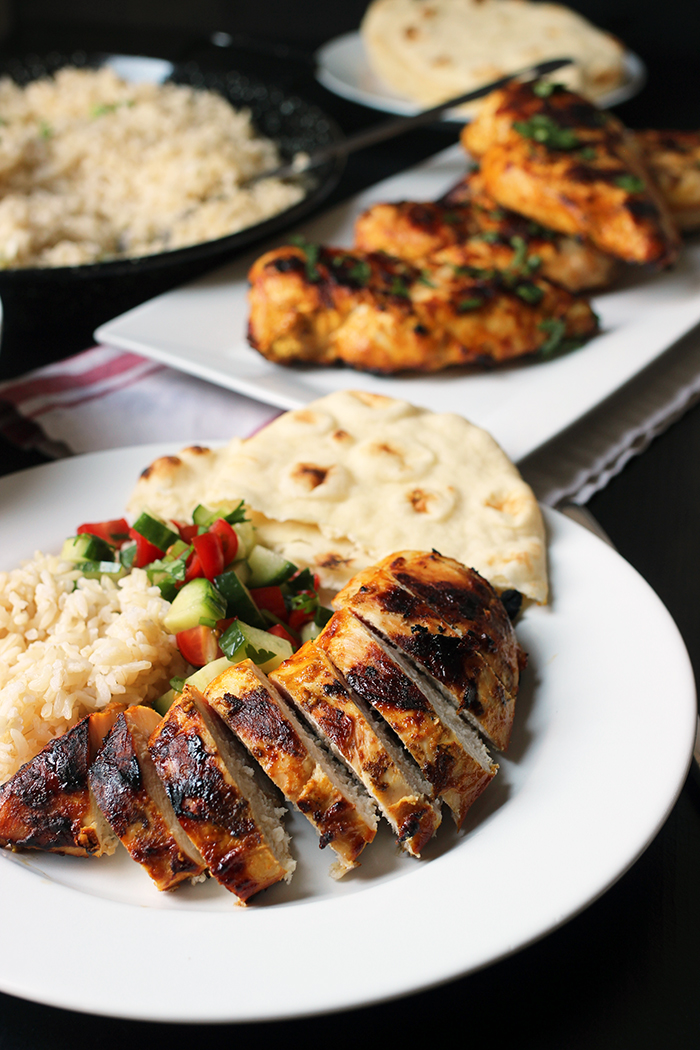 Week 2 of the Efficient Kitchen Challenge
Week 2 was a different story.
The weekend commenced with my 13yo telling me she wanted to go vegan for ethical reasons. She is my 5th child. This is not my first rodeo. I know better than to argue with a child's convictions. I absolutely respect her decision, but I'll admit the change threw me for a loop.
I did my shopping with this new change in mind as well as knowing that I still didn't have much of a pantry to work with. We'd pretty much eaten up all the proteins that I'd bought the previous week at Ralphs.
For better or worse, I made a trip to Costco and loaded up on some basics. I also made my regular runs to Ralphs, Sprouts, and ALDI, so the fridge was packed. I spent more than my weekly budget, partially because of the Costco run. Even though it's only five miles away, it seems like such a hassle to shop there. I bought a lot, planning to prep a lot.
The best laid plans…you know?
I was all set to have an amazing meal prep weekend, only life with a big family had other plans. The bread I baked for the week got eaten before I could slice and freeze it for sandwiches, so I had to bake more.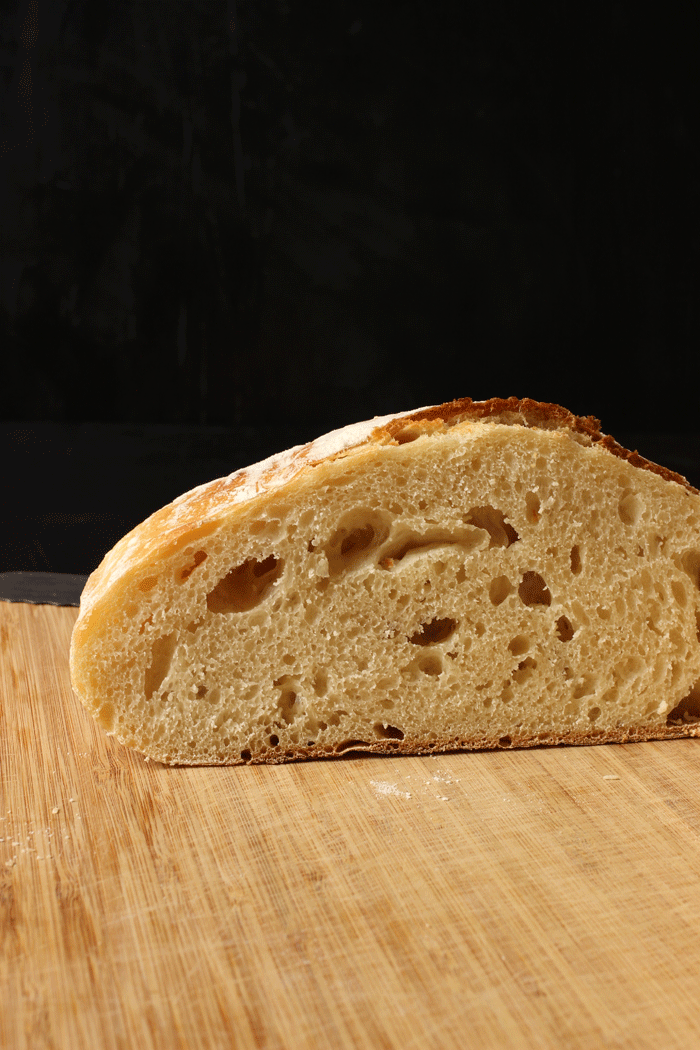 On Sunday, all the kids decided to meal prep — certainly nothing to complain about! — and later had friends over in the great room/kitchen, so that meant I didn't have any focused time in the kitchen. My meal prep for family meals didn't happen, but the college boys did have stuff to pack to school and my 13yo had some meals ready to suit her preferences.
Lesson of the week: I realized how important my weekend time in the kitchen is to me. The rest of the week felt like I was playing catch up. It was unsettling and we did waste some food because I didn't deal with it soon enough.
I need my meal prep time!
I also need to manage my kitchen better. Delegation may not be the most important thing, rather communication is. The kids were all content to prepare meals to suit their needs and preferences, but we needed to communicate better about resources.
By Thursday I had recovered.
I did a big pantry and fridge clean out and made sure we used up what we could before it went bad. I ended up making a fantastic dinner, using up bits and bobs in Homemade Vegetable Chow Mein. I even experimented with Teriyaki Chicken and it was super good!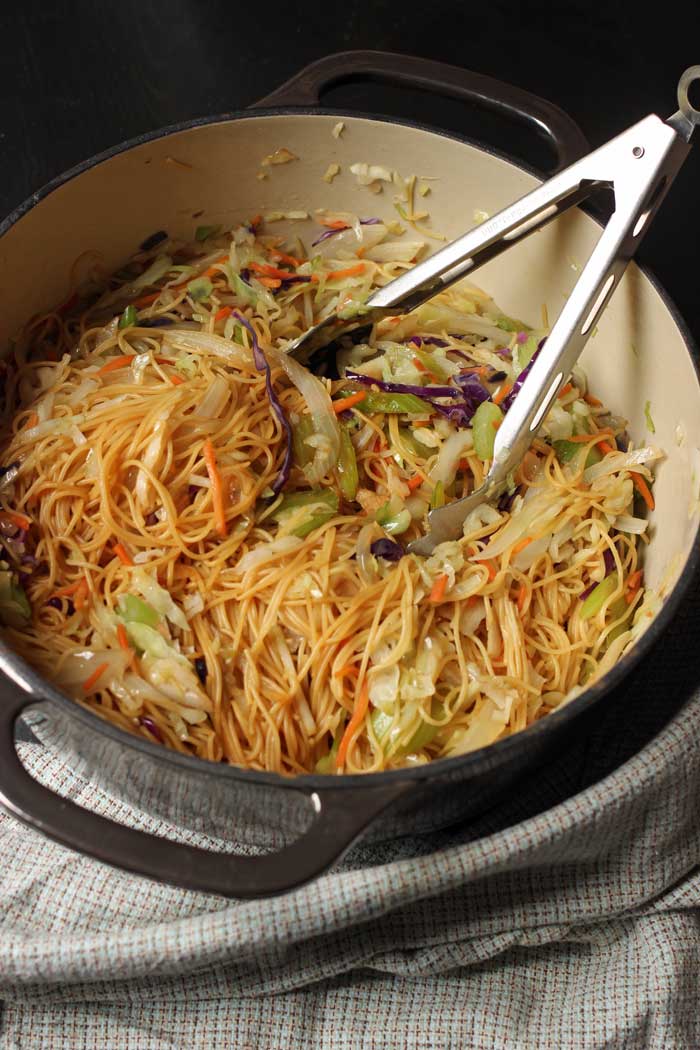 Plans for the rest of the month
In our house, we have the motto: you win or you learn. While I don't feel great about last week's progress (or lack thereof), I've identified some areas where I can change to help us hit our goals.
I'm learning! That's just as important as winning.
Sometimes.
Here's what I've learned so far in this challenge:
I need to protect my kitchen time on the weekend. In that vein, I've confirmed with the kids what their needs are for the weekend in terms of kitchen use. I know I need to be done by 1 pm on Sunday — and then will treat myself to a lunch date with my husband.
I need to communicate better about meal plans/food on hand. All my kids know how to cook and are really good at it. This can work to the advantage of the whole family as long as I communicate well.
Too many cooks in the kitchen is a thing! I threw away two chicken breasts because I didn't communicate their availability to the carnivores in the family. I missed precious prep time because the kitchen was in use.
I need to keep a better inventory. For week 2 I bought extra proteins (part of why I went over budget at Costco) and then forgot I had them. Since the freezer is still pretty empty, I didn't think to go check. Keeping a better inventory will help me manage my shopping and meal planning better.
At this point, I'll plan out meals for the last two weeks of the month Pantry Challenge style.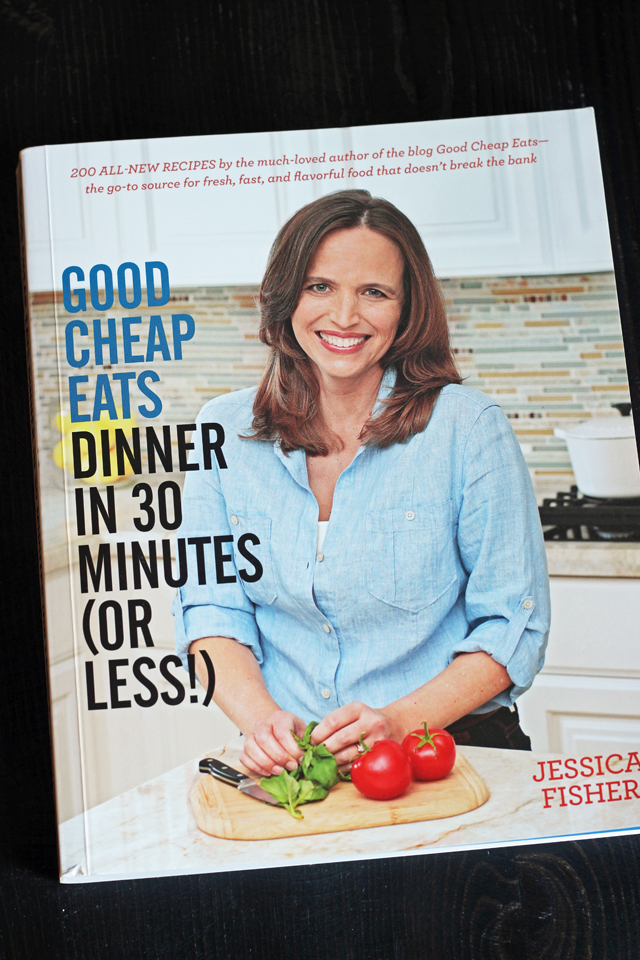 Have you entered the giveaway?
This month I'm giving away three signed copies of my cookbook, Good Cheap Eats Dinner in 30 Minutes (or Less!).
I want you to get more efficient in the kitchen and I know this book will help you do that.
Head here to enter the giveaway.
If you've already got a copy of the book, then make sure you download this FREE Monthly Meal Plan using the recipes in the book. You'll make good use of your purchase as well as save even more time in the kitchen!
How is this month's challenge going for you?