I've actually been quite surprised at some of the fun meals and snacks that have come from the pantry, fridge, and freezer. There has been some fails, like the absolutely gross tamale pie that I invented or the buttermilk scones that I made without buttermilk. But, there have been some truly yummy lunches and dinners that I've been able to throw together. My family hardly knows that we're "eating from the pantry." So, I've got my fingers crossed that I'll be able to refill it with some great things next week to keep the love flowing.
Today FishPapa was home sick, so I tried to recreate my brother's Tortilla Soup. Upon calling Little Brother, he, of course, did not have a recipe and says that he makes it different every time. But, today's lunch worked for me. I had the crumbs of a bag of tortilla chips, some chicken breasts, plenty of homemade turkey and chicken broth, and enough veggies to make it work. Hubs says he would prefer no tomato and less onion. You make the call.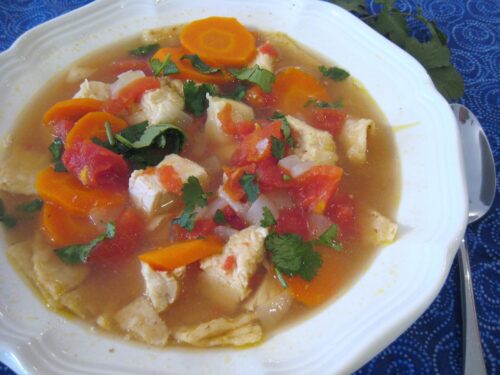 Tortilla Soup
2 Tablespoons oil
1 onion, chopped
2 carrots, peeled and sliced
3 cloves garlic, minced
8 – 10 cups chicken broth
3 boneless, skinless chicken breasts
1 cup diced, canned tomatoes
salt and pepper to taste
tortilla chips
chopped cilantro
grated cheese
In large soup pot, heat oil until shimmering. Add onion, carrots, and garlic, and cook, stirring often, until tender. Add chicken broth and chicken breasts. Simmer until chicken is cooked through. Remove chicken from pot. Cool slightly and then chop. Return chicken to pot and add tomatoes. Adjust seasonings with salt and pepper.
To serve, place a handful of chips in bowl, ladle soup over the top. Garnish with cilantro and grated cheese.
Have you got a great recipe inspired by what's in your pantry? Share it with us!