Do you wish that dinner could happen more quickly?
That your meals would come together in short order without leaving you frazzled?
That you didn't spend so much time in the kitchen? Or that there were more time to enjoy Triple Chocolate Sundaes?
Time is the thing that we all seem to run short of, no matter our age, sex, race, or creed. So how do we use it wisely, especially when it comes to one of our most money-saving strategies: cooking and eating at home?
Taking the Efficient Kitchen Challenge is one way to get quicker in the kitchen. Making a dedicated effort to learn new things is another.
To that end. I've put together some of my favorite resources to help you save time and money in the kitchen.
The Kitchen Time Savings Pack
Get three great resources for one great price in the Kitchen Time Savings Pack.
Check out what's included in this digital package that you'll be able to download instantly to your device!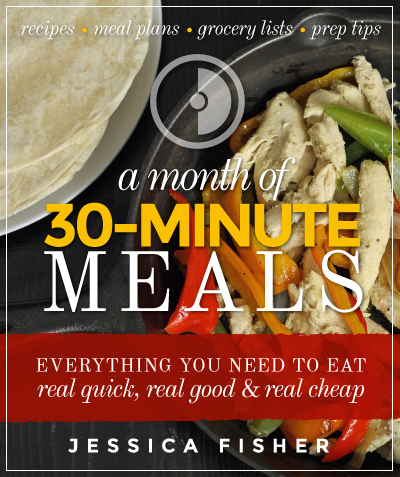 A Month of 30-Minute Meals
Our original Month of Meals product, A Month of 30-Minute Meals includes everything you need to eat real quick, real good, and real cheap.
Thirty minutes. What can you do in thirty minutes? You can watch a sitcom. Fold a load of laundry. Take a nap.
Or prepare a great homemade dinner.
A Month of 30-Minute Meal Plans will help YOU make it happen.
With this meal plan, you'll receive the following:
4 weeks of dinner menus to please everyone at the table
4 weekly grocery lists so you don't forget anything
a monthly grocery list to help you make good use of sales
30+ main dish recipes that can be made in 30-minutes or less
quick and easy side dish recommendations
a prep-ahead checklist so that dinner doesn't take forever
tips to make meal assembly and serving times easy
leftover alerts so that you can maximize extra food and avoid waste
With a printout of the ebook or the pdf loaded to your tablet or computer, dinners will come together quickly and easily — and under budget.
Normally priced at $12. Available now as part of the Kitchen Time Savings Pack.

Kitchen Time Savers
As much as you may love to cook, time seems to slip away. You may find yourself tempted to grab take-out or stock convenience foods instead of preparing the meals that you know you would prefer and that are better for you. That's when learning a few Kitchen Time Savers can come in handy.
Learn kitchen hacks to help you save time and make cooking at home easier with this quick and easy read.
When something is easier to do, we're more likely to do it more often. When we cook at home more often, we save more money.
Kitchen Time Savers will make it easy for you to save time and money.
Normally priced at $12. Available now as part of the Kitchen Time Savings Pack.

A Week of Good Cheap Eats: Dinners You Can Prep in the Slow Cooker
Everyone knows that to "set it and forget it" is one of modern technology's gifts to the home cook. But what happens when you just don't have the time to plan out crockpot meals that taste great?
No problem. I've gotcha covered with this week's meal plan comprised of recipes to make in the slow cooker, all tested and approved by 100s of Good Cheap Eaters.
Got a crazy week coming up? No sweat. All your dinners will be handled with the comprehensive grocery list, an easy checklist to work through for the week's meal prep, and all the recipes in one convenient spot.
Eat well for a week (or more!) with this handy-dandy, life-saving meal plan, especially made for crazy weeks.
Normally priced at $7. Available now as part of the Kitchen Time Savings Pack.

Not only will you enjoy great homemade meals this month, you'll have more time, money, and energy for the life you love with these tools to make you quicker in the kitchen.
*All resources are FREE to members of the Kitchen Winners Circle.