Organizing your pantry can help you save money, time, and food. It also is a great way to rejuvenate your cooking mojo.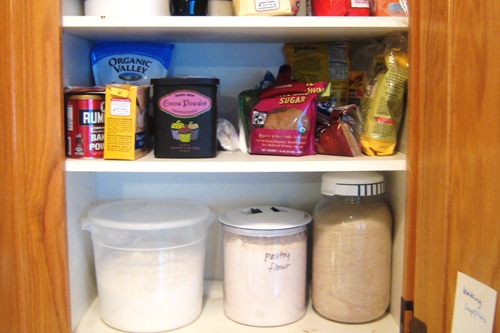 Thanks to this Pantry Challenge, I made a concerted effort this past weekend to make sense of what we've got. If you know what you have, you know what you can cook! As such, I cleaned out both the pantry and the refrigerator. It's so purty! And I have a feeling I'll save money (no unnecessary duplicates), time (I know where things are!) and resources (less waste) as a result.
In the coming weeks, I'll be offering suggestions for organizing each area of your food storage as well as recipes and kitchen gadgets. Today? Let's talk pantry.
But, first a rant…
Every home I've ever lived in had a very strange shaped pantry. Granted, I was thankful to have a pantry, often a walk-in pantry. But, at the same time, WHY is it that designers take odd shaped spaces and try to make them useful — and fail miserably?
This house is no different. The pantry is located in an alcove between the stairwell and the garage. And it's oddly shaped, making it difficult to make good use of the storage. There are no rectangles in this space, just weird triangles and non-shapes that leave dead areas of storage space.
Some homes have very little in the way of kitchen storage altogether. If it's not one thing, it's another.
So, how do we make the best use of the space we have?
1. Store things in close proximity to where you use them.
I read this tip in Kitchen Organization Tips and Secrets by Deniece Schofield years ago and it has proven to be immensely helpful. No longer do I store all the food in one spot, but I store it close to where I use it. So, the baking items are located above the counter where I usually do my mixing while the mixing bowls are stored in the lower cabinets. The spices are stored in a cupboard to the side of the stove where I usually want to spice things up.
So, if you don't have your food storage configured this way, you may want to give your kitchen the once over. Where do you find yourself schleping things across your kitchen? Where's a handier storage spot instead?
No longer do I walk halfway across the kitchen for the flour and sugar. I can reach everything from the one spot where I do my mixing.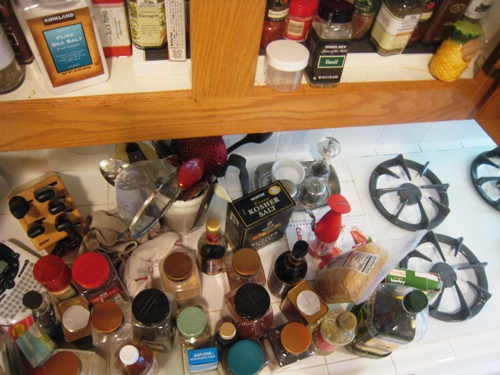 2. Empty the cupboard.
When you set to organizing your pantry or cupboards, take everything out. Wipe down the shelves. Toss the outdated items or ingredients that you know you won't use. Make a note to replace empty bottles.
While you've got a clean slate, make sure that the shelves are in the right spots. Adjust the shelves as necessary.
Recently, hubs offered to get me a pretty carafe/decanter for my olive oil since I tend to leave it on the counter. I use it pretty often and it was easier. But, rather than spend money (my peeve) or have clutter (his), I adjusted the shelves in the spice cupboard so that I can put the canisters of oil in the cupboard right above where I typically use them. Win, win.
3. Arrange like with like.
Just as the grocery store places like items together on a shelf, so should you. When I was rearranging, I decided to put all the canned vegetables on one shelf, all the grains and pasta on another, etc. In this way, I'll have a better idea of what I have and what I'm running out of. Hopefully, I'll avoid duplicates and the overbuying that comes alongside them.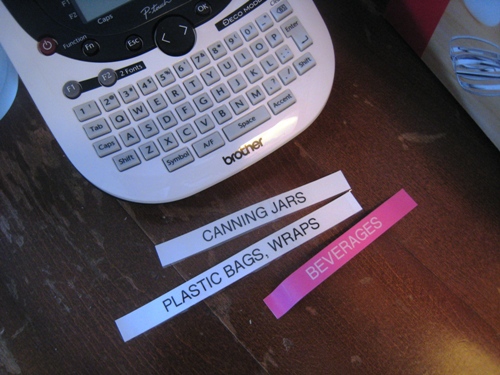 4. Label shelves or canisters as needed.
Since one of my goals this month/year is to teach my kids more independence in the kitchen, it makes sense that they should be able to find things. So, once I had like items stashed together, I started labeling the shelves and containers so everyone besides me would know what's what. And even if I already know, this helps me on those days when I just don't want to think.
5. Impress yourself.
Cooking is so fun, now. In just a few short days, my enjoyment has increased in the kitchen because things are so neat and tidy. Here are some before and after shots of our pantry and cupboards.
Baking Cupboard Before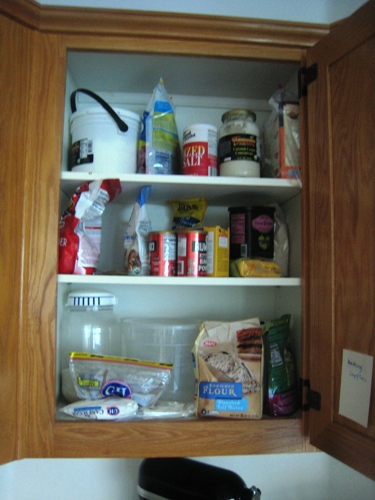 Baking Cupboard After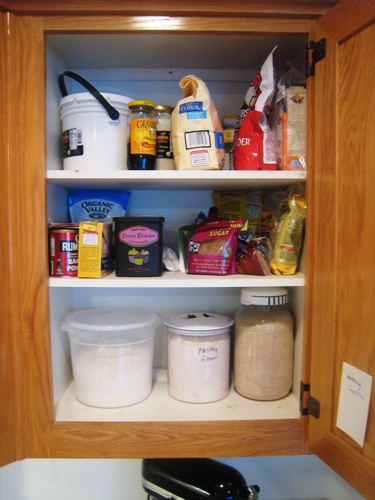 Baking Cupboard 2 Before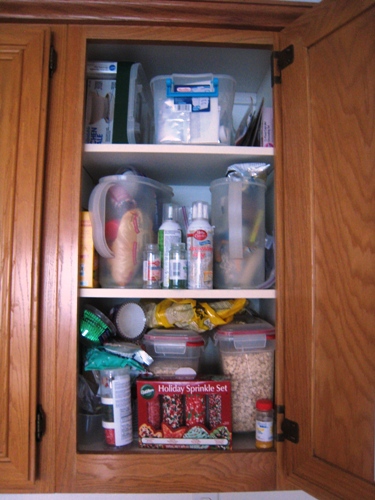 Looks like Christmas threw up in there, huh?
Baking Cupboard 2 After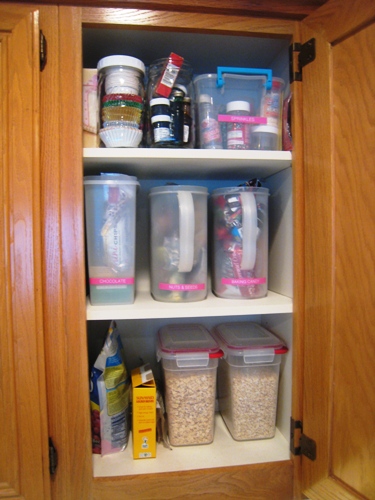 Spices Before
Spices After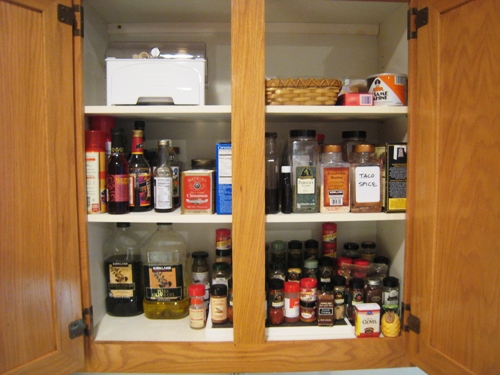 Pantry Nightmare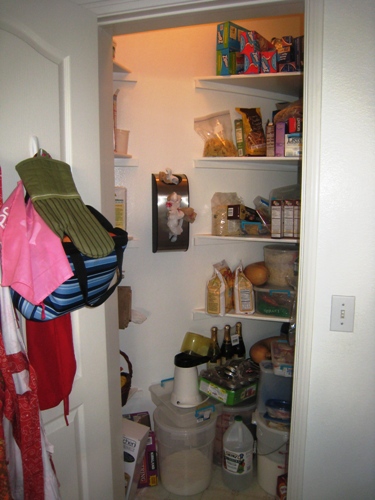 Pantry Better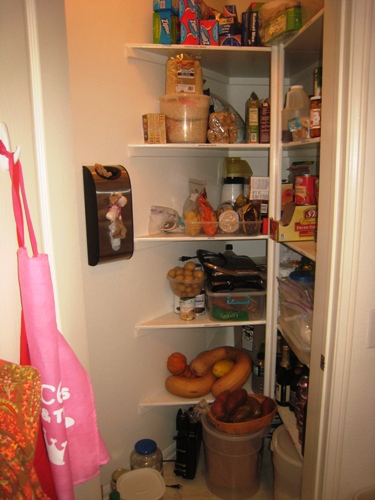 Have you got a great tip for organizing the pantry?