Keeping your refrigerator clean and organized can help you save money, waste less, and enjoy cooking.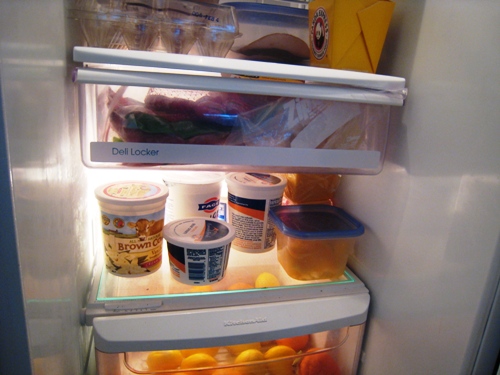 The refrigerator is probably one of the most used appliances in any household. What other appliance runs 24/7?
Those refrigerators are trouble makers, though. They tell other people about your habits. They are notorious for becoming a mammoth cleaning chore, especially if you don't do it on a regular basis.
Over the last year, I've found that I really have to stay on top of the fridge organization. Refrigerator clutter (aka leftovers) cannot accumulate.
If I want to make Artisan Bread in 5 Minutes, I need space to store the dough. If I want to chill the vegetables and fruits we receive from our produce co-op, I need space for them. If I want to thaw freezer meals properly and in enough advance time to actually cook them when I want them, I need room!
So, I've worked out a little system that works for me. I don't have any fancy diagrams or methods. Just dividing things according to shelves.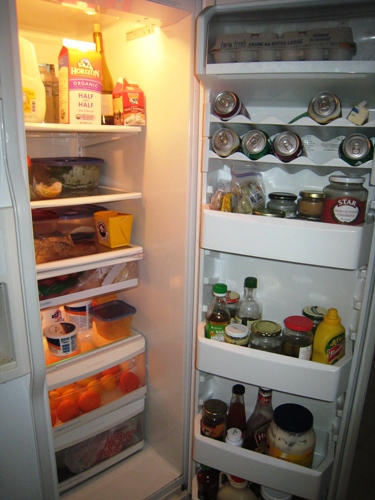 Top Shelf: milk, cream, half and half, other beverages
Shelf #2: Food to thaw, excess produce
Shelf #3: Leftovers or food to thaw
Shelf #4:  Other dairy like yogurt, sour cream, cottage cheese
Drawers, there are three: Deli (cheese and meats), Fruit, Vegetables
Door: Eggs at the top, canned beverages (if any), condiments (of which we apparently have many)
By keeping the refrigerator somewhat organized, I can find the foods that I need, ingredients don't get lost and therefore go to waste, and cooking is easier and more fun.
Do you have a special way that you organize the refrigerator?