Over the years, books have shaped my philosophies about many things, including how I eat. Here's a review of my top three.
I've always been a book lover. Sometimes to the detriment of my health, or at least my sleep. But contrary to burning the midnight oil is the knowledge that I gain to improve my health. I've done a fair amount of food reading in my time, usually cookbooks and magazines, and now blogs.
But the three books that most standout in my mind about food aren't cookbooks at all. Oh, there might be a recipe here and there, but overall these three tomes address food philosophies.
Isn't it enough that the food taste good?
Oh I wish that were the case! Especially when I busted open a bag of nacho cheese tortilla chips. Man! Were they good! Thankfully, I only bought two very overpriced bags at Subway on a splurge, otherwise, I definitely would have sat and ate an entire Family Size bag.
Oh, yes, yes I would have.
Unfortunately, taste is not the only thing we're dealing with when it comes to food in our generation. Where the food was sourced and how it was processed are huge factors in the quality of that food. Unlike my grandparents, I don't go out and milk the cows each morning, nor do I grow all my own food.
In addition to taste and sourcing, portion control is another factor that I'm now considering more seriously. I can no longer eat anything I want and not gain an ounce.
Au contraire….
So, here's the low-down on my three favorite books that have fed my food philosophies:
French Women Don't Get Fat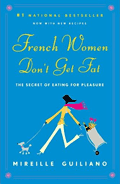 This book of "eye-catching, but slightly insulting" title crossed my path shortly after its release in 2007. French Women Don't Get Fat by Mireille Guiliano is an amusing yet serious look at American eating habits as well as a comparison to those of the French. Having lived in France during my college years, I can attest to many, MANY of her observations. We Americans do many things in excess.
When I left for my year abroad many folks warned me that I would gain weight on all those French pastries. Yet, while there I ate a mainly French diet and lived a lifestyle of walking everywhere, I lost weight not gained. And I ate some of the best meals I've ever eaten in my life!
 French Women Don't Get Fat offers very easy, practical ways that we can enjoy great food without living to excess. Some of the messages that have stuck with me:
Drink more water.
Control your portions. No foods are taboo. It's the excessive portions that are.
Eat more fresh produce.
Eat yogurt every day.
Balance a heavy calorie day with a few light ones.
I revisited this book and
the author's later three books last fall
and was amazed to see how much this first book had impacted a lot of the ways that I think about food. I love the later writings as well.
In Defense of Food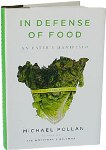 I read In Defense of Food by Michael Pollan almost two years ago. I was shocked and amazed at this "food expose." I guess I'd been living in a cave before that. I just didn't realize how much influence the US Government has had over my food choices and understanding of nutrition. I never really paid much attention to the lobbyists and special interest groups concerned with food.
Remember, initially, I thought taste was all that mattered.
Pollan does a superb job of unveiling the background of different nutrition policies, labeling, and the processed food industry as well as how clever marketing has guided what goes in the shopping cart.
The basic premise of In Defense of Food is this: Eat food. Not too much. Mostly plants. While there were some points in the book that I would take exception to, the overall encouragement to eat "real food" as opposed to processed items hit home with me. While I still love those aforementioned nacho cheese-flavored tortilla chips, they are the exception, not the rule in our pantry.
And I find that I am a savvier consumer as a result.
The Unhealthy Truth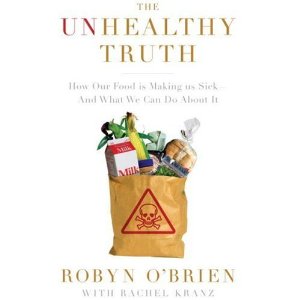 I read The Unhealthy Truth by Robyn O'Brien last year. Talk about another eye-opener. While I would not consider myself all that "crunchy," I guess I am becoming moreso.
O'Brien was a food analyst who never gave a second thought to what she fed her kids until a food allergy stopped her in her tracks. Being a researcher, she started doing her homework — and found out a lot of information about food — and how it's regulated (or not regulated, as the case may be) in the US.
Another, you're kidding me? moment.
As a result of reading this book — and keeping in mind some objections from friends — I walked away with this:
I'm going to shoot for organic produce whenever possible. You can see why I'm so stoked about our produce co-op.
I'm going to try to buy hormone-free dairy whenever possible. Previously, I had been diligent to buy milk that was RBST-free, but had not given yogurt, cheese, or butter a second thought.
I'm going to avoid GMO's whenever possible. Trader Joe's has a no-GMO policy on their TJ brand products, so this has been an easy fix.
How to Swing It on a Budget
Now, this is Good Cheap Eats. When I first started writing this blog in 2009, I bought all kinds of canned and boxed stuff. After all, it was practically free after sales and coupons, so why not? In 2010, I read In Defense of Food and decided to redefine "good" to mean tasty as well as healthy. Well, at least reasonably healthy.
And in 2011, I faced the dilemma: how do I make these extreme changes (organic produce, hormone free dairy and no GMO's)?
I've so appreciated your encouragement, Dear Reader as I figure this out. As one of you pointed out not too long ago, "It's all about sourcing; finding the foods I want at the prices I can afford."
And really, that's what it's always been about. So, I'm now applying all the frugal food techniques I learned years ago to a new line of products. I am finding that we're not spending THAT much more on groceries than we were — and the sales on conventional sales have really not been that good. So, I don't think I'm missing out on anything there.
It's good. It'll be cheap, relative speaking. It's eats.
Read any good books lately? Hop on over to Life as MOM where we're Booking It! Come join the (book) club!
Do you have a special food book that informs your eating?