The following content is sponsored by Palmolive: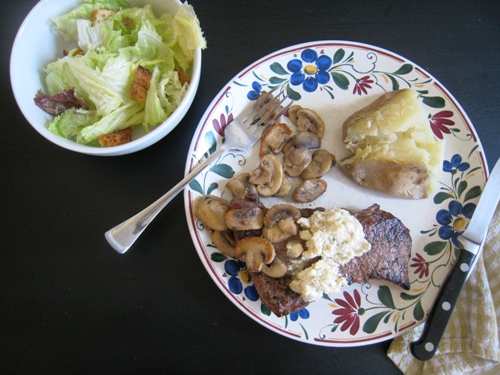 As you know, we celebrated the FishMama Trifecta this month. My anniversary, Mother's Day, and my birthday all fall into the same two weeks. It's pretty fun, to say the least. The month of May is one big party.
FishPapa came through with flying colors. He baked a chocolate cheesecake on my birthday. He bought me a whipped cream machine for Mother's Day. He splurged on the fondue pot for our anniversary.
And he made me my favorite meal:
OK, he didn't do it all on his own; FishBoy15 helped a ton, and I might have mixed the seasoned butter. Regardless, it was a fabulous meal and contained all my very favorite things.
The plate doesn't look the most colorful, but some of our favorite things in the world don't always coordinate. I'm okay with that.
What's funny is that Palmolive challenged me to create my favorite meal and coordinate it with one of their new detergent colors. Who knew that my very beige dinner would fit the bill exactly?
I shared recently how my kids are good at kitchen duty. Here's FishBoy10 taking care of dishes after a great meal. Palmolive sent us the  Coconut Butter scent which all of us enjoy. The new line is called Soft Touch and contains Vitamin E to help protect skin.
I'm also pleased to report that it doesn't react with my skin like other dish washing liquids have. Seriously, Madge, I promise! In fact, the old Palmolive tears up my skin, but this one doesn't. We ran out of soap one day and we used that instead. I was a little worried, but it worked great.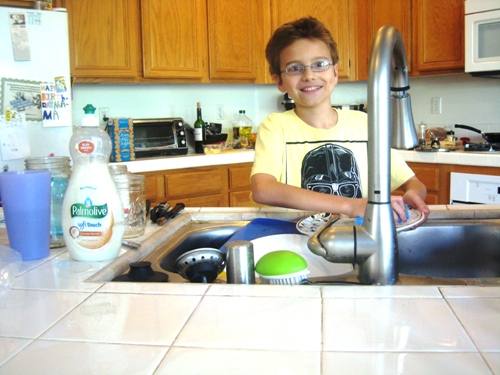 My family really spoiled me this month. I had presents, hand-made cards, time to sleep in, time to be lazy, and folks cheerfully serving me and my every whim. It was a pretty awesome FishMama Trifecta.
But, I'm not going to wait until my next birthday to eat my favorite meal again. I'm thinking next week might be pretty good!
What's YOUR favorite meal?
Disclosure: Palmolive sent me product samples and a gift card. All opinions are my own. I really do like this dish liquid.