Looking for a great breakfast in San Diego? Try The Broken Yolk.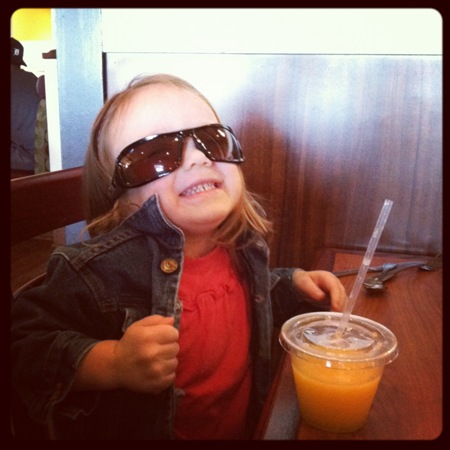 Breakfast out has been a tradition in our family since before we were a family. Some of my first dates with hubs were breakfast dates. It's hubby's favorite meal of the day — and his favorite for dining out.
While some may eschew the thought of going out to eat for breakfast — or even skip breakfast altogether — it's an important aspect of our family's food culture. My husband grew up in a divorced family. Breakfast out was often a special time with his dad. And I have no qualms in continuing the tradition. It's really more than the food.
As such we've made it our mission to find good local breakfast spots wherever we have lived. In Santa Barbara it was the now defunct Pavlako's or Barcliff and Bair. In Paso Robles we frequented Hoover's Beef Palace. (Yes, really.) Kansas City boasts a number of great Le Peep locations. (I recommend "The Dawn Breaker".)
In San Diego? It's the Broken Yolk. In business since 1979, The Broken Yolk Cafe has seven locations in San Diego County and is currently expanding throughout California and the Western United States. You can check them at in Pacific Beach, La Costa, the Gaslamp Downtown area, Chula Vista, San Marcos, Oceanside, and Point Loma.
The Good
We've visited several of the locations as a family and have always been graced with great food, generous portions, and friendly service. And no one raises an eyebrow at a party with SIX children. Big groups and families are pretty common place.
This is no secret spot. We have found certain mornings to be jampacked with friends and families enjoying a cuppa and some good eats. Yet, the facilities are so large, we rarely have a long wait before we are seated.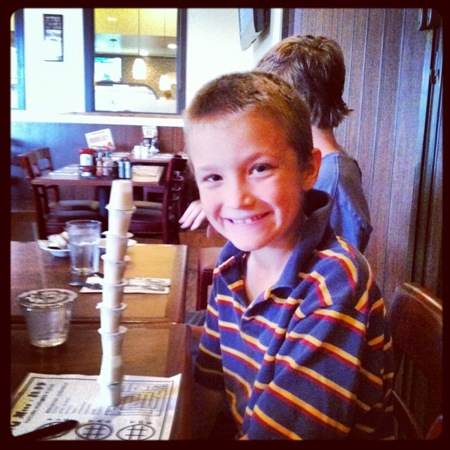 Since our family is moving away from processed foods and working to incorporate more real food into our diets, I appreciate the small details that set The Broken Yolk apart from the nationwide chains, such as half and half and butter served at the table rather than imitation creamer and margarine. (The cream cups also make great building material while you wait.)
Food is made to order and it's always tasty. The portions are generous making it possible for two people to easily a meal. The fruit is really fresh, nothing from a can.
The Cheap
We typically order the 2-2-2, an unlisted breakfast special that includes your choice of 2 sausage links, patties, or bacon strips; 2 pancakes or slices of French Toast, and 2 eggs. This special is abundant — and only costs five bucks.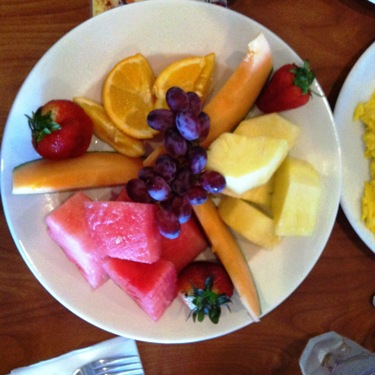 The children's menu features a coloring page as well as games. A kid's meal is $5 and includes a meal and a beverage. Also available for children is a treasure chest of plastic eggs at the front desk. Kids can choose a prize to take home.
We typically have three of our middle kids split 2 specials. Our little girls share a child's meal of pancakes and fruit. Hubs and our oldest can each tackle a 2-2-2 on their own. I usually order an egg and hashbrowns for about $5. This brings our bill to about $30 plus tax and tip.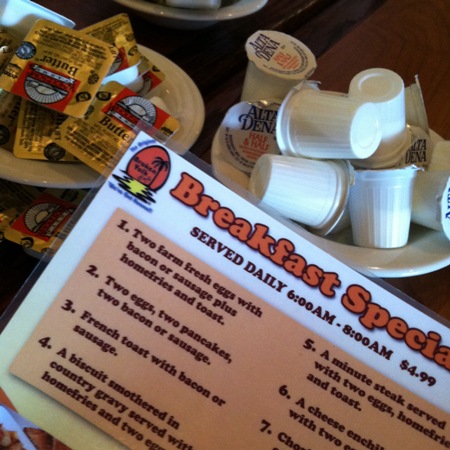 Surely there are more expensive items on the menu. The Broken Yolk features a full menu of omelettes, skillets, and other breakfast foods as well as other specials for certain hours. Through trial and error, we've found this combination of items to work well for our family, allotting for taste and variety without overbuying.
Ways to Save on Eating Out:

Split plates.
Order the special. (Ask about unadvertised specials.)
Order from the a la cart menu.
Join the club.
The Broken Yolk has a frequent buyer's club, something in vogue with a number of restaurants. Use your club card at each visit to accrue points, one point per dollar spent. For every 100 points you earn, you get a $10 reward on your next purchase. It's like getting 10% back on your purchases.
If you live in the San Diego area — or are just visiting — be sure to stop by  The Broken Yolk for a delicious and plentiful breakfast.
Do YOU have a favorite breakfast joint?
Disclosure:  The Broken Yolk does not know I exist. I have not been compensated in any way to write this post. All opinions are mine.