Planning a 3×7 Meal Plan means thinking ahead to all three meals for a week. It takes some work, but the time and cost savings are huge.
One of the things that I'm doing to make the Pantry Challenge a success is to be very thorough in my planning. Last weekend I made a 3×7 meal plan, mapping out 3 meals a day for 7 days.
I used to do this all the time, and somehow, I just fell away from it. While it forces me to be more on my toes, it also helps me stick to the plan better.
And it also motivates me to be a little more creative in my meal planning, too!
How to create a 3×7 Meal Plan:
1. Write it down.
I used the meal planning sheets in my ebook Organizing Life as MOM. You can use a simple spreadsheet on your computer or buy a copy of the book. You could also use Google Calendar or some other type of grid.
Just make sure to write it down and consult it frequently throughout the day and week.
2. Create meals based on what you already have.
Consult your pantry, fridge, and freezer to see what you already have and design menu ideas using those items. If you've got a CSA delivery, check that, too.
You can make lists for each of the three meals and draw from them throughout the week, or just drop them into the days you want to use them.
Remember that you can be flexible about when you actually serve the meals. If you've got a written record, you can very easily move meals to different days. Google Calendar will let you drag and drop.
Here's what last week's meal plan ended up looking like. Mostly. I made some undocumented changes near the end. But, you get the idea. (You can catch up on how we're really eating during the Pantry Challenge over here.)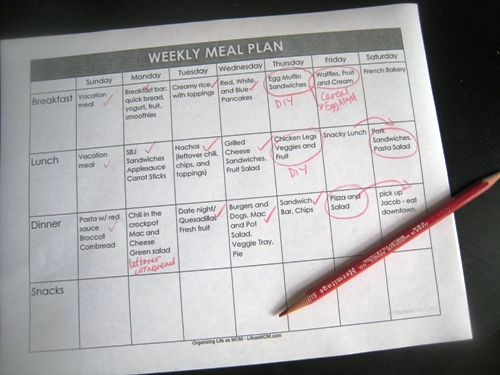 3. Look at the sales.
Consult sales flyers to help you fill in the gaps with more economical items. I had enough proteins to fill out this next week, so I won't need to buy anything more. But, if I didn't, I'd be basing other meals on what was on sale.
4. Make planned leftovers work for you.
Since you're planning the entire week, you can plan for leftovers to work into other meals. For instance, if you're having roast chicken one night, plan for a chicken pot pie a day or two later.
You'll use up what you have — and save yourself some time and money.
5. Create a grocery list as you go.
Since you're already thinking about recipes and menus, make use of your brain power to create a grocery list of the things you might not already have.
We're eating down the pantry this month, so I don't need much. But, I created a grocery list of little sale items that might make meals nicer.
6. Design a plan of attack.
Cooking three meals a day is no small feat. But it's a great way to save money and use your resources. Help yourself bring this all to fruition by creating a meal prep to do list for the week.
I did this for the first week of the Pantry Challenge and it worked like a charm. So, I did it again this week: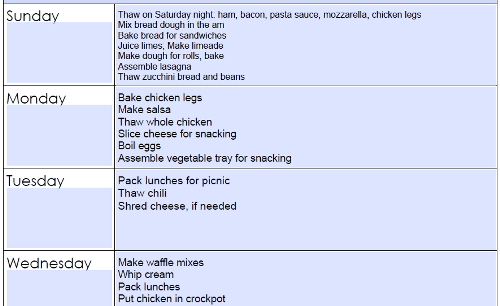 While I was in meal planning mode, I wrote down the steps I'll need to take to make this meal planning gig work this week. I have a list of steps for each day, what to pull from the freezer, what to prep, etc.
This chart will serve as a great daily reminder so that 5pm doesn't roll around and I've got frozen meat and too much prep work on my hands to serve a homecooked meal in a timely manner.
Our 3×7 Meal Plan for the Week

Monday:
Breakfast Bar
Baked Chicken, Veggies, and Fresh Fruit
Beans and Rice with Toppings

Tuesday:
French Bakery (gift card meal)
Picnic lunch: Sandwiches, Veggies
Vegetable Quesadillas, Chili Burritos, Fruit Salad

Wednesday:
Cinnamon-Zucchini Waffles, fruit, whipped cream
Field trip day: pack it or grab it out
Chicken in the Crockpot, Green Beans, Potatoes, Corn on the Cob

Thursday:
Muffins and Hot Cocoa
Chicken Pot Pie, Salad
Sandwich Bar

Friday:
Pancakes, Ham, Fruit
Dress Like a Cow Day
Pizza Night

Saturday:
Breakfast Sandwiches
Hot Dogs and Hamburgers, Veggie Tray
Sausage and Squash Saute, Roast Potatoes
Meal planning is work. I grant you that. It's not always super easy. It takes forethought and follow through. A trip through the drive-through is much easier, but at a long term cost.
A 3×7 meal plan can help you make ends meet, eat well, and enjoy life.
Do you plan for three meals each day?
This month we're eating down the pantry. Check out our family's goals for the "Pantry Challenge" and see what we're really eating every day here.